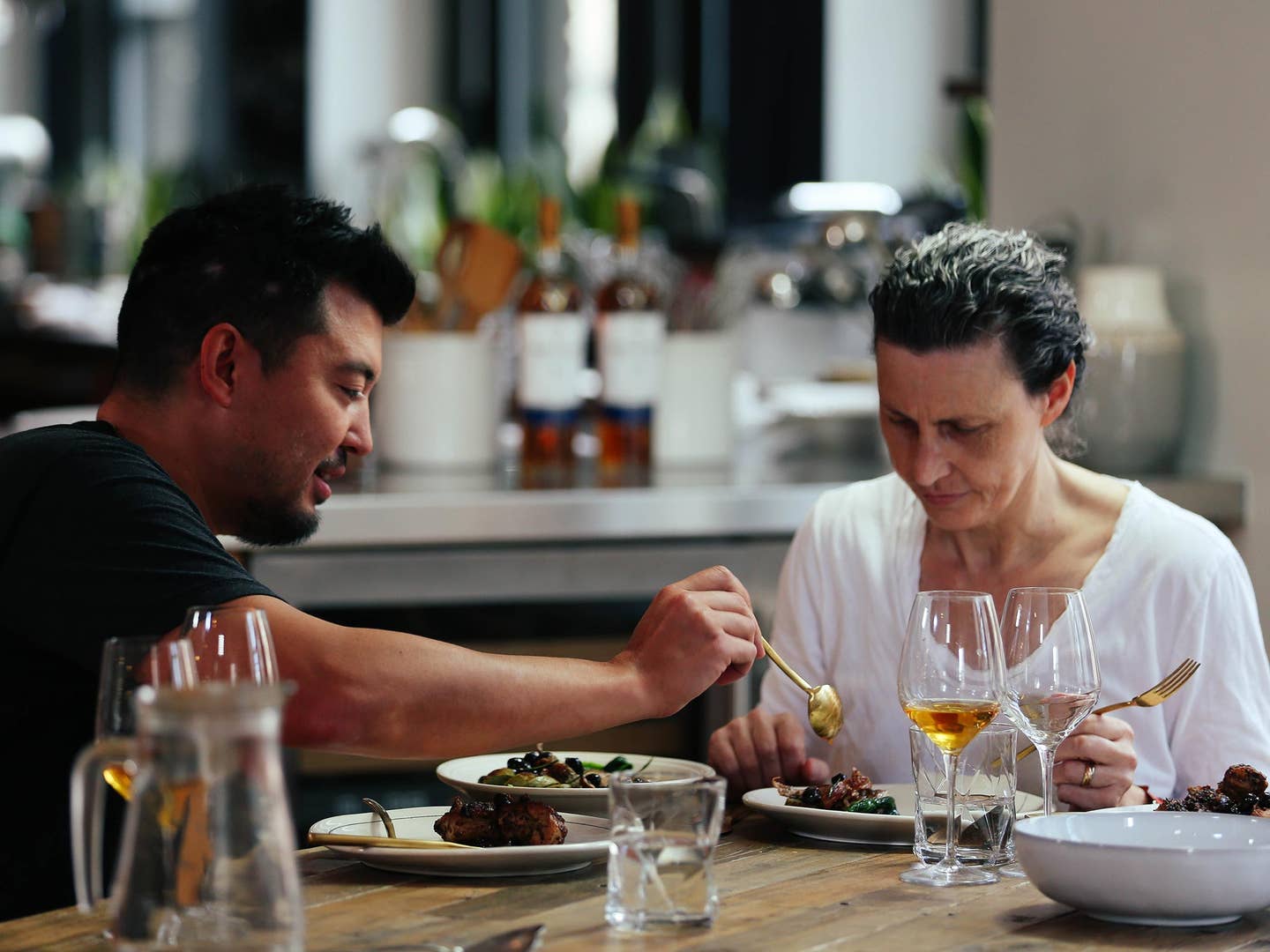 Culture
The Battle of the Spaghettis: Traditional Meets Experimental
Nick Anderer and Rita Sodi meet in the Saveur kitchen to show off their pasta-making skills
What happens when you bring together a traditional Italian cook with an experimental American chef and ask them to cook the same dish? We wanted to find out, so we invited Rita Sodi, chef-owner of I Sodi and Via Carota and Nick Anderer, chef-partner of Maialino to cook a simple, cornerstone Italian dish—spaghetti aglio olio—in the SAVEUR test kitchen. On Sodi's side was a bowl of coarsely grated pecorino and crushed red pepper; on Anderer's end, finely shaved grana padano and a palmful of glistening garlic cloves.
Sodi opened I Sodi in New York's West Village eight years ago, and her style marries simplicity and comfort with a sophisticated awareness of its strengths. She grew up on a farm outside of Florence and grew up cooking with her family, learning the complexities of a restaurant kitchen only upon opening her now lauded restaurant. Chef Anderer, on the other hand, was born in Indiana and grew up in New York with a Japanese mother and German-American father, and learned to cook in Rome while studying abroad. He now cooks at Maialino and Marta, two classic New York restaurants focused on Roman-style cuisine.
As they sat down to sample each other's pastas, they discovered that there's more than one way to approach a traditional Italian dish. "I have never known Italian food any other way," said Sodi when talking with Anderer about how she learned to cook. "This was just food to me, growing up." In keeping, her dish was straightforward, bold, and soothing, like that of a country trattoria. And though Anderer has been a longtime fan of Sodi's, she had not experienced his cooking until relatively recently. "It's an honor to share a kitchen with her," said Anderer whose rendition was distinct and complex with polished plating. Sodi admitted Anderer's pasta was quite good, but even so, it was not thoroughly Italian. "Not like mine," she joked.