The Food Videos That Blew Us Away in 2017
Our favorite food videos this year ranged from a fermentation lesson in China to the annual religious pilgrimage of 4 million women in southern India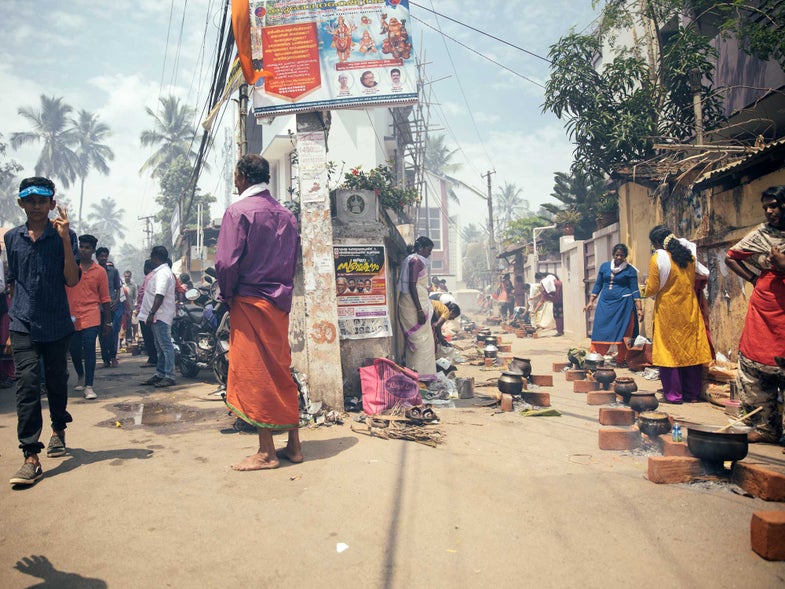 It's not hard to make a video of food sitting on a table, looking pretty. The challenge is to convey a story through a food video—one that hasn't been told or seen before. It's also a challenge to take a food that some might be surprised or confused by (for instance, our "gross"-but-cool omurice video) and turn it into something that people want to watch. This year, we've seen—and produced—plenty of videos that do both. Our pick from Chef Project breaks down pork blood in serious detail, with great interviews and awesome visuals. Then there's Michelle Heimerman's stunning video tracing the journey women take to Pongala in India—this video is enough to make me want to book tickets to Kerala tomorrow. Check out all of our favorite videos, both on SAVEUR and elsewhere, here.
The Master of Ink (Strangertalk)
The Master of Ink | BANGKOK from Strangertalk on Vimeo.
There's something very intimate and personal about this video – it's not just someone getting a tattoo, it's a magical pratice "that weaves good luck and happiness into the skin of those adorned." The audio really puts you in the moment.
Mrs. Ding's Pickles (People's Republic of Fermentation)
These blog awards winners don't have a bad video, but I really like the first one in their series. You learn so much about fermentation in general but also in the specific context of China's traditions. The cinematography is stunning, and the spontaneity of the video is palpable (in fact, they stumble on Mrs. Ding by finding cured sausages that are hanging out her window).
A Priceless Pizzeria in Brooklyn (New Yorker)
"Some people, they make a lousy pizza. You know, to attract the people, they throw it up in the air. It's bullshit, you know." Watch this video for Domenico DeMarco's honesty if nothing else.
SAVEUR editor Dan Q. Dao takes a deep dive into the secrets of the East Village's Madame Vo to uncover the secret to their amazing bowl of pho.
I love pretty much every second of this fake documentary, which spoofs Jiro Dreams of Sushi and Chef's Table. I happen to like David Gelb's style and I still thought this was a great commentary on what food videos have become.
Pork Blood (Chef Project)
Who knew you could do so much with pork blood? I sure didn't. I probably wouldn't make anything in my own kitchen with pork blood, but it's so cool to learn about, and if you want to go the practical route, you can watch an episode on salt, vinegar, or eggs.
I believe that a food video should make your mouth water and your stomach rumble. This video does both of these things. It also has further cemented breakfast as my favorite meal.
I have to admit, when I first saw our cut of this exploding omelette, I was not a fan. It's very…graphic, almost, in the way that it's cut open and proceeds to ooze all over the rice underneath. But after watching it several times (and then several more times), I started to kind of like it. It's one of our more polarizing videos, and definitely one of the most surprising of 2017.
It's sometimes hard to tell if people will change once they're on camera. Sometimes a subject will freeze up, or adopt some kind of new personality. Ramona at Marfa Burrito was not one of those people. Even while we filmed her, she smiled, chatting with Matt and I and continuing to make burritos for hungry customers. She only makes a brief appearance in the video, but it's one of my favorite moments.
Photo editor Michelle Heimerman takes us with her on her journey to Pongala in Kerala, India. It's quietly beautiful in a way that only Michelle can pull off.
This video has everything. Seriously. Motorcycles! Mud! Adventure! Tea! It was a little difficult to edit simply because there was so much fantastic footage to chose from, and if I could have, I would have made it a 30-minute odyssey through rural China. Ah well, I guess I'll have to wait for Max's next China adventure.
Ever wonder about that plastic grass stuff in your takeout sushi? This is the real version of that. Sasagiri is a Japanese bamboo-leaf carving method, and it's an intricate art form. We were lucky enough to have Chef Masaki Saito demonstrate it for us, and it resulted in one of the best videos of 2017
SAVEUR video contributor Marina Smoulevits filmed this at one of her family gatherings in Greece, and even though it seems like a macabre subject, it's actually a very touching tradition, one that comes across beautifully in video.
We love stories that convey a message about a social issue, but we don't get many video pitches that do that. This video is the exception. SAVEUR editor Dan Q. Dao went to rural Vietnam and took this video, which illustrates the importance of a good school lunch for young students in the country. Some walk up to an hour to get to school and then back home for lunch, so they might not even return to school after, meaning they just get a half day. If the school provides lunch, students can stay for longer and learn more.
If you're a cheese lover, there are few things more beautiful than a perfectly curated cheese plate. When Lilith Spencer, cheesemonger extraordinaire, came to our office to put together one of her amazing spreads, we knew we had to do a time lapse video of its construction. It's mesmerizing and inspiring and very very cheesy.