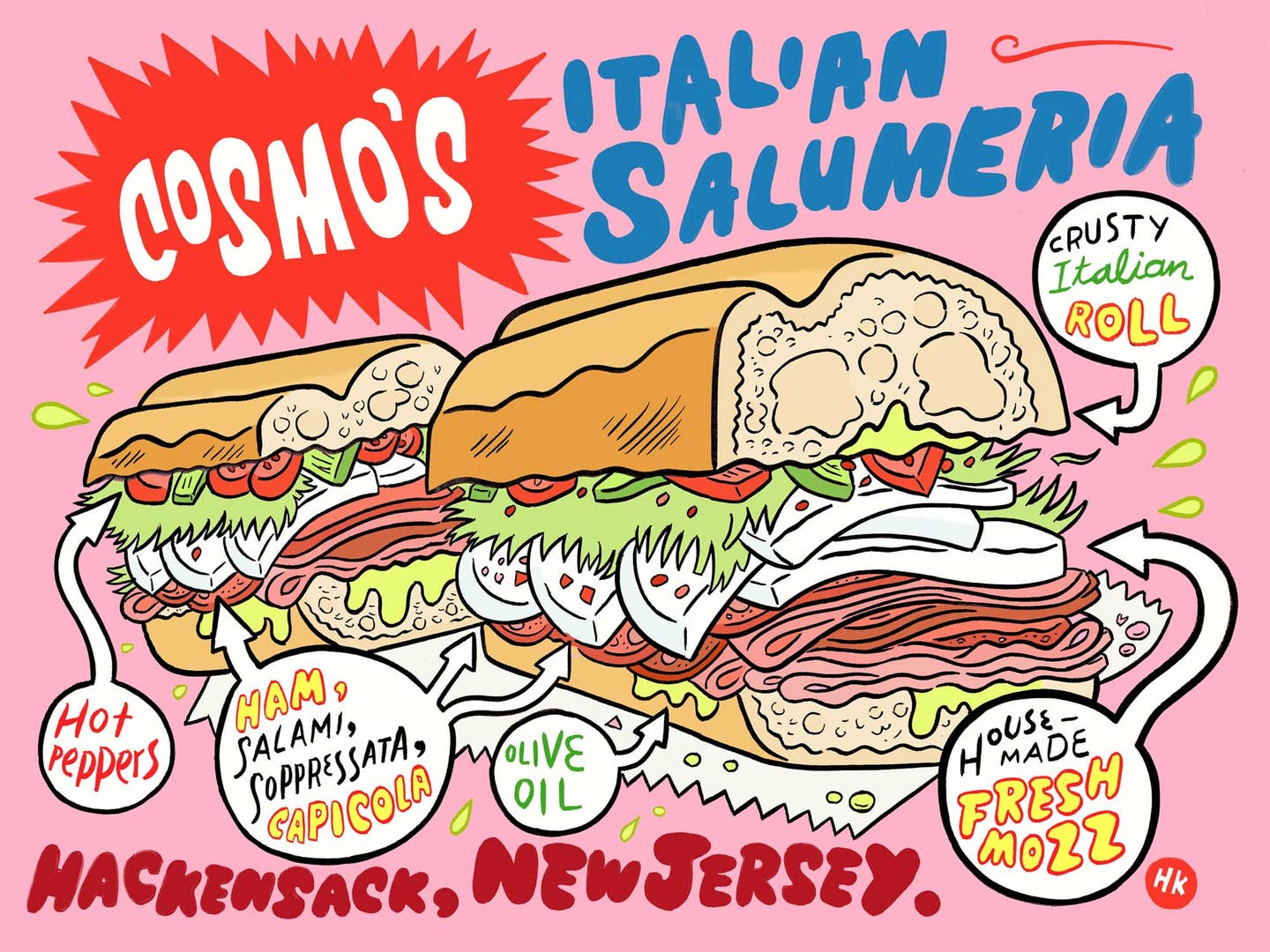 Travel
Eat the Excellent Sandwiches From the New Jersey Deli Straight Out of the Sopranos
Cosmo's Salumeria gets to the heart of the Italian hero
In the public eye, New York takes all the credit for classics like pizza, hot dogs, and old school Italian sandwiches. But the sad truth is that it's harder and harder to find great instances of those icons these days. Most of the city's classic Italian sandwich shops are rare relics of an older time and largely relegated to the outer boroughs, or you're stuck with fetishized cheffy heroes for $15 apiece.
I'm a Philadelphia area native, and I've always taken pride in the fact that you can find a legit Italian sub (or as we call it, a hoagie) every few blocks in nearly every neighborhood. But not too long ago I stumbled across the first serious threat I've seen to Philly's Italian sandwich dominance: not in New York, but in North Jersey.
As with many iconic foods most associated with New York—even when those traditions are dying out there—the Italian hero thrives in Jersey. And Cosmo's in Hackensack makes some of the best.
It's a small, fairly nondescript storefront on a quiet street next to a dentist's office, an Italian restaurant, and a couple of houses. You might miss it except for the line snaking out the door, populated by workers in various uniforms, cops, and folks who all look like extras from the Sopranos. That's definitely a good sign for this kind of food—and to be fair, Cosmo's is within a mile of at least a dozen Sopranos filming locations.
The storefront is little more than a deli counter, plus a couple shelves along the wall stocked with olive oil, pasta, and imported products. Provolone logs and prosciutto legs hang from the ceiling and fill the room with the sweet aroma of something cured.
Customers pack themselves tight into the line, then shunt off to the side to find a corner and wait until their order is ready. The room is dead quiet in the weird way of some legendary food establishments, the kinds that feel like churches to something ancient and profound. (Or maybe it's just that people don't want to get yelled at for ordering incorrectly.) Either way, the only noise that breaks the silence is the counter man yelling out: "Pick UP! Three Roast Beef and one Hot Sopra-Sahd!"
On my first visit to Cosmo's, I was struck by how inexpensive—almost suspiciously so—the sandwiches were. $5.75 is just too cheap for a full-size prosciutto and fresh mozzarella sandwich. Were these for half-orders? Or is the sign vintage? Something had to be wrong here.
It isn't. Cosmo's sandwiches are a little smaller than the average foot-long monsters you get elsewhere, but they're perfect. You can finish one without passing out afterwards. And these are sandwich people who really, truly know what they're doing. Ribbons of thin-sliced capicola layered beautifully by a guy with real sailor tattoos and an un-ironic mustache. Liberal helpings of homemade mozzarella, because that's just the right way to do it. Condiments carefully applied so they don't sog up the bread. And the bread's excellent, too: fat Italian loaves with the ends cut off, super crusty (but not too hard), burnished dark on the outside and light and soft on the inside.
These are the sandwiches people cry about when the move out west, heroes with working-class pedigrees but high-powered flavor. They're the sandwiches that so-called gourmet shops across the country try and hopelessly fail to replicate, with their too-tough bread and over-complicated fillings and double-digit price tags.
The magic comes down to precision. These sandwiches don't fall apart in your hands, and every ingredient has an exact purpose, whether you're getting a minimalist hero with three perfect elements or a more complicated one topped with a fluff of shredded iceberg lettuce.
The menu is more a set of suggestions than anything else. After I ordered a Number Two, the counter guy started at me blankly. "Which one? The prosciutto? You want mozzarella or provolone?" No matter what you order, you'll wind up going through every sandwich ingredient-by-ingredient as the sandwich-makers put it together. That's a good thing: It gives you the all-important opportunity to tweak everything to your own tastes, with extra mozz, hot peppers, seasoned oil—whatever you need.
If you're looking for somewhere to start, go with the Number One, an Italian combo with mixed meats, sweet or hot peppers, fresh mozzarella, and/or sharp provolone. Or really any sandwich that features their creamy homemade mozzarella, applied liberally in multiple layers. It's so good it makes even a barebones tomato-mozz hero taste like one of the best sandwiches I've ever eaten, but it's amazing on a special of hot roast beef (roasted at the shop of course) dripping with gravy—just be sure to get there on a Wednesday, the only day they make it.
After ordering almost the entire menu, I took a few bites of my first sandwich and let out a stream of curses. I looked nervously at my fellow Philadelphians, and they looked back at me. We were all scared to admit just how good these North Jersey hoagies could be.
Hawk Krall is an artist, illustrator, and former line cook with a lifelong obsession for unique regional cuisine, whose work can be seen in magazines, newspapers, galleries, and restaurants all over the world. He focuses on editorial illustration, streetscapes, and pop-art style food paintings.