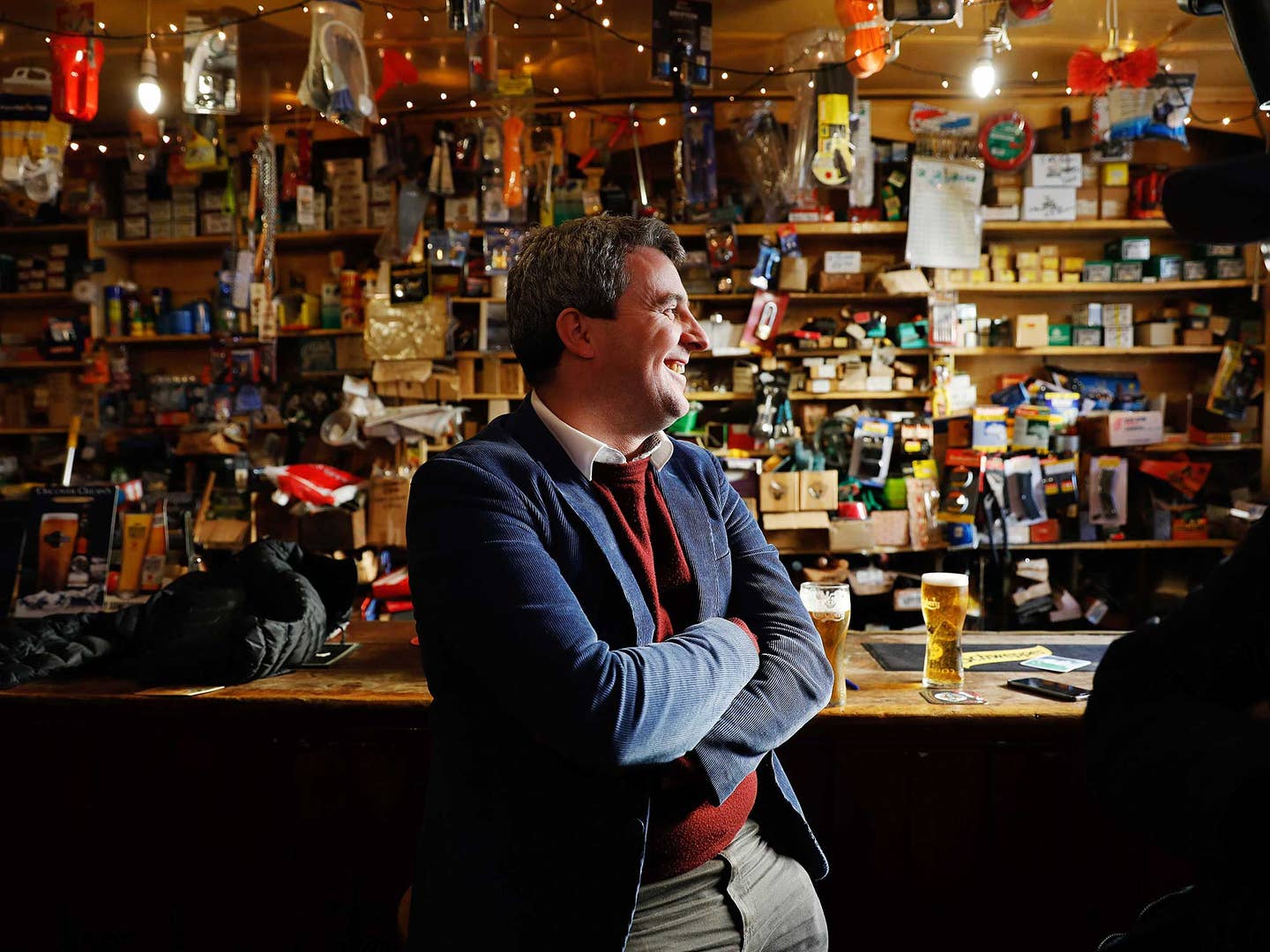 Drinks
Welcome to the World's Greatest Pub Town: Dingle, Ireland
Why people from all over Ireland—and the world—stop in for a pint at the century-old bars in this wee town hours from everything on Ireland's rocky southwest coast
There are thousands of pubs across Ireland that date back to the 1800s. 50 of them are in the town of Dingle, population: 2,000. And while I'm here on assignment about how well these people eat, I can't stop thinking about how well they drink, too, and how—considering there's practically a pub on every corner in Ireland—Dingle's bars keep drawing visitors from hours away.
Getting to Dingle is a commitment. You drive two and a half hours from Shannon Airport to the outermost peninsula on Ireland's southwest coast in extremely windy and damp conditions. Just before you make it to the ocean, the colorful Main Street pops against the monochromatic foggy backdrop, and the pubs all stand one after another, each with their own unique historical character about them, along with warming characters waiting to be met inside.
Little has changed since James Curran's Great-Great Uncle, also named James Curran, first opened the doors to Curran's 150 years ago. By my third visit, he already knows my order—"Smithwick's, right?"—and we've developed a rapport like I've been drinking there for years.
Across the street at Foxy John's, the window displays look like a hardware store circa 1994. "My earliest memory at Foxy's is going in when I was ten," says John Neylon of his father's decades old bar. "I'd drink orange juice with all the customers, mainly farmers, who came to buy their hardware. They'd have a whiskey and pint of Guinness. 25 years later, some of them are doing the exact same thing."
"All the bars in Dingle, at one stage, had a dual purpose," explains Brian Brosnan, who runs a pub called Paddy Bawn with his cousin, Conor. "There was a butcher down the street, and a bar, there was a bakery up the street, and a bar. There even was the man making coffins out of the back of his bar." It's not just the artifacts that make these bars so special; it's how much they're integrated into daily life.
It's Brian's afternoon off, and he shares a pint with a few lads at Foxy John's. "But it's the people that really make the bar, that's why the three of us are here right now. The people and the bartender. And of course, a perfect pint."
Pouring one takes skill and practice, like cutting fish for sashimi or rolling out pasta dough. And I figure if I'm going to live the Dingle pub life, I should learn how to pour one for myself. Dick Mack's graciously takes me in, even though I have zero bartending experience on my resume. My first glass was a disaster; after some gentle encouragement, I got the hang of it:
Angle the Guinness glass 45 degrees.
Pull the tap toward you.
Pour to just the right spot, not quite to the top.
Wait 119.53 seconds.
Straighten glass upright and push tap in opposite direction to tap it off.
Serve.
On this side of the bar, I get to chat more with customers. While Curran's is more of a local's joint, the crowd at Dick Mack's is touristy. It's where a grandfather, father, and son from Dublin might go for a guy's weekend. Or where a set of new parents on a romantic getaway visit because they believe this town has the world's best bars. As I banter with guests and pour more drinks, I keep noticing a common theme: People come to these pubs because they have a deep appreciation for bars the way bars used to be.
You won't find a playlist at any of these pubs, but you will find live music. And by live music, I mean a guitar-playing man who can motivate the entire pub to join in the singing by the time he hits the chorus. It's also likely an owner might chime in from behind the bar with a solo performance. And then it might be 93-year-old bachelor Timmy Keller's turn; he's made an 8 p.m. appearance at Curran's a daily occurrence for decades, and is now a local celebrity.
You won't find TVs either, like you do at so many elsewhere in Ireland that feel pressured to catch up with the times. And you won't miss it, because the stranger you start talking to will have far more interesting stories than anything you might see on a screen. Like sitting down with the globetrotting-nightclub owner-turned Dingle resident that shares stories about his mission to rescue a kidnapped grandson from Turkey.
In these ancient places, where wood-panelled walls gleam with over a century of whiskey vapors and oil rubs, you can't help but feel transported to a slower, simpler time. You'll reflect on what life must have been like for your grandparents and great-grandparents, and then think about being able to tell your own children and grandchildren about this moment one day—maybe even bringing them back to this very barstool in another 50 years, knowing that this pub will remain almost exactly as it is now.
A month later I find myself back in New York, at Rudy's, a historic dive bar in Midtown, with John from Foxy's and Brian from Paddy Bawn, who happen to be here on holiday. After a week, it's their last evening in the city.
New York nightlife couldn't be more different from Dingle's, but these boys have somehow brought their Dingle magic with them. It's nearing midnight, and slowly new friends of all ages and backgrounds begin to appear in the bar: an Indian man who used to work at the UN, a Scottish bartender from the Upper West Side, a younger American woman. They've met all of these people over the course of this week.
When Brian from Paddy Bawn's said that it's the people that make the pubs, he meant it. It's a genuineness, a friendliness, and an openness that just doesn't exist most other places. And it's this quality that assures the next time I show up in Dingle, I'll have some old friends to catch up with and a pint of Smithwick's waiting for me.