Where to Eat, Drink, and Stay in Louisville
Historic hotels, regional specialties, and more bourbon than you'll be able to drink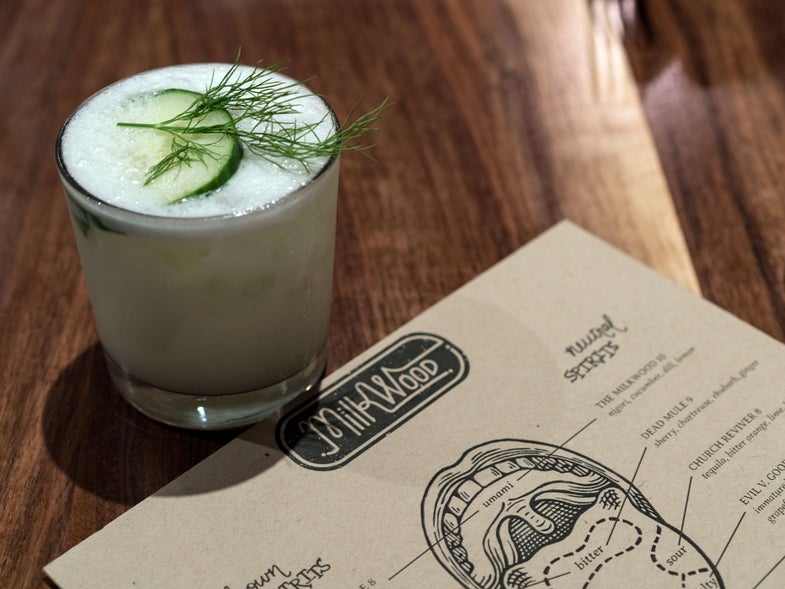 After New Orleans, there is, perhaps, no other American city as passionate in its love of food and drink as Louisville, Kentucky. This is a city that likes to celebrate—from mint julep-fueled Derby parties, to, well, any given Tuesday at a local bar. Yes, there's bourbon—lots of bourbon. Embarking on a tour of the Bluegrass State's distilleries should be on every red-blooded American's bucket-list. And while Louisville is the perfect launching pad for such an expedition, it's also worth a weekend—better yet, a week-long stay—since it's home to some of the best restaurants you'll find both south (and north) of the Mason-Dixon line. It also boasts two of the country's most historic hotels, one of which inspired what many believe to be the greatest American novel ever written, and a growing craft beer movement, lots of fried fish, and some of the friendliest, funnest people you'll ever meet.
Where to Eat
Check's Café
Opened in 1944, Check's is the quintessential neighborhood joint—the kind of place that makes you feel right at home, even if your home is Minneapolis or Munich. Located southeast of downtown in the city's shotgun-shack-strewn Germantown—or "Schnitzelburg," as the locals call it—Check's serves baked ham sandwiches, bratwurst, and chili-strewn spaghetti topped with shredded cheese. But the best reasons to visit is their braunschweiger, a smoked, spreadable pork liver sausage on rye that's a rarity these days, as well as the fried bologna sandwich and the fish sandwich: two golden fried strips of halibut barely be contained by the bun. While a recent renovation has toned down some of Check's gritty neighborhood charm, the old-school Schnitzelburg vibe remains the same.
1101 E. Burnett Avenue
(502) 637-9515
Proof on Main
Opened in 2009 and located in the city's 21c Museum Hotel, Proof on Main tops just about every Louisville resident's list of the city's best restaurants. While acclaimed executive chef Levon Wallace recently left to helm New Orleans' chef Donald Link's new Nashville location of Cochon Butcher, Proof is in good hands under his successor Mike Wajda, a veteran of Craigie on Main in Cambridge, Mass. The menu rotates seasonally, but offerings might include such delicacies as smoked Kentucky catfish dip, salt-roasted celeriac, or a locally sourced Woodland Farm hog chop served with sweet corn jus and buttermilk queso. The charred octopus, served with bagna cauda—a garlic-y anchovy dip—is a must, as are the Kentucky bourbon cocktails, including the Bulliet-Vardier (bourbon, aperol, port wine and old fashion bitters) as well as the Bare Minimum made with New Riff Kentucky Wild Gin.
702 W. Main Street
(502) 217-6360
Harvest
In an age when any restaurant that bills itself "farm-to-table" might evoke a drowsy roll of the eyes, Harvest reminds us of just how wonderful a concept it can be. The restaurant, located in the city's New Louisville, or "NuLu" district, celebrates the relationships owner Igor Chodkowski, himself a farmer, has forged over the years with other Kentucky farmers and producers (as evidenced by the enormous portraits of them in his warmly lit dining room, along with repurposed church pews, mismatched chairs, and weathered tables). Sitting here you'll be reminded of the simple pleasures of a great cheese plate—here made of black-pepper chevre and blue gouda served with a green tomato jam and chow chow (a pickled relish). You can also get burgoo, a Kentucky meat stew, or buttermilk fried chicken served with a hoecake and smoked peppercorn gravy.
624 E. Market Street
(502) 384-9090
Shirley Mae's Café
Located in the heart of Louisville's oldest African American neighborhood, this soul food paradise is housed in a 1880s clay brick house that was once home to a tobacco baron. In later years it served as a grocery, a dry good store, and a famous bar where the likes of Cassius Clay, Quincy Jones, and Redd Foxx once imbibed in their respective poisons. Shirley Mae Beard acquired the place in 1988, renamed it, and turned it into one of the best soul food destinations in the south. Customers flock here to watch her work her magic in the open kitchen, preparing dishes like Southern-fried jumbo chicken wings, first-come-first-serve chitterlings, and a meatloaf dish served with her famous hot-water cornbread (no matter what you order, be sure to get some on the side).
802 S. Clay Street
(502) 589-5295
Jack Fry's
Jack Fry and his wife, Flossie, attracted quite a crowd when they opened this bistro-style restaurant and bar on Bardstown Road in the 1930s. Then, when Mr. Fry passed in 1987, a new owner reopened it (after having been rented to a Mexican restaurant during the 1970s and 1980s) with its original moniker. The spirit of Jack and Flossie has been dutifully restored with photos of boxers, jockeys, and baseball players dangling from the walls. Under the direction of executive chef McClain Brown, the menu combines upscale French and Italian cuisine with a healthy dose of Southern comfort: bone marrow is served with a grilled baguette, romaine hearts, quail egg, and truffle butter. An elegant heirloom chicken is prepared in a fanciful sweet tea brine and served with ricotta and gnocchi. This is the kind of place where you'll want to linger for a while, just as Jack and Flossie intended.
1007 Bardstown Road
(502) 452-9244
Seviche
There's a particular item on Seviche's menu that can throw first-time patrons for a loop: the Tuna Old Fashioned. Sure, it sounds off-putting, but once you've tasted chef Anthony Lamas' ingenious mash-up of tuna ceviche and pineapple, seasoned with Kentucky bourbon and soy sauce—and served in an old fashioned glass—you'll wax poetic about it to anyone who'll listen. Lamas, who is of Puerto Rican and Mexican descent, combines his love of Southern and Latin cuisine in dishes like roasted vegetable chimichangas with local gouda, ambrosia farm squash, and pepita rice. Be sure to try his delectable Kentucky bison empanadas, too.
1538 Bardstown Road
(502) 473-8560
MilkWood
Locals sure are happy chef Edward Lee fell in love with Louisville when he visited one fateful Derby weekend back in 2002. Otherwise, the city would be deprived of his now classic 610 Magnolia restaurant, with its upscale Southern dishes (steak and eggs served with vegetable hash, broccolini, summer squash, chimichurri, and squash bordelaise anyone?). Lee deftly combines the comforts of southern home cooking with the Asian flavors the chef, who is of Korean descent, grew up with in his native Brooklyn. And nowhere does he have more fun with the concept than at MilkWood, his newest Louisville endeavor, which is located in the basement of the city's famed Actor's Theatre. Here Lee, along with chef Kevin Ashworth, serve destination-worthy dishes like an organic pork burger topped with cracklins and kimchi; smoked chicken wings with chili lime sauce; smoke-braised octopus "bacon" with smashed potatoes; and fried chicken coated in Japanese ponzu sauce.
316 Main Street
(502) 584-6455
Lilly's Bistro
If you ever see a list of Louisville's best restaurants that doesn't include Lilly's Bistro, please do us a favor and disregard it. Like the aforementioned Edward Lee, the name Kathy Cary should be known throughout the land. She opened her beloved Lilly's Bistro in 1988, sourcing all of her produce from local farmers and purveyors (whatever they couldn't provide, she grew herself). Thanks to starters like a perfectly executed, locally sourced chicken liver pâté served with house-made bread, cornichons, and Dijon mustard, and entrees like a chile-rubbed pan-seared pork chop served with corn pudding, Cary has been nominated for the James Beard Foundation's Best Chef Southeast multiple times.
1147 Bardstown Road
(502) 451-0447
Decca
While the outside of this NuLu building is a little ramshackle, what you'll find inside is anything but. Beautiful inlayed flooring, tufted leather banquets, and elegant modern light illuminate this historic 19th century building which is often filled with the music of Patsy Cline and Ernest Tubb, or Count Basie—artists from the Decca record label, which inspired the name. Chef Annie Pettry grew up fishing for trout with her parents, foraging mushrooms, and growing her own vegetables—experiences that, along with a degree from the French Culinary Institute and some time spent cooking in New York and San Francisco, helped inspire her ingredient-driven menu. Dishes include sharable items like wood-grilled broccoli and wilted greens, as well as milled tomato linguine with blistered cherry tomatoes and ricotta salata. After dinner, head down to the basement, where The Cellar Lounge offers cocktails and live music.
812 E. Market Street
(502) 749-8128
The Oakroom
Tucked inside the historic Seelbach Hilton Hotel, this early 1900s oak-paneled hotel was where Al Capone was known to chalk up his cue in the billiards room. While the dining room is distinctly old world, the menu reflects a more modern-day mania with all things seasonal. Chef Patrick Roney serves shrimp and grits—the grits locally sourced from the 19th-century Weisenberger Mill—with wild white prawns, red-eye gravy, and black garlic; oxtail potato gratin; and an unforgettable Kentucky-fried rabbit with flageolet beans, basil pistou, celery root, and rabbit confit. End your evening with a nightcap of Seelbach Select Single Barrel bourbon.
500 S. Fourth Street
(502) 807-3463
Where to Drink
The Silver Dollar
Cheery with its dangling Christmas lights and variety of Southern-style comfort foods, the Silver Dollar is a perfect mixture of low-key casual and top-notch Manhattan cocktail bar all rolled into one. Located in a decommissioned firehouse east of downtown, the Silver Dollar is modeled on the honky-tonk bars and diners of working-class Bakersfield, California, where many southerners fled to find work during the Dust Bowl years. There are about 60 native bourbons; cocktails like the Gold Rush, a mixture of Old Fitzgerald bourbon with honey syrup and lemon; and a damn fine mint julep, to boot. Silver Dollar also offers some of the best bar food this city has to offer, including beer-can hen, fried oysters, and an open-faced meatloaf sandwich served on Texas toast with mashed potatoes and smoked tomato gravy. 1761 Frankfort Avenue
(502) 259-9540
Proof Bar
A lot of people come to Louisville to do one thing and one thing only: drink Kentucky bourbon. And while there are plenty of places in town to do just that, one of the most locally beloved is Proof Bar. With 85 different bourbons—Both Pappy Van Winkle and Woodford Reserve provide special barrels just for them—and a perfect list of 100 wines, this is the place where bourbon-fueled memories are made (and occasionally lost). Cocktails range from the classic Old Fashioned to specialty drinks inspired by current exhibitions at the adjacent 21c Gallery Hotel.
702 W. Main Street
(502) 217-6360
Holy Grale
Nothing will lift your spirits quite like the beer selection at this repurposed 1905 Unitarian Church. Sure, the list features some predictable standbys by way of Victory Prima Pils and Chimay Permiere. But there are plenty of surprising selections to be had, too, like Prairie Eliza5beth, an Oklahoma-brewed farmhouse ale with hints of apricots and clove, and a smoky rauchbier from the HammerHeart brewery in Lino Lakes, Minnesota. Grale's bar snacks are just as unexpected, and include a Scotch quail egg, spicy beer cheese served with fresh-baked pretzel bread, and escargot with parmesan cheese, chili, and herb butter. And if the stained-glass-lit bar is too crowded with beer worshipers, Holy Grale also has one of the best outdoor patios in town.
1034 Bardstown Rd
(502) 459-9939
The Lobby Bar at the Brown Hotel
To say this place is opulent is an understatement. Aside from the marble floors and glimmering gold chandeliers, its English Renaissance architectural credibility is firmly established by the lofty plaster-relief ceilings patrons often find themselves gazing at from a Victorian-style sofa as they nurse a highball of Buffalo Trace. Aside from bourbon, you can also indulge in this city's most famous sandwich—the open-faced turkey, bacon, and Mornay sauce wonder known as the Hot Brown. Also recommended: The Kentucky Derby, an elixir of Four Roses sweetened with sorghum and pink grapefruit juice, and the Kentucky Cocktail made with Maker's Mark and Kentucky's own Ale-8-One ginger ale.
335 W. Broadway
(877) 926-7757
Haymarket Whiskey Bar
Located on the eastern end of Louisville's Whiskey Row in what was once a pretty cool coffee shop, Haymarket is a dive bar with a dose of Kentucky class. Yes, there are pinball machines and a lot of neon beer signs on the wall. Some sort of punk rock band is booked here most every night, too. But there's also a whisky, bourbon, and rye menu that is so wide ranging that it looks like the index at the back of a book on the history of bourbon.
331 E. Market Street
(502) 442-0523
Garage Bar
Located in a repurposed car repair shop outfitted with a wood-burning pizza oven, Garage Bar offers Kentucky bourbon and craft beer alongside some of the best pizzas in town (the fact that those pizzas are topped with locally sourced ingredients such as shaved country ham, sweet corn and milled tomato sauce makes them even better). Despite the grungy name, this dive bar in the gallery-strewn NuLu neighborhood has a decidedly artsy edge—a sculpture of two muscle cars that slowly, almost imperceptibly crash into one another called "The Death of American Muscle" is stationed out front. Garage Bar also hosts cooking competitions, and bourbon pairing dinners. Don't feel like drinking? Order a triple-decker pimento cheese sandwich and a bottle of Cheerwine, instead.
700 E. Market Street (outdoor seating available)
(502) 749-7100
Doc Crow's Smokehouse and Raw Bar
If you're the kind of person who likes a big slab of baby back ribs served alongside a perfect Old Fashioned, Doc Crow's is the place for you. Like so many other restaurants and bars in Louisville, Doc's is located in a beautifully restored, historic distillery with all the requisite charms: exposed brick walls; burnished woodwork, and schoolhouse lights. Like most bars in Kentucky, it has a fine selection of bourbon; what you might not expect is an oyster bar of such high quality in the middle of the landlocked Bluegrass State, nor the authentic nature of its shrimp po' boy, which is served on French bread imported straight from Louisiana.
127 W. Main Street
(502) 587-1626
The Nachbar
A hidden gem in Germantown, Nachbar—the German word for "neighbor"—has been around since the 1930s and pretty much looks that way. Divey but oh-so-merry, it's the kind of place where you'll find laid-back 20- and 30-somethings slumped in frumpy, thrift-store sofas, drinking alongside their canine companions at this dog-friendly bar.
969 Charles Street
(502) 637-4377
No website
Bourbon's Bistro
At this bar, you'll find a crowd of civilized and certifiable adults drinking from a selection of around 130 bourbons, both rare and de rigueur. And while it might resemble some other bar you've visited in, say, Brooklyn or Washington, D.C., "this is the bourbon bar that started bourbon bars," according to the Louisville Courier-Journal. It was also named one of the top five bourbon bars in the country by The Bourbon Review. The food here is as decadent as the hooch, whether it's the prime rib served with parmesan grits and wild mushroom ragout, or the Berkshire Pork Chop with bourbon smoked paprika.
2255 Franklin Avenue
(502) 894-8838
Louisville Beer Store
If you're as into beer as you are to bourbon, this tiny NuLu tasting room and shop has you covered. Here you'll find a standing bar with eight rotating taps featuring the likes of Indiana's Three Floyds Gumballhead, a citrusy wheat beer from bordering Indiana, and Alvinne Phi, a Belgium sour—as well as more than 400 bottled beers, including expansive selections from Belgium, Germany, and Italy.
746 E. Market St.
(502) 569-2337
Kentucky-Inspired Cocktails
Kentucky Buck
The Black Derby
Seelbach
The Thousand-Dollar Mint Julep
The Kentucky Devil
Where to Stay
The Seelbach Hilton Louisville
As a rule, any hotel F. Scott Fitzgerald got kicked out of is a place worth checking yourself into. The fact that the Seelbach both inspired and provided some of the backdrop for The Great Gatsby makes a stay here even more imperative. Not just a hotel, but also an architectural gem, the 1903 Beaux Arts Baroque-style institution features imported marble, hardwoods from the West Indies, and the famous Rathskeller, a Bavarian-themed pub with vaulted ceilings clad in tile from Cincinnati's renowned Rookwood Pottery. Its pool hall was used in the film version of Gatsby, as well as the Paul Newman classic The Hustler. And while the rooms here still evoke the decadence of the jazz age, there's nothing stuffy about them, old sport.
500 Fourth Street
(502) 585-3200
The Brown Hotel
Two decades after the Seelbach opened its doors, a local entrepreneur named James Graham Brown stirred up some healthy competition by opening the opulent Brown Hotel just a few blocks away. The hotel closed its doors following Brown's death in the early 1970s—for a time it was owned by the Louisville Public Schools system—but reopened in 1993. Today it's owned by 1859 Historic Hotels LTD, which recently completed a multi-million-dollar renovation. Georgian Revival opulence remains in The Brown's ballrooms and lobbies, though the hotel offers all the modern-day amenities you could wish for. Its 293 guest rooms have classic furnishings, vintage wall coverings, and equestrian-themed paintings that exude plenty of Kentucky charm.
335 W. Broadway
(502) 583-1234
21c Hotel and Gallery
Not only does this hotel house a fine collection of contemporary art, it's also home to both Proof on Main restaurant and Proof Bar, which means you don't even have to leave the building to experience some of the finest food and bourbons that Louisville has to offer. Owners Laura Lee Brown and Steve Wilson, both artists and preservationists, worked with architect Deborah Berke to transform several 19th century tobacco and bourbon warehouses into what is now one of the city's premier hotels. Rooms feature huge windows, exposed brick walls, and original artwork.
700 W. Main Street
(502) 217-6300
The Galt House Hotel
At 128,000 square feet and 25 stories high, the Galt House is not what one would call a boutique hotel (in fact, it's the largest hotel in Kentucky). Still this luxury behemoth has its charms, namely its well appointed rooms that provide dramatic views of the Ohio River. There are also seven in-house restaurants and lounges, including a seriously fine steakhouse, and a revolving restaurant with views of the river. There's also a top-notch bar with more than 150 bourbons to choose from.
140 N. Fourth Street
(502) 589-5200
DuPont Mansion Bed & Breakfast
Located in a circa-1879 Italianate mansion in the Old Louisville Historic District neighborhood, this popular bed and breakfast offers the feel of a five-star hotel with added intimacy. Enjoy a multi-course breakfast in the dining room then walk it all off with a visit to Louisville's sprawling 17-acre Central Park, which was designed by Frederick Law Olmsted, the same guy who created New York City's own Central Park.
1317 S. Fourth Street
(502) 638-0045
Louisville Marriott Downtown After a recent $6-million renovation, this downtown hotel is clean, classy, and convenient to pretty much everything Louisville has to offer. Each of the hotel's 616 rooms is outfitted with plush furnishings, 42-inch HD televisions, and artwork reflecting the city's heritage.
280 W. Jefferson Street
(502) 627-5045
What to Do
Blaze the Urban Bourbon Trail
If you're looking for some method to apply to this city's bourbon-swilling madness, look no further than the Urban Bourbon Trail. Trailblazers receive a passport booklet containing a guide to the city's best bourbon bars and saloons. All you have to do is make a purchase (bourbon, beer, a hot brown, what have you) and have your book stamped by your friendly bartender. Collect at least six stamps and you'll receive an Urban Bourbon Trailblazer t-shirt, as well as an official "Citizen of Bourbon Country" certificate. Pick up your passport at the Louisville Visitors Center at 4th and Jefferson Streets downtown. For information on how to obtain a digital passport, visit bourboncountry.com.
Hit Some Sweet Spots
Aside from bourbon and southern comfort food, the Louisville area is home to two of the country's best old-fashioned candy stores. Start out at Muth's (630 East Market Street), a century old candy shop in the city's NuLu district. From cream-filled chocolates, to bourbon balls, to caramels and eight different kinds of brittle, all of their candies are handmade and delicious. We highly recommend the Modjeska, a caramel-covered marshmallow named after a famous Polish actress. Once you've stuffed yourself at Muth's, head across the Ohio River to historic Jefferson, Indiana, and experience the unique pleasures of Schimpff's Confectionary (347 Spring Street). In operation since 1891, the shop offers candy-making demonstrations, and is especially known for its red hots, as well as its curious hard-candy fish, which were originally made to represent the bounty of aquatic life that swam the Ohio River.
Pay Your Respects to the Colonel at Cave Hill Cemetery
A visit to this beautifully landscaped historic cemetery isn't complete without a respectful stop at the grave of Kentucky's own Colonel Harlan Sanders, who was interred here after his death in 1980. Like the hundreds of KFC signs that dot our nation's highways and commercial strips, the Colonel's grave cannot be missed with its four-columned pediment and a life-sized bust sculpted by his daughter Margaret.
701 Baxter Avenue
(502) 451-5630