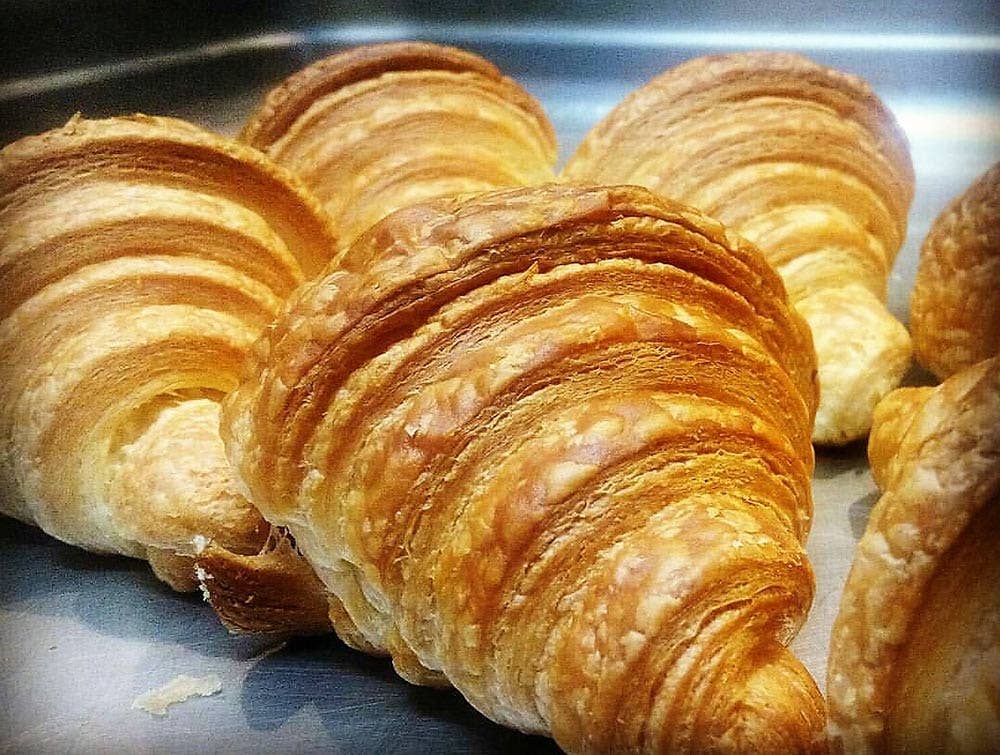 Culture
This Chef is Making Bhutan's Best (and Only) Croissant
In Bhutan, the perfect croissant is a labor of love
The Himalayan kingdom of Bhutan is home to some of the tallest mountains in the world. But that forbidding terrain is not the only challenge here. In a simple industrial kitchen in the capital, Thimphu, an explorer named Parvender Singh Rawat scaled his own metaphorical peak, going where apparently no other human ever ventured in this remote place: He conquered the butter croissant.
The proof? A supernal, 64-layer delicacy, with a classic flaking crust and honeycombed crumb—which French visitors have told him rivals the best that they've had back home.
Sandwiched between China and India, and governed by a visionary philosophy known as Gross National Happiness, Bhutan is no pastry hot spot. Here, the heat comes from scorching chilies, the country's culinary trademark, which are featured in virtually every traditional dish. In non-tourist restaurants, post-prandial sweets are generally absent from the menu. When birthday cakes became popular here a few years ago, many older locals decried the country's sugar-shocked sellout to Western indulgence.
Bhutan's location and climate also thwart the recipe at every turn. Thimphu's altitude (7,500 feet above sea level) overstimulates yeast rise. Dry and bone-cold winters retard rise and desiccate the pastries once out of the oven. Warm summer monsoons can blur the prized lamination of butter and dough.
Worst of all, uncertain shipments of necessary supplies (Bhutan is accessible only by a small jet that threads its way through narrow mountain passes) introduce an ad hoc element to a process that has no margin for error. Rawat prefers to use Elle and Vire 84%-fat extra dry butter, which is made in Normandy, to ensure crispness. But sometimes he must settle for salted butter—an apostasy in the hallowed domain of fine European baking. To redeem himself during these transportation glitches, he figured out a salted-butter croissant recipe that all but eliminates telltale tang.
Such obstacles only motivate Rawat. One of the thousands of unacknowledged Indian laborers in Bhutan, he has carved out an improbable career path.
Rawat honed his craft in central Thimphu's Le Méridien hotel. Its vestibule's ceiling is painted with black Tibetan script—like a flock of ravens passing overhead—of the Sanskrit mantra "Om Mani Padme Hum," the recitation of which is believed to lead to Buddhism's six perfections. In the hotel's chilly basement, he toiled six to seven days a week, attired in a starched white pastry chef's jacket with tiny black buttons.
A short, sturdily built man with a pleasant round face and unruly, slicked-back black hair, Rawat speaks in a verbal cannonade, conveying both passion and a touch of impatience. He grew up in the northern India city of Dehradun, in a family of army officers and software engineers. "They wanted me to be in the army," he says. "But I didn't want to follow that chain." With a degree in hotel management, and formidable confectionary skills, his assignments have included stints in India, New York City, and the Turks and Caicos islands.
Rawat's Instagram showcases his creations, which tend toward Continental extravagance: Callebaut dark chocolate ganache with homemade candied figs, white chocolate yogurt, edible flowers, and orange gel; white and dark chocolate baveroise with raspberry pate, saffron-poached apple, sesame crunch, and mango passion sorbet; on and on. But Rawat has never actually set foot in the pastry mecca of France, aside from a brief layover at Charles de Gaulle Airport in 2010, during which he raced from the plane to a small café in a connecting terminal, where he tasted his one and only croissant on its native French terroir. "A magical moment," he recalls.
Like all bread, the classic croissant represents a transfiguration of humble ingredients: flour, sugar, salt, butter, yeast, gluten, improver (to activate gluten), and water. Its construction is intricate: mixing, shaping, chilling, and—most important—laminating distinct layers of butter and dough by repeated rolling and folding.
Rawat calculates the difficulty ratio of bread to croissants at 1:8. Indeed, he notes, croissants are the universal standard by which pastry chefs are judged. "There's a saying that if your croissant is good, your pastry chef is good. For a hotel, it's a benchmark."
In this red-rice-and-maize-dominant nation, where a minimally acceptable loaf of bread (by Western standards) is as rare as the locally endangered black-necked crane, Rawat blazed a lonely trail. When he started here in January 2016, he trekked to every bakery and hotel in Thimphu that alleged to sell croissants—and discovered that not one attempted the definitional lamination; they simply rolled Wonder Bread-like ingredients into a croissant shape, sometimes brushing egg wash on top for a faux patina.
Rawat was aghast. "The moment I realized they weren't laminating with butter, I said to myself, 'There is no point in talking to anyone regarding this, because people are not aware.'" He worked his way through some 20 recipes, continually refining until he arrived at an institutional-scale 16-18-hour operation that met his lofty standards.
He then taught his hard-won methods to young Bhutanese assistants, who became the first cohort of local bakers to master the iconic French delicacy. Still, as Rawat concedes, "For them, a croissant is a croissant. For me, a croissant is my second love." (The top spot is presumably shared by his wife and young daughter). Rawat's recipe for the perfect croissant, and his inspirational mentoring to young bakers—some of whom have gone on to jobs in prestigious hotels in the Middle East, others of whom may someday open their own small bake shops in Thimphu—are his legacy to Bhutan.
At the end of June, after two-and-a-half years in the Land of the Thunder Dragon, Rawat was promoted to the Sheraton Grand Chennai Resort and Spa. Having returned to his homeland, this auteur pâtissier intends to meld classic European confections with South Indian flavors.
Coconut cardamom clafoutis, anyone?