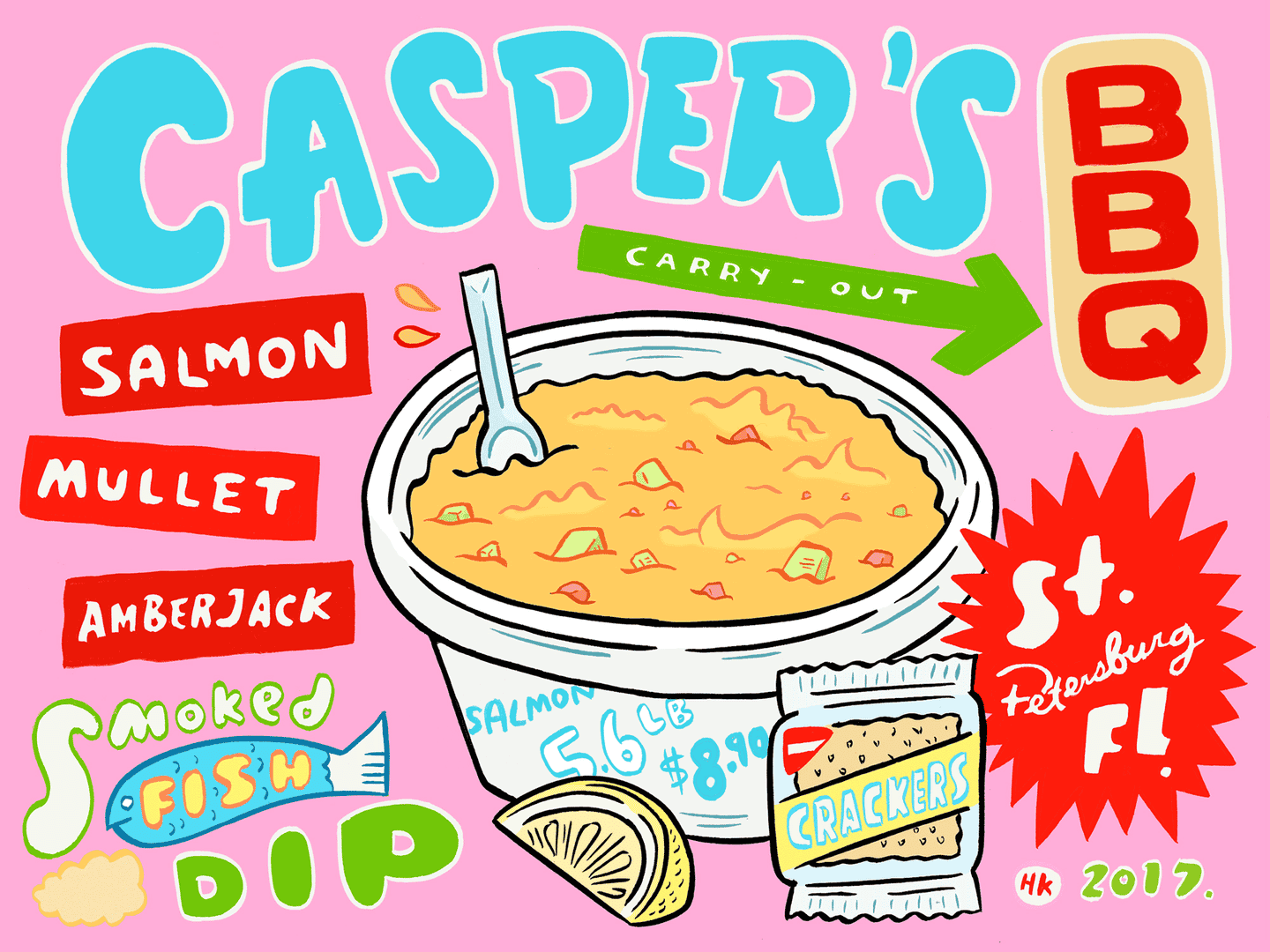 Travel
Blink and You'll Miss One of the South's Best Barbecue Joints on a Florida Highway
Nestled between a dollar store and a trailer dealership, Dan Cantera's Casper's BBQ is the work of a fish-smoking mastermind with a style all his own
Welcome to Hawk's Illustrated America, a monthly series following illustrator Hawk Krall's journeys through the back roads of the U.S. in search of our country's most obscure and delicious regional specialties.
Call it Floribbean food: the unique mix of Southern and Caribbean coastal cuisine you only get in Florida. Cuban sandwiches, grouper tacos, and Cuban-Sicilian tomato pie are all alive and well down here, distinct from anything else in the South, with South American and Italian-American influences for good measure. Plus a bounty of fresh local seafood that comes together in sometimes ridiculous but often incredible ways, much like the state of Florida itself.
Over the past few years I've gotten to know the Tampa area and its many Floribbean dockside spots. There are frozen drinks, crab fries (take fries, add crab, and something creamy to sauce it), and smokers in parking lots cranking out of smoked mullet fish for dip.
Many of these restaurants do great work, but for a real taste of local culture, you have to head inland and truck along the endless expanse of gritty, triple-wide highways lined with vape shops and strip malls, where the locals actually live.
Now an antique tradition even in its home state of Florida, this fall delicacy of gently smoked oily fish is well worth seeking out
This is where you'll find real-deal Cuban, Spanish, and Colombian food, along with some Chinese-Peruvian fusion for good measure, and of course Casper's BBQ, a shack on the side of the road that fits this column so well it almost seems like I dreamt it up. I first hit Casper's on a quest for the state's best smoked fish dip, and boy I found it, and a whole lot more.
On a nondescript stretch of commercial highway on the outskirts of St. Petersburg—between a dollar store and a trailer dealership—you'd miss Casper's if you weren't looking for the boats and smokers scattered about the property. Skip past the darkened entrance and follow the signs and yard decorations to a small hut towards the back, where you'll find proprietor Dan Cantera (a.k.a. Casper) holding court and serving barbecue and smoked fish. An array of menus for fish, barbecue, catering, specials, and sandwiches is dizzying, so do what I do and ask Dan for the lowdown on what's good that day.
On my recent visit, that meant ribs, assorted smoked fish, and smoked cabbage—a delicious and unexpected recipe Dan picked up from an old hunting buddy. But the real star of the show is the that fish: local amberjack, mullet, salmon, or whatever Dan has caught lately, smoked and served whole, or chopped up and mixed into the local delicacy of Florida fish dip.
Locals may take Florida dish dip for granted, but I'm obsessed with this smoky, creamy wonder. It's reminiscent of Jewish whitefish salad but decidedly Florida, made with mayo, relish, or even Miracle Whip, and served with saltines, hot sauce, and ideally an ice cold beer. Dan's is the smokiest, creamiest, and most generally excellent version I've had.
Dan is especially proud of his smoked salmon, available whole, sliced, or as a dip. "We only have white fish down here [in Florida]," he explains. "I never saw a red fish until I went up north. But the northerners that come down love it, I can't keep it in stock. Up there they do a cold smoke, but mine is different. More of a Southern thing." The salmon is great whole—flaky, smoky, and rich—but it really sings as a dip, whipped into a pink, almost mousseline-like substance, dotted with celery, and gracefully seasoned.
"Casper" entered the steel business after college, and worked the job for 25 years with a group of friends who hunted and fished during their down time. They developed a weekly tradition of raging parties every Wednesday where everyone brought their catch of the week and downed beers while Dan cooked it up—venison, ribs, fish, whatever.
Over the years, Dan perfected his technique at these weekly feasts, reading up on barbecue every chance he got, and trading recipes and tips with locals, other hunters, and barbecue enthusiasts. His current recipe for baked beans, spiked with just a touch of smoked pineapple, came from an old timer at the local Elks Lodge. They are wonderful.
The steel business is a dangerous one, and after several of his friends died on the job—and then also, tragically, his wife—he left to join the food industry, selling pulled pork and burgers from a truck outside the local Motocross track.
Known as a local barbecue and smoking expert, Dan was soon offered a job running the smokehouse of Graham's, a 40-year-old small produce market that just happened to be located on the grounds of Dan's grandparents' former home. For a couple years he cranked out smoked mullet and amberjack dip for the market's take-out business, and when the business closed a few years later, they offered Dan the run of the entire building, and Casper's BBQ was born and built into what it is today: six smokers on-site for everything from ribs to whole smoked fish, bring-your-own turkeys on Thanksgiving, and of course several varieties of delicious Florida fish dip.
"People ask me what style of barbecue I do," Dan says. "Is it Memphis? Carolina? I always tell 'em, 'T&E BBQ. Stands for trial and error!'" He's a pitmaster with a style all his own, borrowing from various Southern styles, local Florida culinary traditions, and tips he picks up from fellow smokers.
That extends to the wood he smokes with. "For the regular barbecue it's pecan or oak," Dan notes, "but for the fish I use mangrove whenever possible." According to Dan, Mangrove is the original wood used by Tampa Bay fisherman to smoke fish. "The old school guys would smoke it right on the beach at night," a nugget of knowledge he picked up from a 70-year-old mullet fisherman. Mangrove is native to Tampa Bay but legally protected, so it's hard to come by unless you have a mangrove trimming license. Dan's got a guy for that of course, a loyal customer and friend who keeps him supplied.
Dan is similarly loyal to his customers. As we talk he can't stop expressing gratitude for them and the network of pit folks and fishing buddies that helped turn his hobby into a thriving business. He also attributes Casper's success to his daughter, who runs his Facebook page and does promotion for the business.
Despite the off-the-beaten-path location, Dan has a loyal following among locals and vacationers alike. "October to April is really our busy season down here" he says, telling me a story of a guy from Maine who calls in his order over the phone and drives straight to Casper's from the airport. "Ribs and a whole smoked salmon, takes two slabs with him in a suitcase. One time he brought me a whole Maine lobster and I threw it in the smoker. Outstanding."
Hawk Krall is an artist, illustrator, and former line cook with a lifelong obsession for unique regional cuisine, whose work can be seen in magazines, newspapers, galleries, and restaurants all over the world. He focuses on editorial illustration, streetscapes, and pop-art style food paintings.