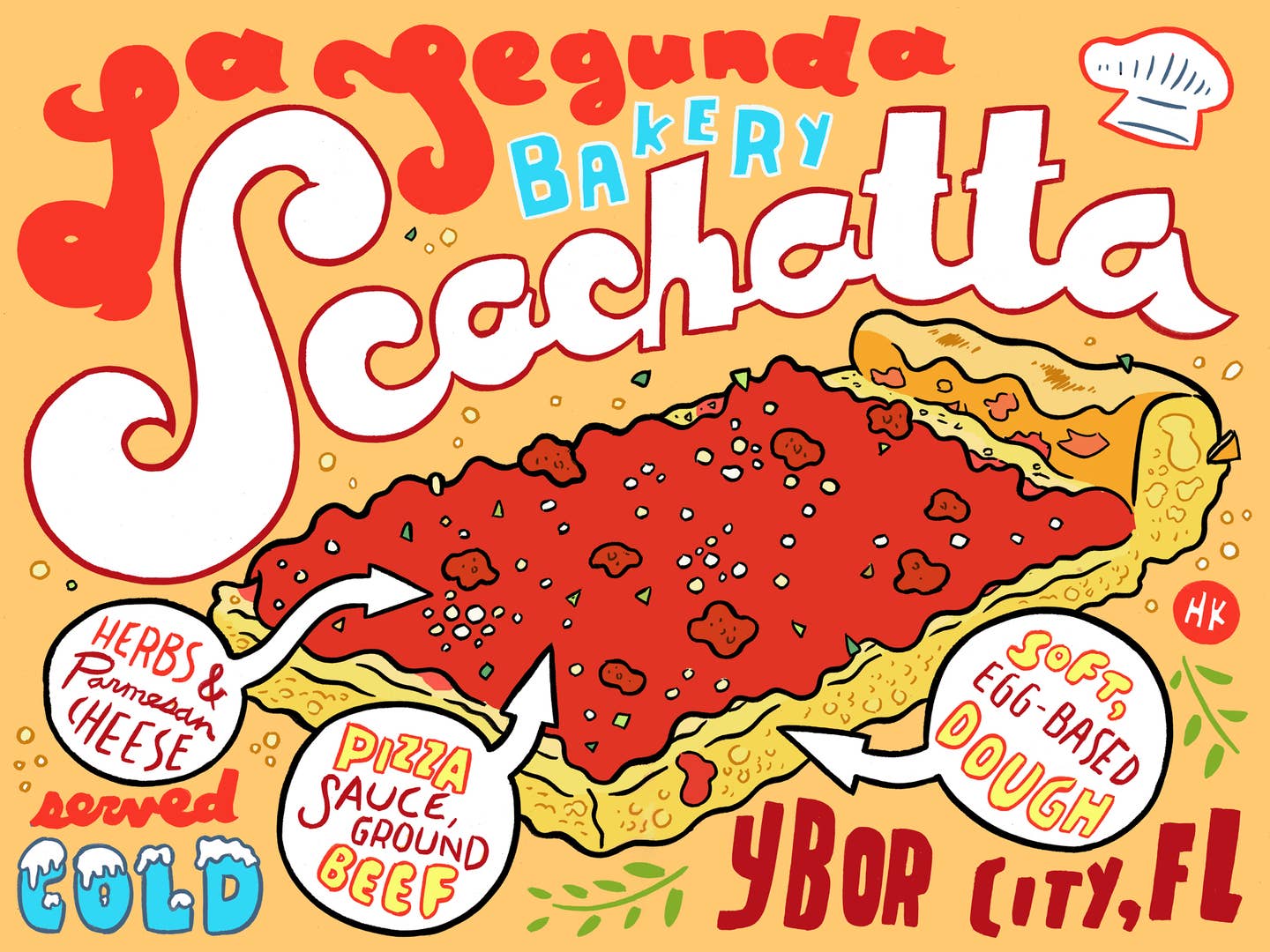 Travel
Where to Eat Scachatta, the Weird Cuban-Sicilian Pizza You'll Only Find in Florida
In search of Tampa's unique spin on the elusive bakery slice
Welcome to Hawk's Illustrated America, a monthly series following illustrator Hawk Krall's journeys through the back roads of the U.S. in search of our country's most obscure and delicious regional specialties.
As a child of the Philadelphia area, I've always been a fan of tomato pie, which means a simple square pizza that consists of thick dough and tomato sauce, sometimes with a dusting of Romano or Parmesan cheese, served at room temperature, and more common at old-school Italian bakeries than pizzerias. It's sort of thing you love if you grew up with it, and you attribute its greatness to some secret recipe handed down from generations of Sicilian bakery folk.
Part of what distinguishes tomato pie from what we traditionally think of as "pizza" is not just how it's made, but also how it's sold. Anything falling under the general banner of "bakery pizza" is rarely served hot, unless you're lucky enough to walk in the door when it comes out of the oven, or if you order a whole pie. It's also almost never referred to as a whole "pie" or "pizza"—the lingo demands ordering tomato pie by the "tray," "sheet," "half-sheet," or "box." You'll find bakery pizza cut into squares and sold in a bakery case next to rolls and pastries, not kept warm under a heat lamp.
You can find similar bakery pizzas in little pockets across the country—pretty much anywhere that has old Italian bakeries and locals that support them. There's Utica tomato pie, Rhode Island pizza strips, northeastern Pennsylvania "pitz," and Chicago bakery pizza. And then there's one that's always thrown me, a specialty of the Tampa, Florida area: scachatta. Almost identical to Philly tomato pie—square, sauce-based, and served room temperature—it's distinguished by the addition of meat cooked into the sauce, something you don't find in any other tomato-pie-like dishes elsewhere. The meat is theoretically based on something Sicilian, but down in Tampa, it takes on an exciting Cuban spin.
Tampa scachatta is one of those culinary-linguistic conundrums, sharing a similar name and heritage to various pizza-like breads on both side of the Atlantic, but with a murky origin that's hard to pinpoint. On my tour of Tampa's Cuban and Italian bakeries, I saw it spelled scachatta, scacciata, and at the more Spanish and Cuban-leaning establishments, escachata. An old article from the Tampa Tribune in the 1950s (the earliest reference I could find to American scachatta) spells it scaciata and scaciato, and it describes a recipe that calls for oregano, chorizo, and Worcestershire sauce. In Sicily, scacciatta (not to be confused with scaccia or sfincione pizza) is a double-crust baked pie that's more calzone-like than the Tampa version, where farther north in Italy, schiaciatta usually refers to a denser focaccia or flatbread with various toppings.
Tampa scachatta (I'm sticking with the Italian-American spelling to differentiate from the above Italian specialties) is more like Philadelphia tomato pie or Rhode Island pizza strips, sauce-based with a lighter dough and served at room temperature. You'll find it almost exclusively at Cuban-Italian hybrid bakeries, side by side with Cuban bread, guava pastries, and cannolis. But even within one region there are variations; some of the more Cuban-leaning scachatta goes heavier on the spices, and possibly even includes corn or cassava flour in the dough.
After touring the local scachatta scene, the clear stand-out was from a bakery called La Segunda. There the dough is soft, flavorful, and uniquely yellow, thanks to the uncommon addition of egg yolks. The sauce, enriched with onions, green and red peppers, rosemary, and oregano, is some of the best I've had on this sort of pizza anywhere—not too sweet, balanced in the way you only get by making the same thing for a long, long time. And while most scachatta calls for chorizo, the meat here is ground beef, cooked until it melts into the sauce like an Italian-American red gravy.
La Segunda Bakery has been around Ybor City for 101 years, serving the Cuban, Italian, and Spanish folks that work together in cigar factories, bakeries, and restaurants, and it's melded together traditions from all those influences.
Their first location, "La Primera," burned down, and it's been La Segunda (literally "the second") ever since. The bakery was founded by the current owners' grandfather, Juan More, a soldier from Spain who fought in the Spanish-American War in Cuba, discovered Cuban bread there, and eventually settled in Tampa with the recipe—including the signature palm leaf baked onto every loaf of bread, said to keep Segunda's extra-long loaves baking evenly in the oven.
La Segunda bakes around 20,000 loaves of Cuban bread a day, and it's been making scachatta for as long as anyone can remember, thanks to someone in the family who noticed something similar in Italy ages ago. While it's impossible to point to who first brought scachatta to Tampa, La Segunda's ancestors are in the running.
At La Segunda, the lines between Cuban, Spanish, and Italian are pretty blurred. Scachatta sits next to Cuban devil crabs and stuffed potatoes; a muffaletta sandwich lies side by side on the menu with Cuban sandwiches and medianoche. The Patrinostro sandwich—a more Italian combination of capicola, mortadella, and provolone, but served hot and pressed on cuban bread—is outstanding. Along with the scachatta, it's a great example of the Italian-Cuban culinary harmony that you see in Tampa—and nowhere else.
Where Else to Get Scachatta
Though La Segunda may be your top scachatta destination, it'd be a shame not to call out the other worthy stops on my scachatta tour.
Alessi Bakery
Probably the most well-known scachatta source; here the pizza is sold by the box and shipped all over the world. The crust is thicker and a bit sweeter than La Segunda's, closer to Philly-style tomato pie.
2909 West Cypress Street, Tampa, FL 33609
(813) 879-4544
Angelito's La Cardidad
A great, tiny Cuban bakery next to an auto body shop, where the scachatta sports a thicker crust with a good amount of meat. There's more spice here, giving the bread a heavier Cuban spin.
4425 West Hillsborough Avenue, Tampa, FL 33614
(813) 884-2822
Housewife Bakery
A more Italian spot closer to downtown Tampa, with a thinner crust and just a spot-on, well balanced sauce. Similar in style to La Segunda's.
6821 North Armenia Avenue, Tampa, FL 33604
(813) 935-5106
Moreno Bakery
Out in Brandon, this bakery also makes a yellow-crusted scachatta, but rumors say that instead of egg yolks, the crust gets its color from corn and cassava flour.
737 West Brandon Boulevard, Brandon, FL 33511
(813) 689-0320
Hawk Krall is an artist, illustrator, and former line cook with a lifelong obsession for unique regional cuisine, whose work can be seen in magazines, newspapers, galleries, and restaurants all over the world. He focuses on editorial illustration, streetscapes, and pop-art style food paintings.