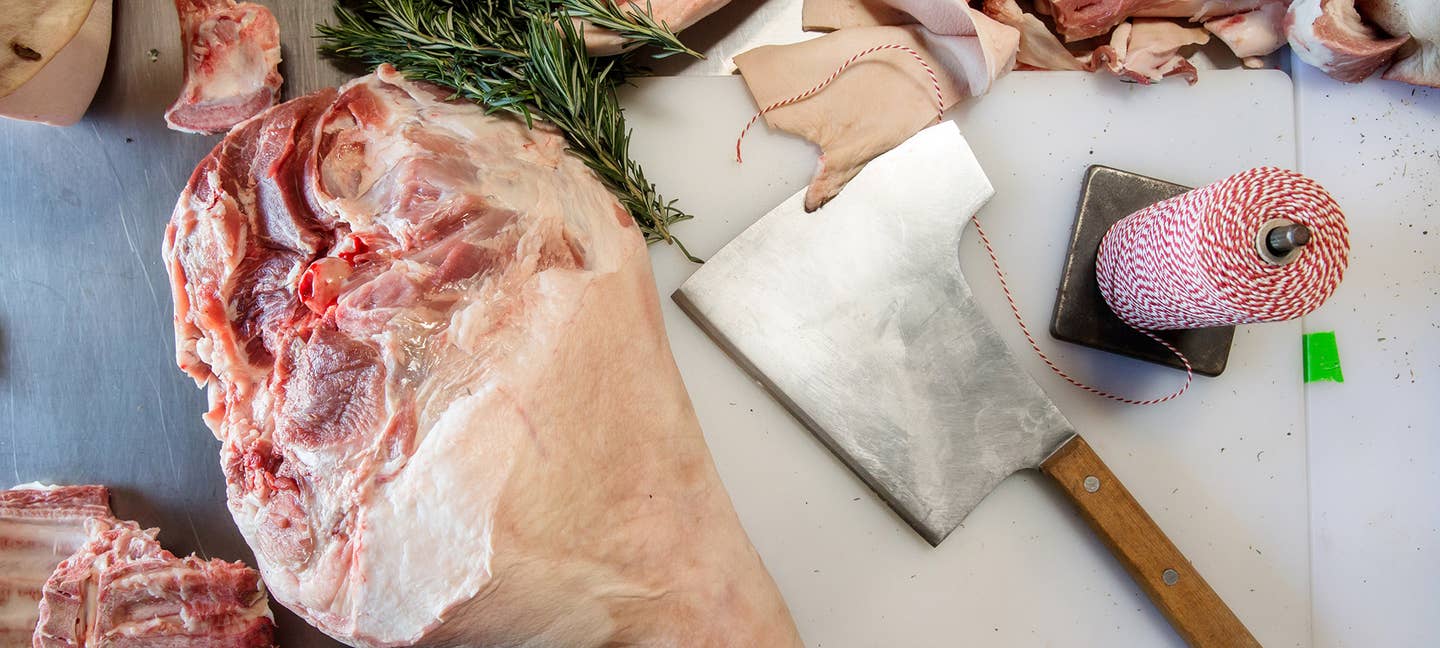 Travel
Celebrating Maialata, Italy's Festival of the Pig
Chef Cathy Whims honors this Italian tradition thousands of miles away in Oregon's Willamette Valley
When Dario Cecchini was a child, he looked forward to the day each year when the pig was butchered. "It was an ode to life, a moment of sacrifice," says Cecchini, the famed butcher from Antica Macelleria Cecchini in Panzano—in Italy's Chianti region. "We would take care of the animal for a whole year. They were part of the family. But then Carnevale would arrive. Carne is meat. So for us, it was a celebration of meat."
Cecchini is describing la maialata di carnevale, often shortened to maialata, the festival of the pig that is practiced in many parts of Italy, typically in the late winter or early spring, before Lent begins. This year, Cecchini celebrated his third maialata stateside near Portland, Oregon, where Italian-focused chef Cathy Whims hosts one each year for around 100 ticketholders at a nearby Willamette Valley winery.
Traditionally during maialata in Italy, family would arrive in the morning from far and wide to assist in the slaughter and butchering of a fattened pig. (Family members would help the host process a ready pig, and a week or two later, the host would help another relative do the same.) No part of the pig was wasted or is today: the entire animal, even its blood, is used in dishes. Some such as roasts or pastas are prepared and eaten that day—including crispy pork skins, uncured soppressata sausages (made with meat from the pig's head and feet), blood sausages, and porchetta. Other parts would be processed into long-lasting salami, pancetta, prosciutto, and other cured preparations, meant to last the better part of a year. Wine flows throughout the day as aunts, uncles, cousins, and friends labor in the kitchen. And at the end of the day, there is a huge celebratory feast for everyone who has helped prepare the meal.
"It was done anywhere where people are raising pigs, so that's practically everywhere in Italy," says Italian food expert Faith Willinger, author of Eating in Italy, Adventures of an Italian Food Lover, and Red, White & Greens: the Italian Way With Vegetables, though she adds that the name and culinary traditions are slightly different in each region. (In Sardinia, for example, porceddu, or suckling pig, is a primary focus of the celebration.) Daniele Vettorello, a bartender at Nostrana, an Italian restaurant in Portland, Oregon, grew up going to maialate in his village, San Giorgio di Lomellina (southwest of Milan in Lombardy), and still does. At his house, maialata results in friendly competitions over who makes the best salami, pancetta, and prosciutto—often judged by the ones leftover from the year prior. "The real maialata is more than a party," he told me, as we sat in Nostrana's bustling dining room with Whims, who is the chef-owner there. "You feed the whole family."
Whims first had her own experience while visiting a winery in Italy's Friuli-Venezia Giulia. She, her husband David West, and Willinger were staying at a winery, Le Vigne di Zamo, in Udine. "The winery had held a maialata and they had made this video pastiche of the photographs," says Whims. "We got so excited about the idea. We thought, 'How great would that be to do a version of it in Oregon?'"
When Whims returned to Portland, she contacted Rudy Marchesi at Montinore Estate. "I thought he'd be the perfect person because he's such a Renaissance man. He makes his own salami, cheese, and biodynamic wine, and has a beautiful winery." This past March was the seventh year of their Oregon maialata. Similar to how the celebration has evolved over time in Italy—you're no longer permitted to slaughter a pig in your home, for example—it evolves slightly each year in Oregon, too. Attendees drove up Montinore's long tree-lined driveway around noon. After coffee from local Caffe Umbria and a taste of burro del Chianti—lard whipped with Chianti spices, slathered on toasted ciabatta—everyone headed for the winery.
The first event of the day was a butchery demonstration with Dario Cecchini. As Cecchini broke the animal down into primal cuts, he gave an eloquent disquisition on the importance of the pig in Italian culture and the merits of being a butcher. As he spoke, transfixing the 100-plus gathered attendees, he would occasionally hold up a cut for all to see. "Prosciutto!" he said, at one point, holding up the pig's leg. Nostrana's in-house butcher Rob Roy and the Portland Meat Collective's Camas Davis broke down the remaining parts of the pig that Cecchini had begun.
Montinore's wine flowed freely all day—the L'Orange, a blend of pinot gris and muscat ottonel, and the Rosso di Marchesi, a blend of teroldego, lagrein, pinot nero, sangiovese, and nebbiolo, were served with lunch. Chef Sarah Schneider and the team at the Nightwood Society—a female-owned private event space for farmers, butchers, and creatives in Portland—taught a sausage-making class. And Whims and Paolo Calamai of Portland's Florentine restaurant Burrasca taught everyone how to make gnocchi (Whims) and wild boar ragu (Calamai). The gnocchi and ragu were cooked and served as a snack. There was also a class on salting and preserving taught by traveling chefs Eric Bartle and Sarah Kundelius.
At the end of the day, guests migrated down to the wine cellar, which had been transformed into a romantic dining room with hanging lights, a candelabra, and an accordion player. Guests sat at four long tables, clinking wine glasses and sharing food family-style, some of which they spent the afternoon crafting. The first course, made by chef Rick Gencarelli of Lardo and Grasa, was an elevated pasta e fagioli, made with prosciutto, Ayers Creek borlotti beans, garganelli infused with Oregon black truffles, Parmigiano-Reggiano, and brown-butter gremolata—all topped with microplaned Perigord black truffles. The pasta was followed by a chicory salad with frisée, wild cress, and finely slivered blood oranges; Umbrian lentils with salsa verde; and roasted kale and sprouting broccoli from Gathering Together Farm. At last, the pork dishes arrived on platters: Tuscan-style porchetta (which Cecchini had prepared at the end of his demo), stinco di maiale (braised pork shank) prepared by Nostrana's Rob Roy, and pork-and-fennel sausages.
By the end of the day, the guests at Whims' event had made new friends and connections, and bonded over this honoring of the pig and this coming together of family and community. For some, it even revived memories. A man from Sardinia approached Marchesi and shared: "Yesterday my wife said to me, 'We're going to this thing at a winery, and you're gonna love it.' I walked into the cellar tonight and I was instantly transported 6,000 miles to my mother's kitchen."