Braised Pork Shank (Stinco di Maiale)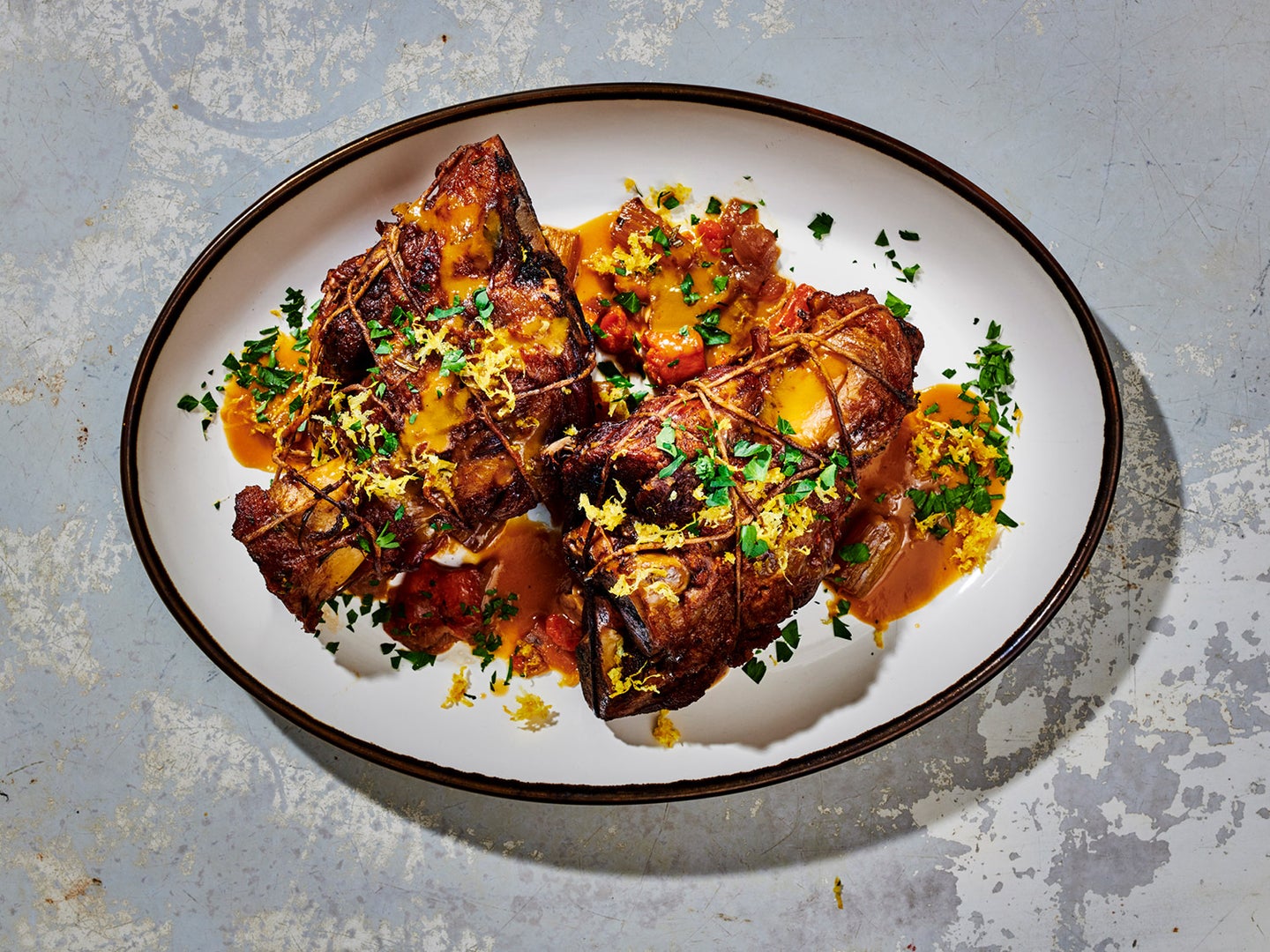 Cathy Whims, the chef at Nostrana in Portland, Oregon, cooks pork shanks low and slow with aromatics and beer for her annual maialata, a traditional Italian festival celebrating the pig. Fresh parsley and lemon zest give this hearty dish a bright finish.
Featured in: Celebrating Maialata, Italy's Festival of the Pig
What You Will Need
Braised Pork Shank (Stinco di Maiale)
Pork shanks are braised with chicken stock, beer, and plenty of aromatics, including fresh rosemary, and finished with parsley and lemon zest in this hearty dish from celebrated Portland restaurant Nostrana.
Time: 2 hours, 50 minutes
Ingredients
2 large pork shanks or hocks, trimmed of skin (3¾ lb.)
Kosher salt and freshly ground black pepper
1⁄4 cup plus 2 Tbsp. extra-virgin olive oil, divided
1 large yellow onion, coarsely chopped (2 cups)
2 medium carrots, peeled and coarsely chopped (1 cup)
3 large stalks celery, coarsely chopped (1 cup)
5 cloves garlic, minced (2 Tbsp.)
1 qt. low-sodium chicken or pork stock
3 cups doppelbock-style beer, such as Birra Moretti La Rossa
1 tbsp. fresh rosemary, minced
2 tbsp. fresh parsley, minced
1 tbsp. finely grated lemon zest
Instructions
Preheat oven to 325°F. Using four separate lengths of butcher's twine, tie two tight loops around each shank a couple of inches from both ends. (This will help to keep the meat on the bone as the shanks cook.) Season the shanks generously with salt and pepper. In a large Dutch oven or deep roasting pan set over medium-high heat, add ¼ cup oil. When it begins to smoke, add the shanks and brown them evenly on all sides, 18–20 minutes total. Transfer the shanks to a large plate, discard the oil, and wipe out the pot. Add the remaining 2 tablespoons oil and set pot over medium heat. When the oil shimmers, add the onion, carrots, and celery. Cook, stirring frequently, until the onion is translucent and beginning to soften, 8–10 minutes. Add the garlic and cook, stirring constantly, until fragrant, about 1 minute, then add the stock, beer, rosemary, and shanks. Increase the heat to high and bring to a low boil, then immediately turn off the heat, cover the pot with a lid or tight-fitting piece of heavy-duty aluminum foil, and transfer to the oven.
Bake for 45 minutes, then turn the shanks and check the amount of liquid, adding a little water if the liquid has evaporated below the bottom third of the shanks. Cover again and continue baking until a skewer inserted into the meat passes through with little resistance, about 45 minutes more.
Remove the pot from the oven. Using a slotted spoon, carefully transfer the shanks to a rimmed baking sheet. Switch oven to broiler setting.
Using a slotted spoon, add half of the vegetables and ½ cup of the braising liquid to a blender. Purée until smooth and pourable, thinning with more braising liquid as needed. Set the sauce aside and keep warm while you broil the shanks.
Broil the shanks until browned, 5–10 minutes (watch carefully to avoid burning). Remove from the oven.
Using a slotted spoon, transfer the remaining vegetables to a large serving platter. Carefully place the shanks on top, remove and discard the butcher's twine, and ladle the sauce around the shanks. Sprinkle with parsley and lemon zest; serve hot.