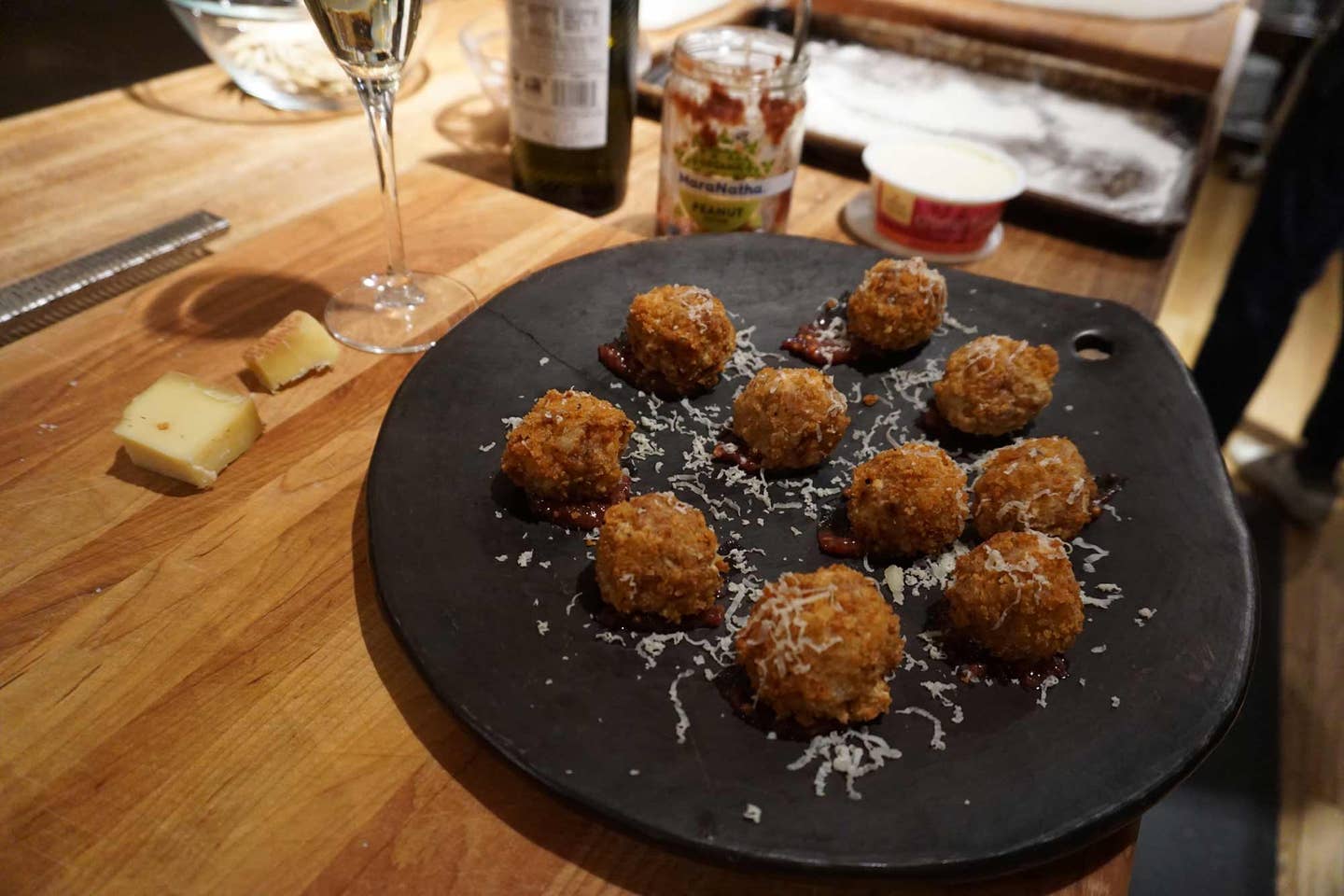 Culture
Cheese In Every Course is a Dinner Theme We Can Get Behind
We really mean every course, from appetizers to dessert
If nothing says comfort like a home-cooked meal—better yet one with multiple melted cheese dishes—imagine that very same experience when a lauded chef comes into your home and cooks it for you using the best possible ingredients. This was the experience of welcoming Swiss brand Emmi cheeses and their gracious, talented chef brand ambassador Elizabeth Falkner into the SAVEUR Test Kitchen for an intimate supper with friends.
A mix of SAVEUR staff, journalists, cookbook authors, and even a few cheese writers joined us for what became four hours of cheese fanaticism in dinner form. Even hours before guests filled the kitchen and flocked to the fondue bowls, the Saveur offices had become a fragrant, welcoming workshop for chef Falkner. Having been to Switzerland to experience the craftsmanship behind the Emmi cheeses—from the thoughtful way the cows are raised to the seemingly never ending tunnels and caves that house the slow-aging cheeses—Falkner came in knowing the true potential of high-quality cheeses like these in transforming a dish. She incorporated either Emmi's raclette and Le Gruyère AOP cheeses (and in some cases both) into every course in such a balanced, thoughtful way, so there was never a threat of cheese fatigue. In the midst of it all, Falkner warned, "Prepare yourself for dessert and bring tissues—it's going to make you cry."
SAVEUR staff, guests, and friends experienced the opposite—after a parade of molten, cheese-laden hors d'oeuvres like crispy pizzas with melty Gruyère, bacon, and onions, and two-bite "farro-cini" (inspired by Italy's breaded deep-fried rice balls), we were still chomping at the bit for the equally cheese-focused courses one through four that followed.
The beginnings were as impressive as the middle and ends—a chilled bitter greens salad with delicate shavings of Le Gruyère AOP with a hazelnut vinaigrette. For a second course, Falkner with the help of Boska lined the dining table with individual raclette pans which guests sizzled over open (candle) fire in the traditional method. When the cheeses bubbled rapidly, each was poured over a medley of ingredients from truffled chicken breast to seeded crackers. The savory grand finale were steaming pots of three fondues with a blend of Emmi Le Gruyère AOP, Emmentaler AOP and Der scharfe Maxx, with all the fixings, each made with a different style of alcohol, from white wine to a crisp dry cider—arguably the best of the bunch.
Ciders from New York's Hudson Valley and the Finger Lakes accompanied every bite from sparkling cider at the opening appetizers to dessert, when a fortified cider was served. Rachel Freier, a cheese and cider professional, curated the pairings, which included selections from Kite and String, Metal House, and Eve's Cidery. "Similar to the way they make wine with grapes, they ferment 100 percent pressed apple juice to make ciders of different styles. Most that we served [at the Emmi supper] are bone-dry, with no added sugar, and were made in the Champagne method."
Dessert stuck to the cheese-coated theme: a chiboust, which Falkner described as a love child between a chocolate souffle and chocolate mousse, was drizzled with Emmi raclette and served with a Gruyère streusel and cheese caramel. Yes, chef Falkner, we wanted to cry—but mostly because it was over.