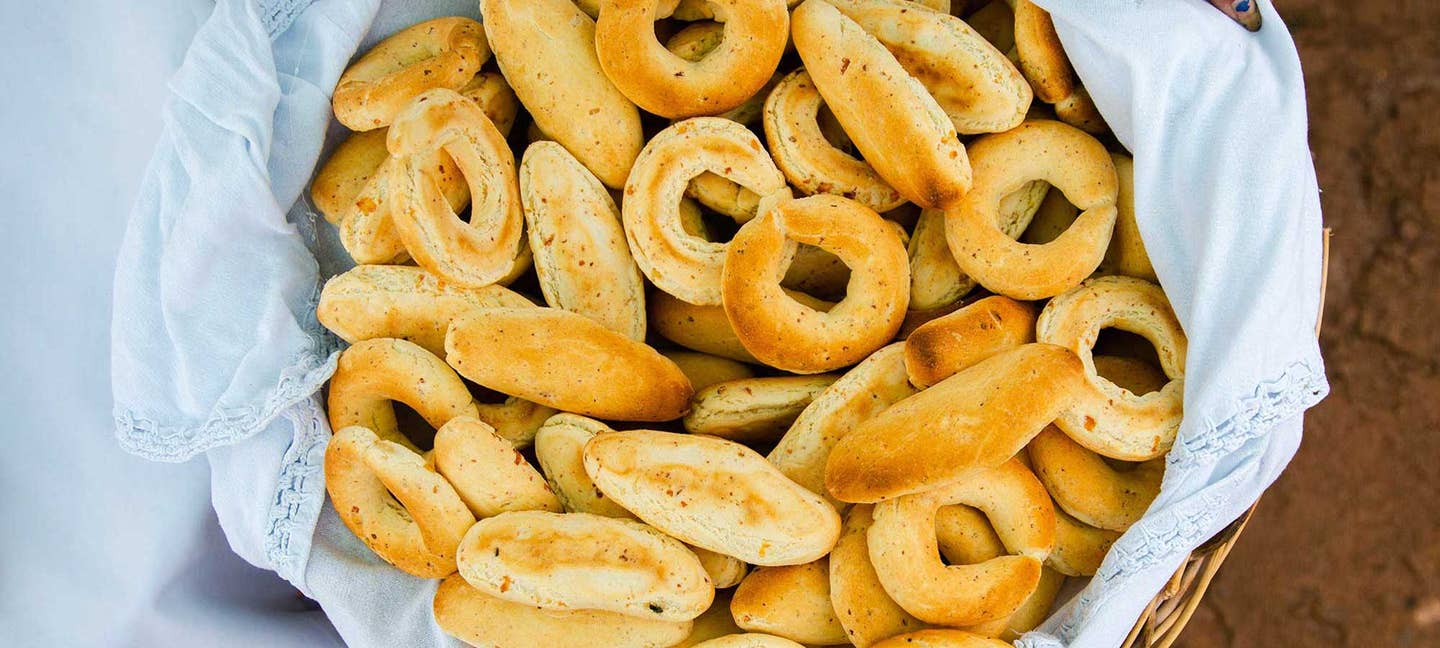 Travel
The Cheese Bread in Puerto Iguazú, Argentina Is Worth The Trip
Chipas, a manioc-based cheese bread, are the local favorite in the riverside town where Argentina meets Paraguay and Brazil
If you find yourself in Puerto Iguazú, a northeastern Argentinian city that happens to accompany one of the world's greatest waterfalls, it's imperative that you eat as many chipas as your stomach allows. These chewy, cheesy balls of bread are baked in locals' homes, wrapped preciously in white linens, and transported in woven basket trays to street corners, where they're sold from morning until evening by vendors known as chiperos.
The most well-known chipas in town come from a single vibrant, green-walled kitchen in a quiet, unassuming residential block, where Martin Lezme Rodriguez and his family have dedicated their lives to this traditional street food. Dating back to the 19th century, chipas are believed to have originated from the indigenous Guaraní people, who live in the region surrounding this unique city at the corner of where Argentina meets Paraguay and Brazil. Rodriguez moved to Argentina from Paraguay, which he refers to as the "Kingdom of Chipas," when he was 17, and has been making them for 30 years.
The kitchen is adjacent to the family's home, making it easier to start the day's baking as early as 3 a.m. New technology has certainly helped with cooking time and production, but the family still works together to grate nearly 100 pounds of cheese each day—the one ingredient of which Martin says he's not afraid to use too much. The dough consists of manioc starch, milk, eggs, butter, and a hard Argentinian cheese such as sardo, comparable to a Pecorino Romano. He prepares three versions: the classic, served plain; a variation that's stuffed with beef; and a more modern option that's stuffed with ham and cheese.
Vendors will begin arriving at Rodriguez's kitchen as early as 5:30 a.m., and will continue coming throughout the day, purchasing and re-selling as many chipas as his family can produce. Selling them is never an issue—everyone who catches a glimpse (or a smell) of a chipa usually asks for more.
Ring-shaped chipas and the round, stuffed shapes are among the most common types, but the chipa caburé is another popular style. At the Awasi Iguazú hotel, head chef Aaron Castillo Telleria prepares his own version of the chipa caburé, where the dough is molded around skewers to form a hollow cylinder shape and cooked over an open fire.