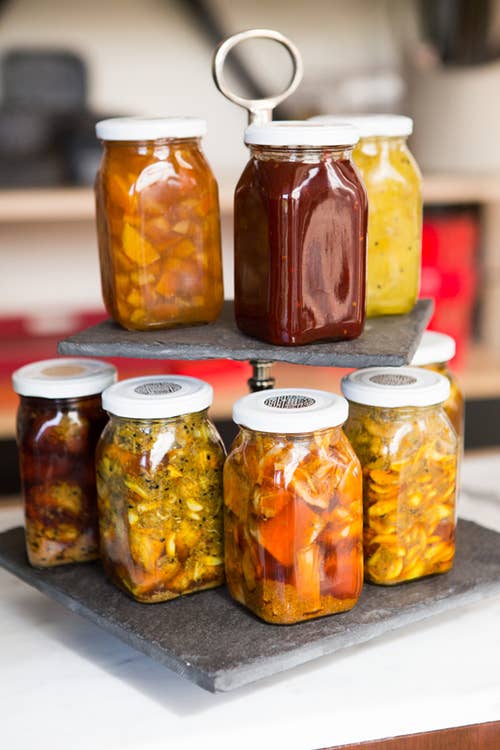 Travel
Travel Itinerary: Old Delhi, India
At the entrance to Kahri Baoli, a gated laneway, the air is so gritty it's like walking through a hailstorm of ground turmeric and chiles. This back alley is just one of hundreds radiating away from Old Delhi's Chandni Chowk, a chaotic bazaar that stretches between the Red Fort and Fatehpuri Masjid mosque. It is narrow enough that even rickshaws can't enter, but beyond this arcade lies Gadodia Market, the epicenter of Asia's spice trade. The inner courtyard is crammed with wooden hand carts and porters bearing burlap sacks on their backs. Wholesale merchants sit cross-legged in their stalls and warehouses, drinking chai or lemonade laced with black salt, haggling with customers over vast piles of cloves, pepper, cardamom, nuts, and dried fruits. Shopkeepers brag about the finest saffron from Kashmir and the hottest pepper grown in Malabar and first-flush tea leaves picked in Darjeeling. In the surrounding sprawl, worshipers pause to wash their hands at water fountains outside the Hanuman Temple; dogs snooze on doorsteps; street kitchen wallahs fire up vats to cook biryani, moong pakori, and arguably the greatest fried chicken ever. Dust, trash, spit, trampled flowers. Motorcycle horns, the call to prayer, beggars wailing. Delivery trucks emblazoned with "Great India" in floral graphics spewing fossil fumes over all of us. For me, this spicy funk swirling through one of the world's largest markets is simply the exhalation of life. It doesn't get more intense than this, so I advise inhaling deeply.
10:00 AM: Morning Tea Intensive
Mehar Chand & Sons has been selling whole spices and custom ground blends since 1917. (Its "pure veg" aloo and raita masalas are personal favorites.) Fifth-generation family member Anshu Kumar is a master tea blender; stop in for a fascinating discourse on India's tea plantations over cups of rare second-flush muscatel Darjeeling. The shop's back windows peek into the courtyard of Sunehri Masjid mosque.
6535 Khari Baoli Rd. Fatehpuri, Chandni Chowk
12:00 PM: A Cook's Souvenir
Shri Niwas & Sons is another venerable spice dealer on the predominantly Muslim Lal Kuan Bazar Road. Also in business for nearly 100 years, it specializes in "non-veg" masala blends that appeal to cooks who aren't restricted by a Hindu or Jain diet from eating meat dishes. The stall is so small that the present owner Prakash Niwas sits surrounded by drawers filled with black cardamon and star anise, directing assistants to climb rickety ladders to pull down packets of the rarest blends from high shelves. Pick up a packet of Kashmir saffron here.
5120-21 Sirki Walan near Kucha Pandit, Hamdard Marg
2:00 PM: Wander Snack Alley
Beginning at Jama Masjid mosque, walk along Matia Mahal Lane and graze the street stalls here, which are noted for their biryanis and kebabs. Save room for Muhammad Husain's outstanding fried chicken. Many shops and restaurants in Old Delhi lack actual street numbers, but it's hard to miss this cook's stall—he perches on a high stool next to roiling vats of oil and fries upward of 800 birds, expertly marinated in a secret turmeric-chile sauce, every night. Next door, at Pakwaan Mughal Bread Factory, the saffron-infused sheermal and lachcha paratha, hot out of the tandoor, is the best bread you'll ever eat.
4:00 PM: A Colorful Spectacle
Anyone who has watched Mira Nair's film Monsoon Wedding knows that tying the knot in India can be wildly colorful. But where do brides and grooms get all that traditional bling? Near Chandni Chowk, Kinari Bazar Road is lined with shops specializing in trimmings, sarees, sandals, turbans, lehenga (veils), embroidery, and beadwork. It's one of the most crowded Old Delhi laneways, especially during auspicious wedding seasons.
Kinari Bazar Road Near Chandi Chowk
8:00 PM: Old Delhi After-Dark
After most shops shutter, Old Delhi is equally fascinating, the pace a little less frenzied, the laneways still busy with stalls serving hungry customers in search of black chickpea chole or papdi chaat. Mohammed Asif, the front-of-house manager at On the Waterfront restaurant at the Lodhi, will escort hotel guests on an insider tour through the galis (specialized streets) his family has called home for generations. After you're picked up at the hotel, Asif pauses at rusk bakeries, lemonade (nimbu pani) stalls, and his friend Mohammad Taufeeq's Dil Pasand Biryani Point, a back alley cook shop where they specialize in basmati rice studded with spice-dense halal beef. Wind up the night at the Shiv Bhandar jalebi stall, where cooks swirl thin ribbons of batter into hot oil and then soak the lacy fritters in honeyed syrups. It's the closest thing to molten ambrosia.
Dil Pasand Biryani Point
735 Haveli Azam Khan, near Chitli Qabar Road
Shiv Bhandar
Kucha Ghasi Ram Lane, Chandni Chowk, near Fatehpuri Masjid
All-Day Affair
For those who want full cultural immersion, Cox & Kings guide Seema Srivastava conducts day-long walking tours of Chandni Chowk and neighboring laneways. Wander by foot and rickshaw as she discourses on the old city's history, architecture, culinary roots, and spice trade. Sample snacks (gol gappa, matar, milk cake) from some of the best vegetarian chaat vendors in the market. "If the fingers aren't stained yellow," she explains, referring to the local love of turmeric, "the meal is no good." Wind up in Paranthe Wali Gali, a lane that specializes in shops where this layered fried bread is on every menu. At Pandit Gaya Prasad Shiv Charan Paranthe Wala, established in 1872, try the cauliflower-stuffed paranthe paired with sweet tamarind and mixed pepper pickles.
$260 including transport; Cox & Kings
Paranthe Wali Gali, between Chandni Chowk and Kinari Bazar Road
The Lodhi
The Lodhi is an oasis of calm after the tumult of Old Delhi. This nine-story contemporary hotel with 40 rooms and suites also has a spa, lap pool, two main restaurants, and a lobby verandah that Delhi wallahs treat as a defacto cultural salon. (One day you might meet a Rajasthani royal, the next a sculptor whose work has been represented at the Venice Biennale.) The impeccable staff remembers what you like to drink, rushes to grab armloads of packages, and leaves stress-reducing Ayurvedic spritzes at turndown. Chef Ritesh Negi prepares lavish Mughal-style dinners (special thalis, hookah included) on request. Don't miss his amazing pickles, made from family recipes and sold at the hotel's bakery to take home. If you ever leave.
Lodhi Road, New Delhi
+91/11/4363-3333
thelodhi.com
Planning an Authentic Trip
When it comes to getting the most out of a place, whether on vacation or reporting a story, we seek out people who know their stuff to guide us and give us a glimpse of the true heart of the place they call home.
Practical Travel
A trip to India is guaranteed to be filled with unforgettable experiences and flavors, but there are certain things you should know before you go to make the most of your trip. Here's our advice on how to get there smoothly and hit the ground running once you land.
Best Guide Books
Traveling to India takes a bit of planning, which is why we've rounded up the best guide books and apps to help you navigate this vast and varied country.