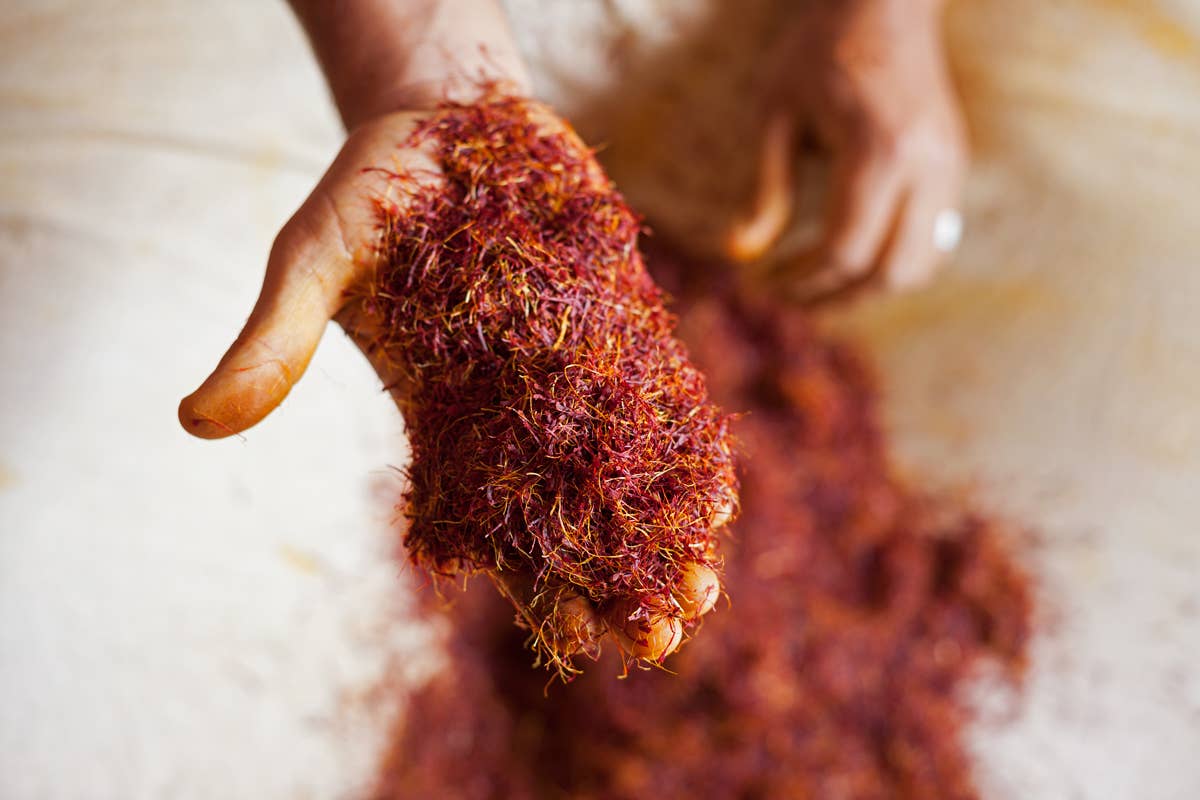 Travel
Travel Guide: Kashmir, India
When, in the 17th century, the Mughal emperor Jahangir set his eyes upon Kashmir, he exclaimed, "If there be a heaven on earth, it is here. It is here." Having recently visited the Indian state of Jammu and Kashmir, in the subcontinent's far northwest, I have to agree with him. From the sweeping Himalayan views to the trout-filled rivers that course past fields purple with saffron crocuses, to the placid, lily-dotted lakes of Srinagar, Kashmir is, indeed, gorgeous. But more important, all that beauty yields abundant crops and provides grazing lands for Kashmiri sheep. Lamb and yogurt, lotus roots and greens grown in the middle of the lakes, eggplant and cold-loving kohlrabi, nuts and dried fruits, and smoky, mild Kashmiri chiles provide the basis of a unique cuisine. In the chilly, high-altitude climate, hearty meat dishes and warm, tandoori-baked or griddle-cooked breads are beloved, along with warming teas made with saffron, cardamom, and almonds, or the region's sulphurous pink salt.
Kashmir's riches have long drawn conquerors; in earlier times there were successive waves of Buddhist, Hindu, Sikh, Turko-Mongol, and Mughal rule. India and Pakistan have several times warred over Kashmir, while Kashmiris have pined for independence. But though the region has suffered its share of disputes, a fragile peace is currently in place. Westerners like me are just beginning to join Indians from other parts of the country who venture to Kashmir to enjoy its unique architecture and culture, beautiful gardens, copious natural charms, and, of course, its food.
—Betsy Andrews, SAVEUR Executive Editor
Ahdoo's
For nearly a century, the restaurant at Ahdoo's Hotel in Srinagar on the banks of the Jhelum River has been serving the city's most delicious traditional dishes. All the greatest hits of the lamb-rich Kashmiri celebration feast called the wazwaan can be devoured here: tangy rogan josh, lamb braised in a richly spiced sauce made red from Kashmiri chiles, the meat falling off marrow-rich bones; mirchi qorma, hunks of lamb in a chile-laced sauce garnished with loads of dried mint; turmeric-tinged, pressed and fried lamb ribs called tabak maaz; Kashmiri pulao stained with saffron and chock full of meat and vegetables; and an exceptional nadru yakhni, thick slices of lotus root in a creamy yogurt sauce.
+91/19/4247-2593
ahdooshotel.com
Jee Enn Sons
This wonderfully atmospheric shop offers pastries and confections of both Western and Kashmir origins, as well as kebabs and other snacks, to be enjoyed with a cup of milky salt tea brewed with the region's sulphurous pink salt. Some of my favorites include bakarkhani, a flaky sweet bread flavored with saffron or nigella seeds; the shop's version of shami kebab, a grilled mutton and pumpkin patty; and tchachvoru, a dimpled bread cooked in a tandoor oven that's the closest thing Kashmir has to a bagel.
Paratha Stands
In the market that has grown up outside the grand Hazratbal Mosque—a gleaming white edifice of onion domes that houses what is believed to be a lock of the Prophet Mohammad's hair—there are ramshackle street stalls selling fried foods and confections and, the pièce de résistance, enormous paratha breads. Order the halwa paratha: Stretched thin by hand like Neapolitan pizza dough and then fried onto an enormous convex griddle set atop a gas burner, these crispy flatbreads are ripped into portions and wrapped warm around hunks of soft, golden halwa, a cardamom-laced semolina sweet, and handed to customers rolled in newspaper. It tastes like the world's best funnel cake.
Outside Dastageer Sahib's shrine situated in Khanyar
Floating Market
Rise early—very early—and hire a shikara (your hotel or houseboat can help to arrange) to take you to Dal Lake's floating market. As you recline beneath the fringed canopy of the colorfully painted wooden canoe, your boatman works his long-handled, heart-shaped paddle like a gondolier, maneuvering you through Old Srinagar canals and across the waters to this sunrise gathering of vendors, who arrive in their own slender boats with their cargoes of fruits, flowers, and vegetables. Many of the items sold or traded here were grown on floating islands on the lake; others were shipped up from more southerly climes and hauled out to the middle of the lake from dry land. As the wake-up prayer calls lapse to morning bird song, the vendors crouch on the bows of their boats, weaving around each other in a graceful ballet of commerce. It's a remarkable sight to behold.
Pari Mahal and Shalimar Bagh Gardens
The Persians loved their gardens, and Srinagar abounds with the well-kept legacies of their ancient horticulture. Among these are my two favorites, Shalimar Bagh and Pari Mahal. Set on the side of Zabarwan Range, a short drive from the Vivanta by Taj Hotel, is Pari Mahal, "The Fairies' Abode." A Buddhist monastery converted into a school of astrology and astronomy by Prince Dara Shikoh, son of the 16th-century Mughal ruler Shah Jahan, it consists of seven flower-filled terraces spilling down the mountainside within and around a colonnaded brick edifice. It offers a beautiful little getaway from the city, with a fascinating twist: Dug into the lawns of the top terrace—a strategic vantage point overlooking Srinagar—are razor-wired foxholes guarded by armed soldiers, evidence of Kashmir's troubled political life.
Pari Mahal Road, off Cheshma Shahi Road
Shalimar Bagh
The Mughal ruler Jahangir built the sprawling and magnificent gardens of Shalimar Bagh on the shores of Dal Lake in 1619 as a gift for his wife Nur Jahan. Now the 31-acre terraced property is a public park. Here, families and lovers lounge on the verdant lawns, stroll beneath ancient and towering chinar trees, and splash in the wide pools.
Intersection of Shalimar Ghat and Nishat Harwan Roads
Shah Hamdan Masjid
First built in 1395 by the dynastic Northern Indian ruler Shah Sikandar to commemorate the visit of Sufi poet and scholar Shah Hamdan, this mosque on the banks of the Jhelum River was burned and rebuilt several times over the centuries. The current structure, rebuilt in 1732, is composed almost completely of the intricate wood carvings that are a hallmark of Srinagar's architecture.
Zaina Kadal-Khan Kah Road, Shamswari
Trout Fishing
Kashmir offers world-class fly fishing opportunities. One of Srinagar's best fly fishermen, Maqsood Ahmad Madarie, owner of the New Jacqueline Houseboats and subject of the fly fishing film Drift, can take you trekking into the mountains to cast out into the region's pristine lakes and spring-fed streams. Nab yourself a beauty to roast on an open fire.
+91/94/1900-1785
+91/99/0659-3333
newjacqulinehouseboats.com
Andraab
The most exquisite pashmina shawls, throws, bedspreads, stoles, and wall hangings to be bought in Kashmir are found at this elegant shop a short drive from the airport. Hand-woven and elaborately hand-embroidered using the ancient Persian methods that have flourished in Kashmir, the clothing and fabrics sold here can take months, even years, to produce. They can cost upward of thousands of dollars, but the quality is unparalleled, and the shop owners (the brothers Muzaffar, Mubashir, and Muzakir Andrabi) are both passionate and highly knowledgeable about their museum-quality wares. They keep shops, too, in Jaipur, Udaipur, Delhi, and, by appointment only, in Brooklyn, New York. Muzaffar also operates the excellent tour guide outfit Kashmir Caravans.
Near Humhama Chowk, New Airport Road, Srinagar
andraab.com
Coppersmiths in Old Srinagar
Kashmiri cooking utensils are generally made of heat-retaining copper. Along a narrow lane near Nowhatta Chowk in the old part of the city, stall after stall offers cast-copper pots, samovars, cups, platters, utensils, and other items. Many of them are embossed and engraved with calligraphic patterns, floral motifs, and other decorative elements. After bargaining for your selections, you can take the purchases around the corner to the stall of a tinner, who paints the copper with molten food-safe metal as you watch.
Nowhatta Chowk Old Srinagar
Suffering Moses
Founded in 1840, this sprawling shop on the banks of the Jhelum River in Srinagar carries all the handicrafts that Kashmir has to offer: intricately woven rugs; embroidered napkins, pillow covers, bedspreads, and carved wooden boxes and screens, some with ancient pedigree. Best of all is the stock of fantastically wrought paper-mâché boxes, lamps, napkin rings, coasters, bowls, bells, Christmas balls, and more. It's an ancient art, taught by Persians sent by the Sufi leader Shah-i-Hamadan to the valley over seven centuries ago in order to give the then-impoverished Kashmiris a livelihood.
Lambert Lane, The Bund at Polomarket Intersection
Almond Villa
This heritage hotel, the handsome residence of host Jyoti Singh, the daughter of the Maharaja of Kashmir, descendant of the Dogras who ruled Kashmir from 1846 to 1947, is surrounded by enormous grounds planted with fruit trees—apricot, peach, plum, apple, pear, walnut, and almond—beneath which a fortnightly farmers' market is held. The six bedrooms that are given out to guests are the sort you would expect in the country home of an aristocrat out in the British countryside: comfortable, charming, and unpretentious. The smaller Walnut Cottage includes two bedrooms and is perfect for a family seeking a bit more solitude. The property is also home to the Dara Shikoh Centre for the Arts, where concerts, exhibitions, and an annual arts festival are held. Meals, included in the stay, are prepared from the organic gardens on the grounds, and dishes—khatta meat, or lamb stew soured with dried mango powder; potatoes cooked in mustard sauce; rajma, or kidney bean, curry—reflect the cuisine of Singh's Dogra ancestors.
+91/99/7192-4583
almondvilla.in
Pahalgam Hotel
Located in the popular riverside tourist town Pahalgam, 7,200 feet above sea level and about a two-hour drive southeast of Srinagar, this chalet-style hotel features newly renovated rooms, many of them overlooking the River Liddar. The hotel shop, Almirah, offers local handicrafts, including the rustic and colorful embroidery of the region's Bakarwal and Gujar shepherds; hotel owner Ramneek Kaur runs a non-profit organization that helps the herds women establish their weaving as an economic enterprise, and she can set you up with a fascinating visit with the shepherds that may include a rustic lunch of sautéed wild greens and fried local cheese. The hotel's coffee shop sports an open fire pit, and the restaurant offers such local specialties as fresh river trout curry. The town itself has scores of outfitters that offer pony treks in the surrounding mountain valley. Just 10 miles away is the town of Chandanwari, starting point for the Amarnath Yatra, an annual pilgrimage that draws hundreds of thousands of Hindus each year to a sacred mountain cave in which an enormous ice lingam forms.
+91/19/3624-3252 pahalgamhotel.com
Sukoon Houseboat
One of the more unusual ways to stay in Srinagar is on a houseboat, a legacy of the colonial period when British residents were disallowed from owning property on land in the region and built houseboats instead. Today, there are 1,000 or so boats on Dal Lake and the smaller, sleepier Nigeen Lake. Sukoon is the most luxurious houseboat among them. Set off by itself in a quiet corner of the Dal, Sukoon has its own motor boat that ferries guests back and forth to the nearest landing jetty, and the staff will happily arrange trips to the floating market, the city's old quarter, the lush Mughal gardens, national parks, surrounding villages, and more. The five double rooms are air-conditioned and heated, with well-appointed bathrooms. The impeccably maintained deck, sitting room, dining room, and terrace are decorated in a mix of international and traditional carved-wood furnishings. The boat's excellent fare, prepared by onboard chefs, includes a mix of Continental and North Indian comfort foods, as well as home-style Kashmiri dishes.
Kabootar Khana, Near Rani Mahal, Dal Lake
+91/12/4401-0072
sukoonkashmir.com
Vivanta by Taj
There is no better view than the one from the terrace of the Taj Hotel. While soaking in the infinity pool, you can gaze out from the hillside property over Dal Lake and the city on one side, and the Himalayan foothills on the other. It's breathtaking. Luxuriously appointed rooms include rain showers and enormous soaking tubs, and many have private balconies.
Kralsangri, Brein, Srinagar
+91/19/4246-1111
vivantabytaj.com
Planning an Authentic Trip
When it comes to getting the most out of a place, whether on vacation or reporting a story, we seek out people who know their stuff to guide us and give us a glimpse of the true heart of the place they call home.
Practical Travel
A trip to India is guaranteed to be filled with unforgettable experiences and flavors, but there are certain things you should know before you go to make the most of your trip. Here's our advice on how to get there smoothly and hit the ground running once you land.
Best Guide Books
Traveling to India takes a bit of planning, which is why we've rounded up the best guide books and apps to help you navigate this vast and varied country.