Culture
This Saucy Sicilian Baked Pasta Is My Favorite Blank Canvas
Clean out your fridge and turn those bits and bobs into anelletti al forno—a melty, meaty main I embellish with eggplant, peas, and handfuls of provolone.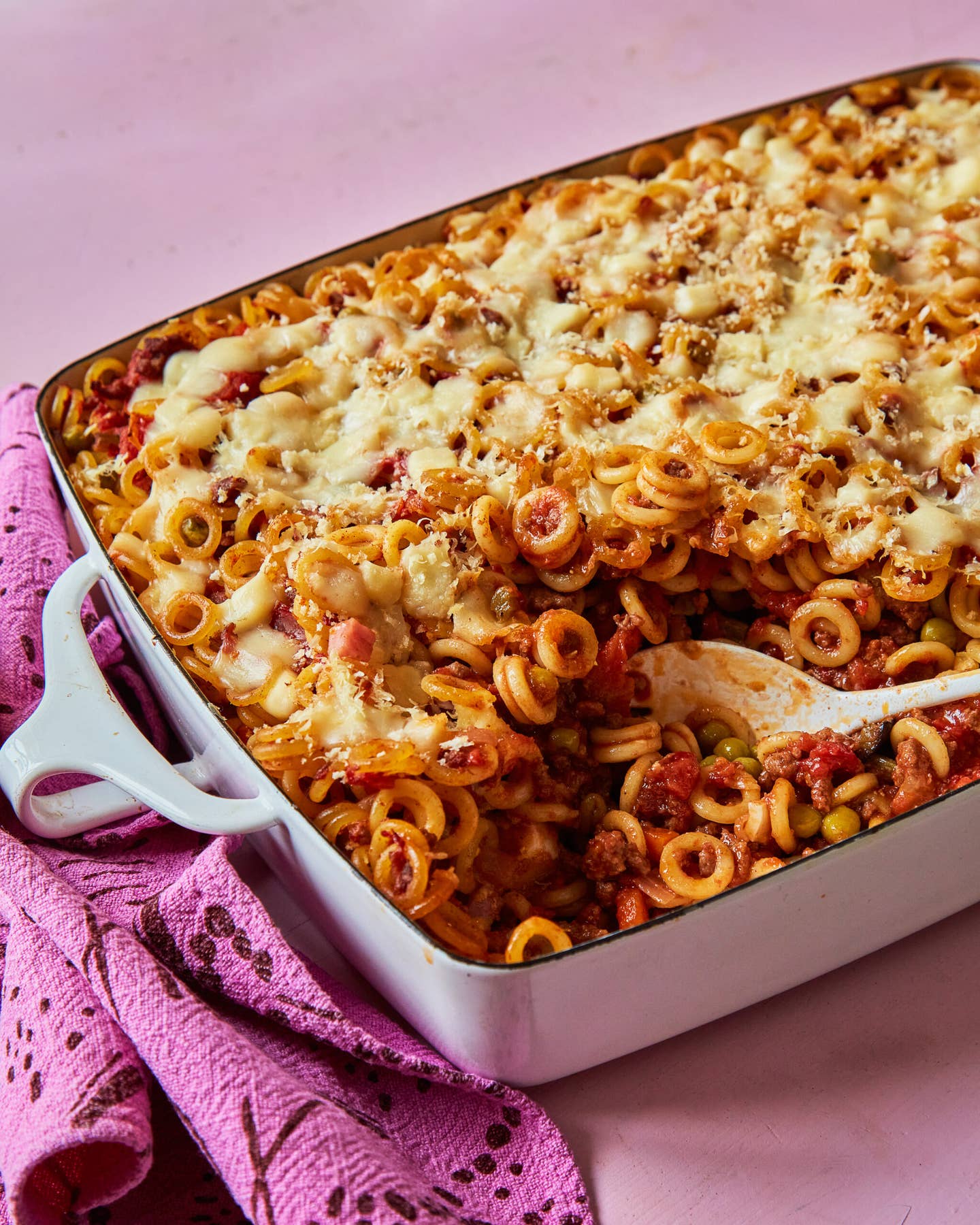 Welcome to Parla's Pastas, a column by the Rome-based, New York Times best-selling cookbook author Katie Parla, whose latest title is Food of the Italian Islands. Get ready for a carb-driven journey through the trattorias of Rome, the rural reaches of Campania, the kitchens of Sicily (her ancestral homeland), and beyond. Fire up a pot of water, and andiamo!
Lately I've been wanting to make timballo, that sculptural pasta casserole immortalized in The Leopard, Giuseppe Tomasi di Lampedusa's novel about Sicilian decadence. But then I remember how labor-intensive it is—the peeling, the chopping, the boiling, the grating, the layering—and whip up anelletti al forno instead.
This baked pasta from my ancestral homeland of Palermo consists of small pasta rings tossed in meat-and-pea ragù, plus a dealer's choice of other ingredients thrown in that may include eggs, ham, cheese, and eggplant.
If you've been to Palermo's casual eateries—a local fry shop, bakery, or cafe, perhaps—you likely saw anelletti al forno on the menu—or, more likely still, in aluminum takeout containers in a display case. It makes a perfect room-temp beach snack. (At home, the dish is cooked in a casserole dish and cut into large squares like lasagna.)
For the last decade, my go-to anelletti spot has been Antica Friggitoria Fratelli Caruso, a fast food joint alla siciliana on Corso dei Mille in Palermo. If you can see past the swarming crowds, there's a huge display case showing off potato croquettes, sandwiches, stuffed sardines, and countless other local specialties. To the untrained eye, the anelletti look a bit like SpaghettiOs—but the shape makes a wonderful vehicle for the slow-simmered meat sauce studded with peas, the way Palermitani like it. If I'm not beach-bound, I'll grab a plastic table out front among the other diners drinking beer and Coca-Cola from plastic cups as they navigate softball-size arancine and huge piles of fried calamari on flimsy plates.
Happily, anelletti al forno are easy to recreate at home. While the ragù simmers, I boil eggs and fry up a bunch of eggplant, which add richness to the more minimalist Fratelli Caruso version. These get chopped up and tossed with the pasta, which bakes under a layer of primosale cheese. Anelletti have become a Sunday classic at Casa Parla, served with a bold Siclian red from Mt. Etna. It kind of tastes like home, reminiscent of the baked ziti I grew up on at Siclian American family gatherings in New Jersey. In the spirit of those good old days, I send friends home with leftovers in hefty Tupperware containers I'm destined to never see again.
The beauty of anelletti al forno is that you can modify it to your tastes and time constraints. Feel like 86-ing the eggs or eggplant or both? Go ahead! Want to stir in some stray vegetables from the back of the fridge? Be my guest! Whatever your approach, consider scaling up the ragù—using three cups for the timballo and reserving the rest for pasta or as a filling for arancine, another Palermo classic. Or simply save it for your next time-saving tray of anelletti al forno.