Culture
The Unmistakable Caribbean Roots of Lowcountry Cooking
How tasting Jamaican flavors far from home helped me confront Charleston's painful past.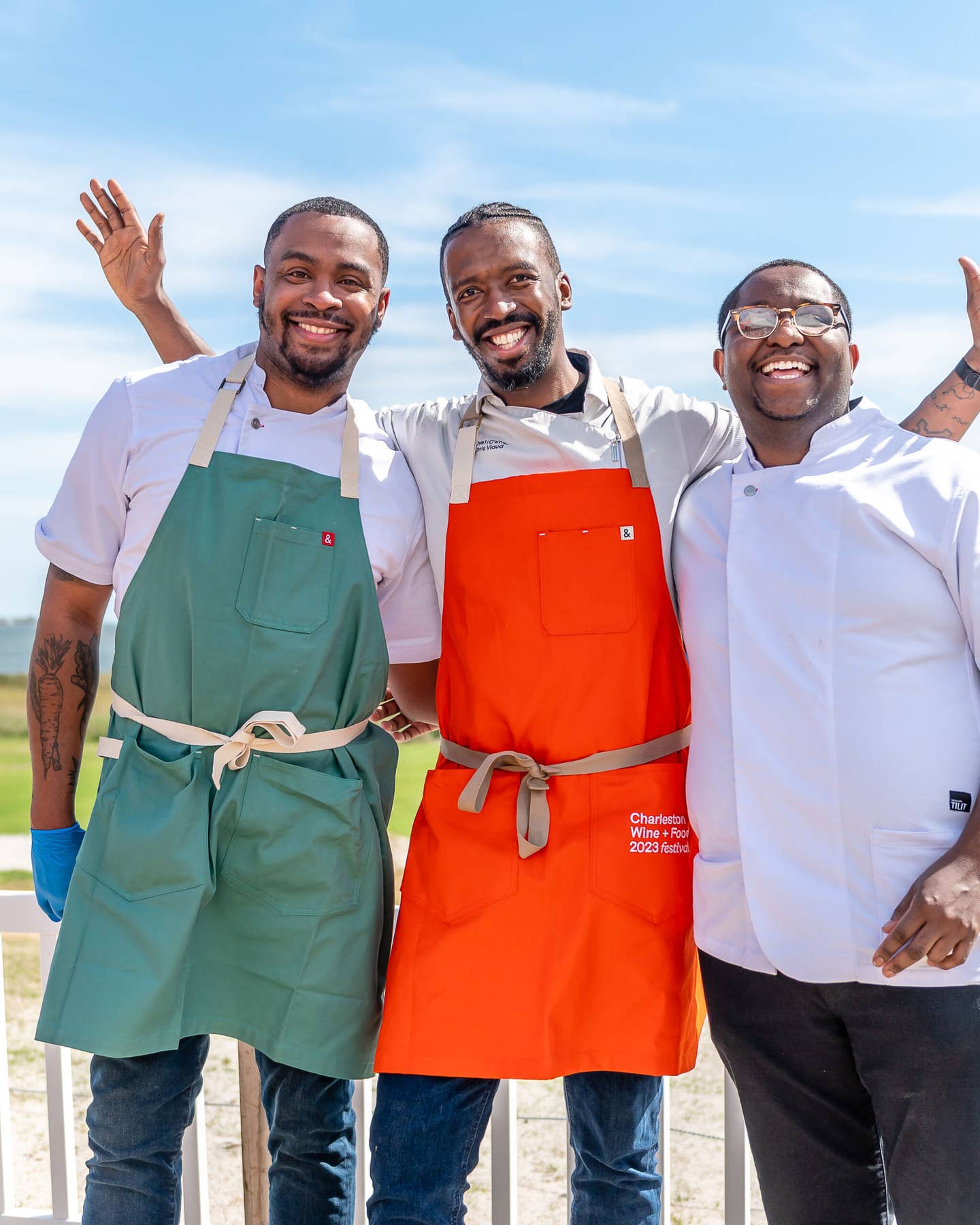 I arrived in Charleston at night, during a downpour. But I ignored the foreboding signs—because less than an hour later, the balmy South Carolina breeze caressed my cheeks, wove its fingers through my beard, and swept me into the newness and excitement of my first visit to the Lowcountry.
However, the following morning, I realized this would be a challenging trip. As I gazed out from my well-appointed suite overlooking Charleston Harbor, I could clearly see why the city had been a busy 17th-century trading post—​its easily navigable waterways could accommodate numerous large ships. When I stepped out into the daylight on Meeting Street​, I encountered what seemed to be numerous odes to this country's colonial era. As I walked past James Jervey House, the former home of one of Charleston's most prominent slave traders, my ancestral suspicions were confirmed: remnants of the U.S. era of enslavement were everywhere.
This was the first time I'd faced so many explicit vestiges of that dark history. On Gillon Street near the waterfront, stones jut up from the sidewalk, memorializing where enslaved people were once sold at auction. Many streets are lined with "great houses," impressive structures once home to members of the local plantocracy. I signed up for a walking tour, but when we arrived at The Emanuel African Methodist Episcopal Church​​, I broke down and had to separate from the group. Facing the site where a white supremacist had massacred Black worshippers as recently as 2015 was too much to bear.
I had journeyed all the way from my hometown in Kingston, Jamaica to attend the Charleston Wine + Food Festival. The event celebrates the diverse foodways of the American South—many of which can also be traced back to the Caribbean via a shared dark history of human enslavement. I watched yachts floating between the Sea Islands surrounding the city, and couldn't help but envision what my ancestors would have seen in those shimmering waterways—slave ships carrying Black bodies in their bowels.
In the October 1987 issue of The South Carolina Historical Magazine, researcher Jack P. Green explains that more than half of the 1,300 white settlers who migrated to South Carolina in the latter part of the 17th century came from Barbados, and there's an inextricable link between the two ports. Plantation owners in Barbados, Jamaica, St. Kitts, and other Caribbean British colonies capitalized on enslavement to maximize profitability. Similarly, generating extreme wealth at the expense of captured peoples heavily influenced the settlements that formed along South Carolina's Ashley and Cooper Rivers. Even today, the South Carolina-Caribbean connection remains tangible in Charleston's architecture. Walking through the city, I felt like I was in the Bishop's Court Hill neigborhood of Bridgetown, Barbados. The iconic Charleston Single House echoes a Bajan architectural style, and pastel-colored homes—in conch shell pink, Caribbean blue, cornmeal yellow, mint green, papaya orange, and star apple purple—abound in the city.
On Sullivan's Island, as I ate an exceptional brunch of oysters, beet-cured salmon, hoe cakes with caviar, and the most perfect schnitzel at The Obstinate Daughter, I wondered about those who had farmed and cooked on these lands centuries before. As a Haitian proverb goes, "Arriving and leaving, hoping and remembering—that's what life consists of."
The dark histories behind these sights continued to weigh heavily on me—until, standing outside the restaurant, I had a Damascene epiphany. The souls of departed Black people soaring over the Lowcountry, looking down at me, were seeing a Black Caribbean man receiving VIP service, entering businesses and homes through front doors, and enjoying an amazing meal on lands where enslaved people had once experienced so much suffering. Being called sir. It must have been a sight to celebrate.
But what finally brought the connection home for me was seeing how the familiar flavors of my home region have influenced Lowcountry cooking, and continue to shape it today. As I stepped foot into Island Time, a Charleston Wine + Food Festival event, I saw chefs from Haiti, the U.S. Virgin Islands, the Dominican Republic, and the Bahamas, many of whom told me they cook to root themselves in their Caribbean cultures, as they are now based far from their home countries.
Both the Caribbean and Lowcountry love fritters, I realized, as I ate bite after bite from different countries. The enslaved brought their culinary traditions with them to the U.S. but had to make do with limited ingredients. So, they used their ingenuity to create foods that resembled what they ate back home. Bajans turn salt fish (dried and salted cod) into deliciously spicy, crunchy snacks called accra, while in the Lowcountry, one can chow down on Hoppin' John fritters. Their doughy, deep-fried cousins, hush puppies, were invented by an enslaved South Carolina cook, Romeo Govan. Jamaican Johnny cakes and the Bajan fried bake, too, are in the same family.
Both regions also exemplify the resourcefulness of island living—Bajans' enslaved descendants were also forced to make do with less—by turning what might otherwise be discarded, into something delicious. Bajan and Lowcountry chefs share the skill of deftly turning tripe and trotters into appetizing dishes, like souse and chitterlings. Many South Carolinians also love pickled vegetables like chowchow (which often includes cabbage, tomatoes, onions, and bell peppers), while Bajans like to preserve cucumbers.
Seafood is almost a religion among Southern and Caribbean communities. Besides snapper and wahoo, which swim in both Barbados' and South Carolina's waters, the two regions share a love for crayfish (called crawfish in most of the U.S.). Locals and tourists flock to Oistins Bay Gardens in Barbados for delicious fried swimmers, including flying fish (the island's national dish), the same way people in the Lowcountry can't get enough of shrimp and grits, fresh oysters, and she-crab soup. At Island Time, Lemar Farrington, born and raised on the U.S. Virgin Islands, was especially excited to serve soused oysters (poached oysters with a Scotch bonnet-laced broth, a spin on a dish usually made with pig's feet).
Love for stews also runs high in both the Lowcountry and the Caribbean—think gumbo, a dish shared by the two regions. When chef Alain Lemaire from Florida's Ou Manje Deja served me an alluringly rich take on Poulet Neg Mawon, one bite took me right back to Cap-Haitien, where I first tasted the dish. "Unless you start experiencing food from different areas you'll never know what's out there, and how it connects us," he told me.
The Caribbean affection for stew is perhaps matched only by the regional obsession with barbecue—another thread connecting the Islands to the American South. Chef Devon Henderson of Jamaica Grill in North Charleston gave an edible history lesson when he served up succulent jerk chicken and jerk pineapple shrimp alongside fried plantains and sorrel juice (made from dried hibiscus), highlighting Jamaican jerk's ancestral ties to Southern-style barbecue.
As I ate my way through Island Time, marveling at what chef Digby Stridiron described to me as "the beauty in food that has traveled," I ran into a woman named Lorna. She asked me if I was a Baugh—the last name of the paternal side of my family. It turns out Lorna is my father's cousin, and lives a couple hours outside Charleston. We spent the rest of the week sending photos via WhatsApp to aunties and relatives back in Jamaica. When I asked her how she ended up here and not in one of the typical Jamaican diasporic cities—NYC, Toronto, or Miami—she said it was the "draw of South Carolina. It immediately felt like home." If the connection between South Carolina and Charleston wasn't clear to me already, Lorna sure cemented it.
Upon arriving in Charleston, I was overcome with "emotional dis-ease," which Zimbabwean author Tsitsi Dangarembga defines as the result of Black people living with generations of inherited grief. However, after immersing myself in the local culture, I found myself smiling. I recognized the immeasurable resourcefulness and innovation enslaved people and their descendants created in the face of tragedy, extreme brutality, and adversity. And that understanding bathed me in a warm glow, as if I were being lovingly rubbed with shea butter by a maternal ancestor.
As the afternoon air swept the gleaming sun behind a curtain of tangerine-colored clouds, I realized, standing there holding a cold Red Stripe, that the story of Black people in Charleston isn't all sad. Here, there is beauty derived from the ashes. Here, Black people are amplifying the history of those who are no longer around to tell it themselves. My ancestors' traditions, forged in the cauldrons on plantations, live on atop dining tables today.