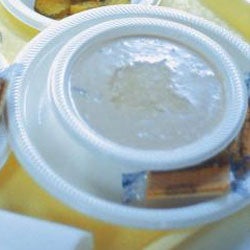 A cross between a chowder and a bisque, this rich soup includes the crab roe, or eggs, found in female or "sook" crabs in the late spring and early summer.
She-Crab Soup
This traditional Lowcountry soup is considered Charleston's signature dish.
Ingredients
10 boiled she-crabs
3 scallions, finely chopped
3 ribs of celery, finely chopped
2 tbsp. butter
1 tbsp. flour
Pinch mace
Salt and pepper
3 cups hot milk
1 cup cream
Worcestershire sauce
Sherry
Instructions
Pick the meat and roe from she-crabs. Set aside in separate bowls.
Cook scallions and celery in butter for 10 minutes. Add flour, mace, and salt and pepper. Stir and cook for 5 minutes.
Add crabmeat, milk, cream, and a splash of worcestershire sauce; cook over very low heat for 45 minutes. Taste and correct seasonings.
Crumble the roe in the bottom of each bowl, then ladle in the hot soup. Garnish with a spoonful of sherry.