Culture
Finding Family History in a Big Bowl of Curry
How one young filmmaker grappled with her grandparents' past by learning how to make sindhi kadhi, the vegan Pakistani stew.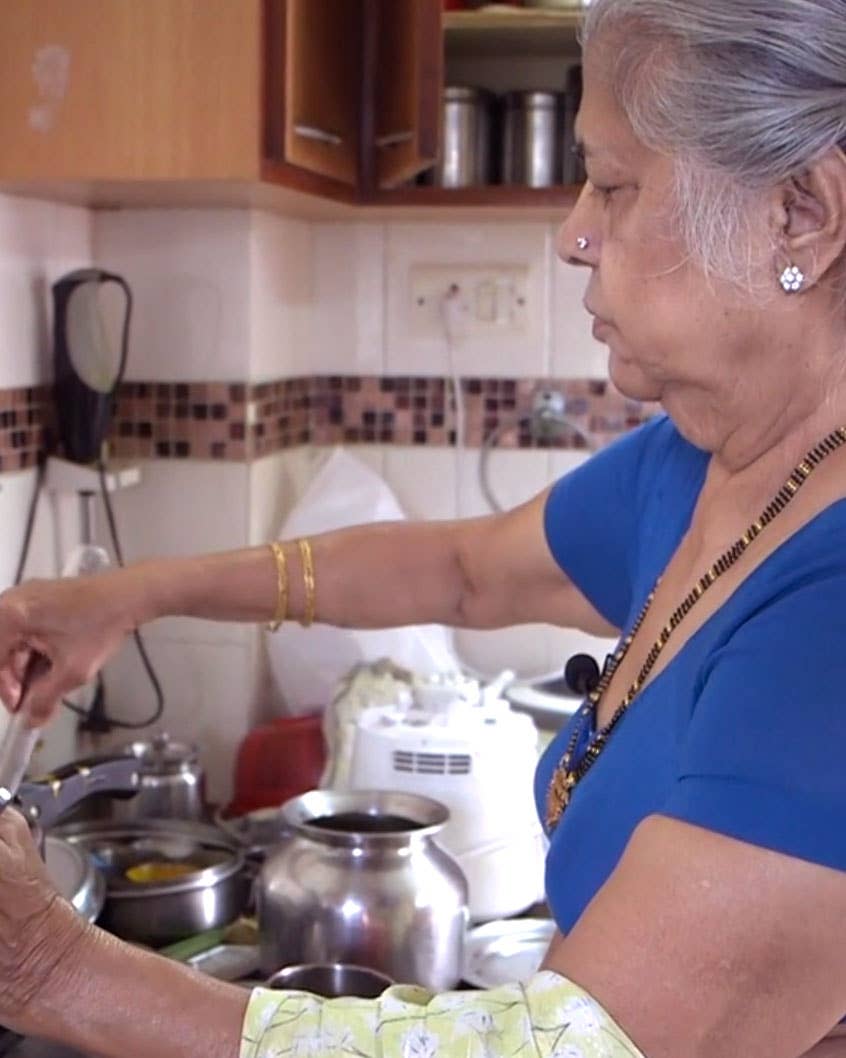 When Natasha Raheja told her grandmother Nani she wanted to film her cooking Sindhi kadhi—a tangy Pakistani curry brimming with lotus root, okra, and cauliflower—she laughed. Nani wondered aloud what anyone could possibly want to know about an old woman like her. But the fact that her eldest granddaughter was the one asking was reason enough to agree.
For years, Natasha had been collecting voice recordings of her grandmother while she cooked the dishes of her birthplace, Sindhi province in Pakistan. It was a way for Natasha to connect with her heritage. A Texan of Pakistani descent, she spent every summer with her grandparents in Gujarat, India. She knew that Nani and Nana (her grandfather, a textile merchant) wound up there after the 1947 Partition forced them out of Pakistan. She also knew that the two had lived in refugee camps, and that Nani never returned to her home country—and never saw her family again.
Natasha understood the facts, but what was it like to live through that upheaval? She would ask questions, but they were always met with silence. The books she'd read about post-traumatic stress syndrome and depression among Pakistani refugees made her wonder if her grandparents were even aware of their own trauma.
It's clear from the Grandmas Project film—part of a series about grandmothers cooking with their filmmaker grandchildren—that Nani possesses great strength and calm. She proudly took care of everyone, including Nana: Nani would do the chores while Nana got to rest, revel in his memories, listen to the radio, and savor Nani's cooking. Sindhi kadhi was a staple in their home, and though it was probably the thousandth time he'd eaten it over their 60 years of marriage, it's clear from his expression that it still sparks something inside him.
Sadly, Nani never got to see Natasha's film when it came out in 2019. She passed away that same year, making the footage an even more poignant reminder of her generous, contented spirit. When Nana watched it, his eyes filled with tears at the all-too-familiar images of his wife wrapping herself in her favorite pistachio-green saree before sitting down to eat. Without Nani, and without her comforting cooking, Nana feels homeless.
These days, Natasha is keeping her grandmother's spirit alive by making Sindhi specialities like Sindhi kadhi alongside her mother and sisters. Every year, on the anniversary of Nani's death, Natasha dons one of her grandmother's sarees and gets cooking. She says the smells and tastes open a portal through which she can access the fading memories of those Gujarat summers.