Stock Your Pantry Like a Seasoned South Asian Cook
Everything you need to know about choosing the region's best culinary staples.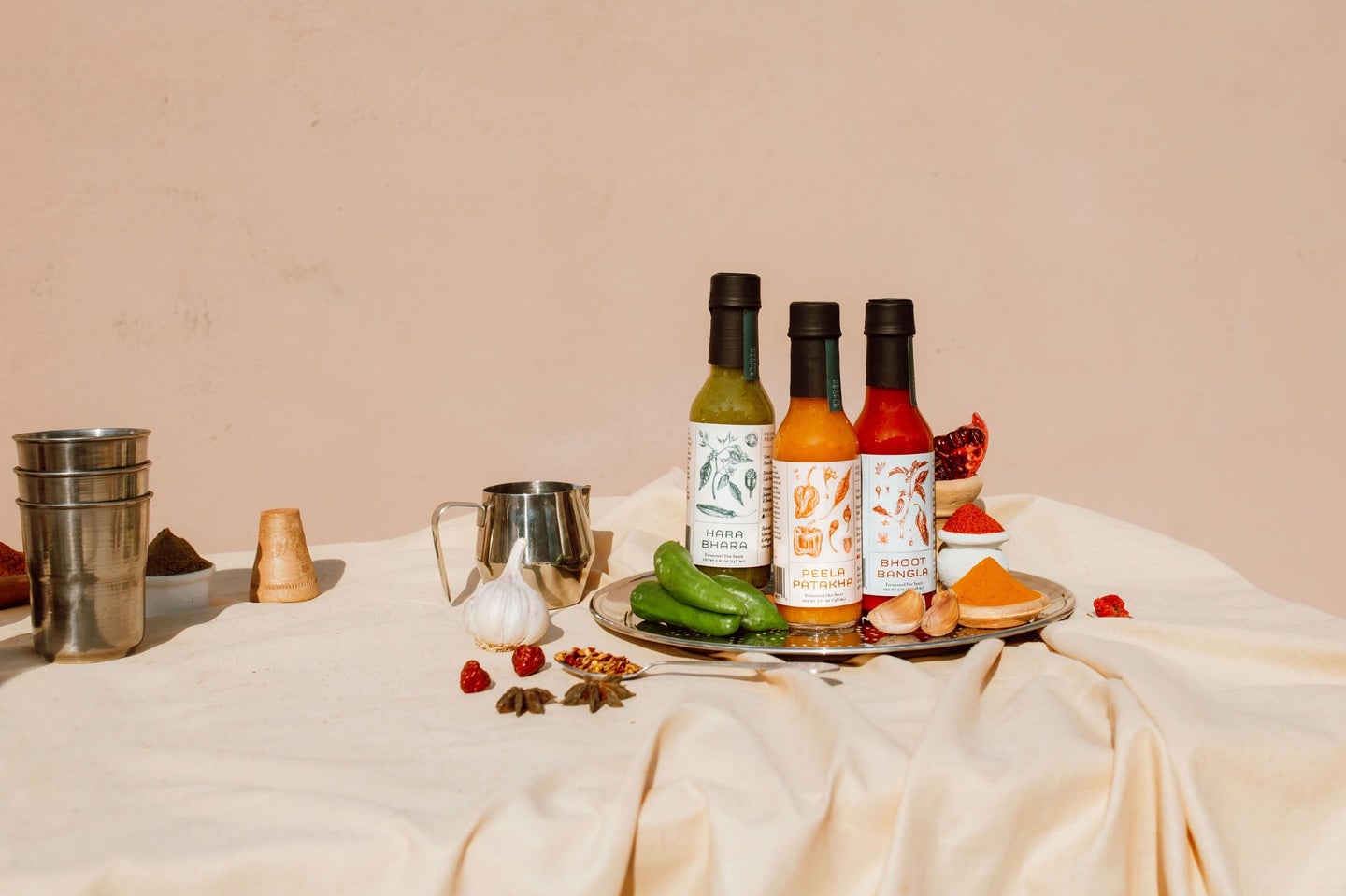 In the U.S., South Asian food is quickly becoming more easily accessible and better understood, which has helped propel the growing appetite for regional flavors among Western consumers.  Thankfully, young entrepreneurs from countries like India, Sri Lanka, and Pakistan, as well as first- and second-generation South Asian Americans, have begun to share their love and passion for the foods they grew up with by bringing their own essential pantry staples to market. Fourteen years ago, when I immigrated to Upstate New York from Pakistan for culinary school, finding high-quality chaat masala and achaar was nearly impossible. I would bring chai back in my suitcase with me whenever I took a trip home. Now, with a click of a button, I can easily stock my shelves with all my favorites from anywhere in the country—and even trace my spices right back to the South Asian farms they came from.
I've pulled together some of my favorite new South Asian food businesses below. All are deserving of your attention and support for bringing super-fresh spices, vibrant condiments, and aromatic teas to a national audience. So if you want to recreate that cup of masala chai you had at your favorite local Indian restaurant, elevate your cheeseboard with some new spreads and preserves, or are just looking for a great new hot sauce to spice up your morning scramble, these brands prove that South Asia is a great place to start.

Most of the packaged paneers available in the U.S. are rubbery and squeaky between the teeth, but not this one from Sach (pronounced "such") Foods. Born from the need for high-quality protein, the two vegetarian founders are Indian immigrants who couldn't find a version of the firm fresh cheese they had back home, so they decided to make their own. The California brand's sampler pack includes three flavors—plain which is great for any application, Spicy Habanero, which I love in eggs, and Turmeric Twist, which is my aunt's favorite in saag paneer. Made with organic, grass-fed milk, Sach's cheese is exceptionally creamy and smooth, yet still firm enough to hold its shape when cooked. Try it marinated and cooked on the grill, lightly battered and pan-fried for paneer pakoras, or simmered in a light tomato gravy for ruangan chaman. Or just eat it like me and my daughter do, thinly sliced and layered on toast with jam.
Whether it's to start the day, to rebound from the mid-afternoon slump, or as a soothing end to a long shift or a big meal—anytime, really—a cup of tea is a non-negotiable in South Asian homes. Bringing his Indian heritage to House of Waris, actor, designer, and Brooklynite Waris Ahluwalia is advocating for tea as an important form of self-care, and a moment to slow down. My favorite is the brand's Sweet Clarity herbal blend. Loaded with roots and spices including tulsi, rhodiola, and ginger which are traditionally used to treat brain fog, fatigue, stress, and circulation issues, I find it to be a flavorful, caffeine-free alternative to coffee after lunch.
Panjiri by Babo Concept Kitchen
Traditionally eaten by women in Pakistan and India for nourishment and recovery after childbirth, panjiri is now widely consumed throughout South Asia by anyone in need of healing, energy, or for those looking to keep their body warm in cold weather. The sweet, dry crumble is made with nuts, ghee, sugar, and warm spices such as cumin. Homemade panjiri, easily found in the subcontinent, was hard to find in the West when I became a mother, and so the accessibility of Babo's fresh and balanced panjiri is thrilling. A small business from California, Babo is owned by Rubab Waheed, a self-taught cook who prepares traditional Pakistani foods with a modern sensibility. The mix is typically eaten with a spoon, or by the palmfull, however, I've found it also works nicely in Western applications as well. Try it as a filling for cinnamon rolls, sprinkle it over yogurt or ice cream, or swirl it into your cookie doughs.
Honey is a culinary and medicinal staple in South Asia, where it's widely used to soothe sore and scratchy throats, and sweeten teas, breads, and other dishes. Aishwarya Iyer, a Californian with Indian heritage, initially launched Brightland as a premium olive oil company, but I'm particularly taken with the brand's orange blossom honey. With its subtle savory notes, and delicate citrus, caramel, and floral aromas, it's extremely versatile in the kitchen. Add it to dressings, marinades, drinks, or like me, enjoy it right out of the jar by the spoonful. You can either buy this honey paired with a darker Hawaiian version, or as a part of the Luminous Capsule set, which includes a bottle of Brightland's robust, extra-virgin olive oil and a citrus-scented chardonnay vinegar.
Often used to elevate the simplest dahls, tomato achaar is an essential pickled condiment in Indian and Pakistani homes, where it's typically handmade. Loaded with the usual aromatic suspects—turmeric, garlic, tamarind—and of course, tomatoes, Brooklyn Delhi's achaar has just the right balance of sweetness, salt, acidity, and savoriness. Started by cookbook author and Saveur contributor, Chittra Agrawal, the New York brand specializes in plant-based condiments and sauces which I like to add to soups, eggs, or even pasta. You can find these fresh and flavorful products in national grocery stores, including Whole Foods, local specialty markets, or online.
Translating to "bundle of three," Peepal People's Teeno Bundle is a great way to sample everything from this Pakistani-owned Texas brand. From the mild and mellow to fiery, the family-run business has tried to fill the gap of South Asian flavors in a familiar American form: bottled hot sauces. Hot sauces as we know them here are not found in Pakistan, but spice and chile heat most definitely are. By combining traditional Pakistani achaar-making techniques with Texas-grown chiles, Peepal People has created an easy-to-love range of condiments that crosses cultural borders. Try these sauces in marinades, over chicken, or even in ramen. The mildest blend, Hara Bhara has bright green flavors that shine in beans and lentils. The spiciest, Bhoot Bangla (which, hilariously, translates to "haunted house"), is loaded with ghost chiles and draws further sharpness from lots of garlic; it's not for the faint of heart and is best reserved for hearty dishes like steak and barbecue. My favorite, though, is their Peela Patakha sauce, which splits the difference with a moderate heat and boasts beautiful floral, and pepper-forward flavors that go well on eggs. The latter is sold out at the moment, but keep an eye out because it's due back in stock in July.
Founded by Suresh Pillai and Carrie Dashow, in New York's Catskills, Atina Foods' recipes are rooted in Ayurvedic practices, where food is considered medicine. Suresh is from Kerala, India, the home of Ayurveda, and he brings to his brand years traveling, and knowledge from the women in his family. Atina's Immunity Essentials box includes three incredibly versatile herbal jams and pickles featuring antioxidant-rich Ayurvedic powerhouse ingredients believed to boost immunity and protect against inflammation. The Turmeric-Ginger Jam is great for elevating a cheeseboard or your morning yogurt, while the Inji Puli (a ginger-tamarind herbal jam) shines in both sweet and savory applications—think topping a chocolate cake, or mixing into mayo for your next sandwich. The Garlic Scape Pickle is great for finishing simple, fresh dishes like pan-fried fish or pasta. Lastly, the box also includes an Indian-style pickling kit with instructions, for whenever inspiration hits at home. Contrasting and layered flavors of sweet, salty, and savory, the package was made for the holidays, but really is an evergreen gift.
Where do I go when I'm looking for beautiful whole spices or hard-to-find powdered blends? Spicewalla, founded by Indian-born and Asheville, North Carolina-based chef Meherwarn Irani.  Irani is a restaurant-owner and a core member of Brown in the South, a series of pop-up dinners celebrating Indian chefs who have made the American South their home. His spice company, Spicewalla, offers dozens of options, all packaged in small containers, which ensure your pantry is always stocked with fresh, flavorful ingredients. The Six-Pack Masala Collection includes some great classics to get you started. Stir the tandoori masala into yogurt for a fantastic lamb chop marinade, sprinkle the chaat masala over hot french fries, steep the chai masala in your next pot of tea, use the garam masala to perfume a pot of biryani, and add the pakora masala to the batter for my asparagus pakoras. The mild, Madras-style curry powder is wonderful added to soups and stews.
You're probably already familiar with cold brew coffee concentrate, but chai concentrate? Genius. Farah Jesani, Chief Chai Officer of Portland, Oregon's One Stripe Chai, created this tea concentrate for chai drinkers on the go. Her Indian heritage means she's a tea drinker, and she created her business so she could find a pre-made blend that was neither bland nor too sweet. The chic glass bottle holds enough for 8 cups of chai, which can be easily mixed either hot or cold. Pre-sweetened with honey and jaggery, and brewed with black Assam tea, it's a great solution for anyone looking for a quick and un-fussy cup. Try it as a midday pick-me-up, or for that first jolt of caffeine in the morning.
Sajani Amarsiri founded Kola Goodies to bring the flavors of her home country, Sri Lanka, closer to her in San Francisco. In recent years, thanks to a plethora of purported health benefits, turmeric milk has exploded in popularity in the Western wellness world, so she decided to offer this traditional South Asian drink and other milk-based Sri Lankan beverages in a convenient just-add-water form. With cinnamon and turmeric sourced from Sri Lanka, and ashwagandha, a plant traditionally used to treat stress, this turmeric latte is particularly flavorful and soothing.
When she moved from Mumbai to California, Sana Javeri Kadri quickly realized the need for an equitable spice trade, so she began Diaspora Co. an online source for 30 single-origin spices that can be traced right back to the people who grew them. If you're curious about the brand but don't know where to start, I suggest the Pantry Refresh. This set includes my own two kitchen essentials—medium-heat chile powder, and ground turmeric—as well as black mustard seeds, ground ginger, (which I love for baking,) coriander seed, and my absolute favorite, the versatile and floral black pepper.