Recipes
Sindhi Kadhi (Pakistani Vegetable Curry)
A grandmother's cherished family recipe for the bright and spicy vegan stew.
Serves

6

Cook

1 hour 34 minutes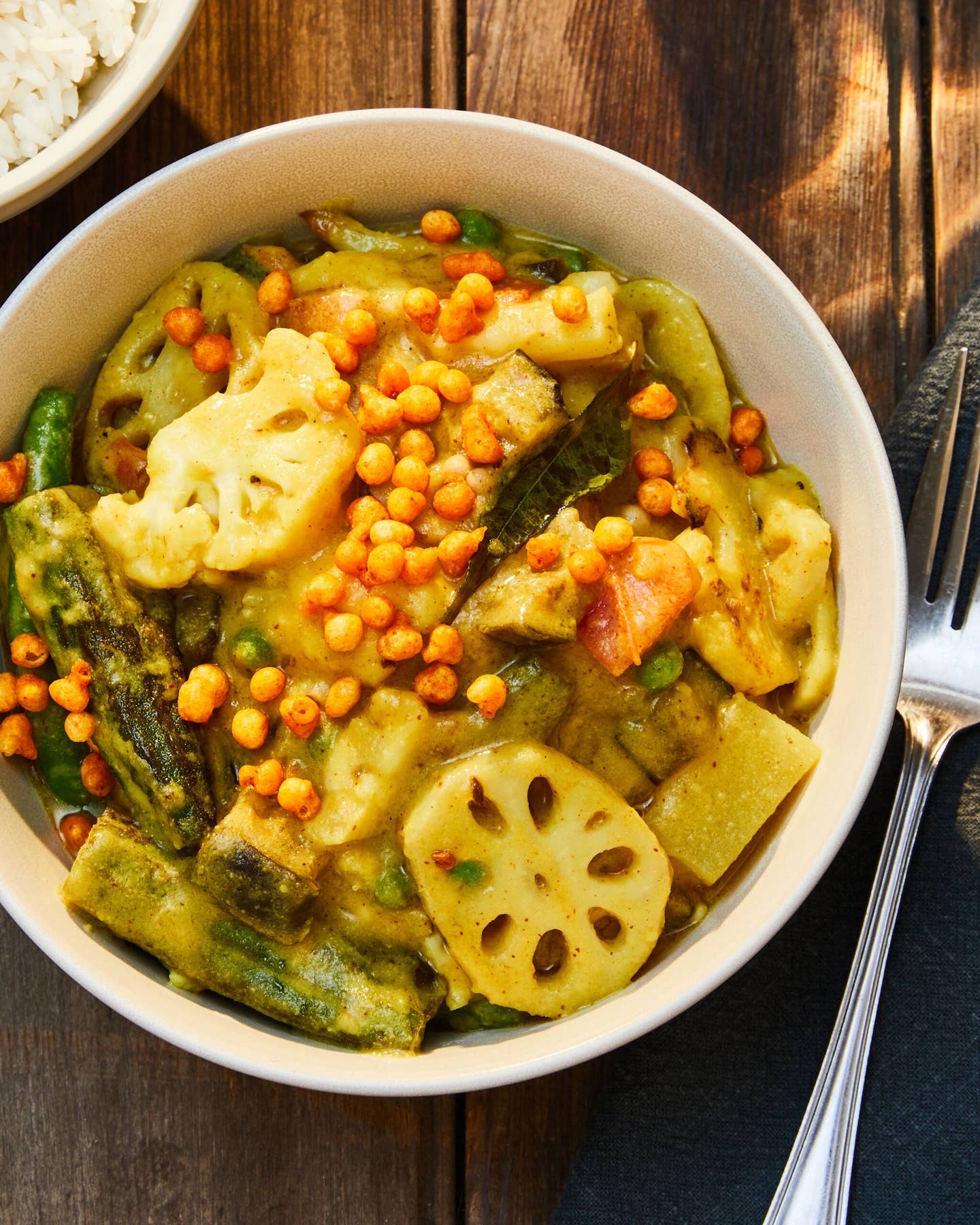 This Sindhi kadhi (Pakistani vegetable curry) recipe is a hot, subtly tart stew that hails from the Sindh province of southeastern Pakistan. Cluster beans, drumsticks, lotus root, and curry leaves are worth tracking down and can be purchased at South Asian groceries; if you can't find one (or a couple) of those vegetables, simply toss in whatever produce you have on hand in roughly equal quantities.
Ingredients
Vegetable oil, for frying
10–12 okra (13 oz.), tops discarded, slit down the middle
1 small cauliflower (1 lb.), cut into florets
1 medium eggplant (14 oz.), cubed
2 lotus roots (1 lb. 3 oz.), cut into ½-in. pieces
¾ cup gram (chickpea) flour
1 Tbsp. kosher salt, plus more to taste
½ tsp. Kashmiri chile powder, or to taste
½ tsp. ground turmeric
2 medium green chiles, such as serrano, thinly sliced
1 medium tomato, coarsely chopped
2 medium russet potatoes, peeled and cut into 1-in. chunks
10–12 cluster beans (1 lb.), trimmed
½ cup peas, fresh or frozen
2 Tbsp. tamarind paste, thinned with 2 Tbsp. of water and strained
2 drumsticks, aka moringa (13 oz.), cut into 1-in. pieces
¼ tsp. asafoetida
¼ tsp. cumin seeds
½ tsp. whole fenugreek seeds
10–12 curry leaves
Boondi (optional) and coarsely chopped cilantro, for garnish
Steamed rice, for serving
Instructions
Step 1
To a large pot set over medium-high heat, add ¼ cup of oil. When it's shimmering and hot, add the okra and fry, adding more oil as needed, until lightly browned, 3–5 minutes. Using a slotted spoon, transfer to a paper-towel-lined plate. Repeat with the cauliflower, followed by the eggplant. Remove from the heat.
Step 2
Meanwhile, bring a medium pot of water to a boil, then add the lotus root and cook until tender, about 5 minutes. Drain and set aside.
Step 3
To the large pot, add oil as needed to reach about ¼ cup, then turn the heat to medium. Add the gram flour and cook, stirring frequently, until golden, 3–5 minutes. Stirring continuously, gradually add 6 cups of water. Stir in the salt, chile powder, turmeric, chiles, and tomato and bring to a boil. Turn down the heat to maintain a simmer and cook until the tomato begins to break down, about 8 minutes. Add the potatoes and simmer for 5 minutes, then add the cluster beans and continue to cook until the potatoes and beans are almost tender, about 2 minutes more. Add the reserved lotus root, cauliflower, eggplant, and okra; the peas; tamarind; and drumsticks and simmer until all the vegetables are tender, 5–7 minutes. (If the curry looks too thick, add water to loosen.)
Step 4
Meanwhile, make the tarka: To a small pan set over medium heat, add ¼ cup of oil, the asafoetida, and cumin seeds and cook until barely fragrant, about 45 seconds. Add the fenugreek and curry leaves and cook until fragrant, about 30 seconds more.
Step 5
Immediately pour the tarka over the curry and stir to combine. To serve, ladle the sindhi kadhi into bowls, then sprinkle with cilantro and boondi if desired, and accompany with rice.