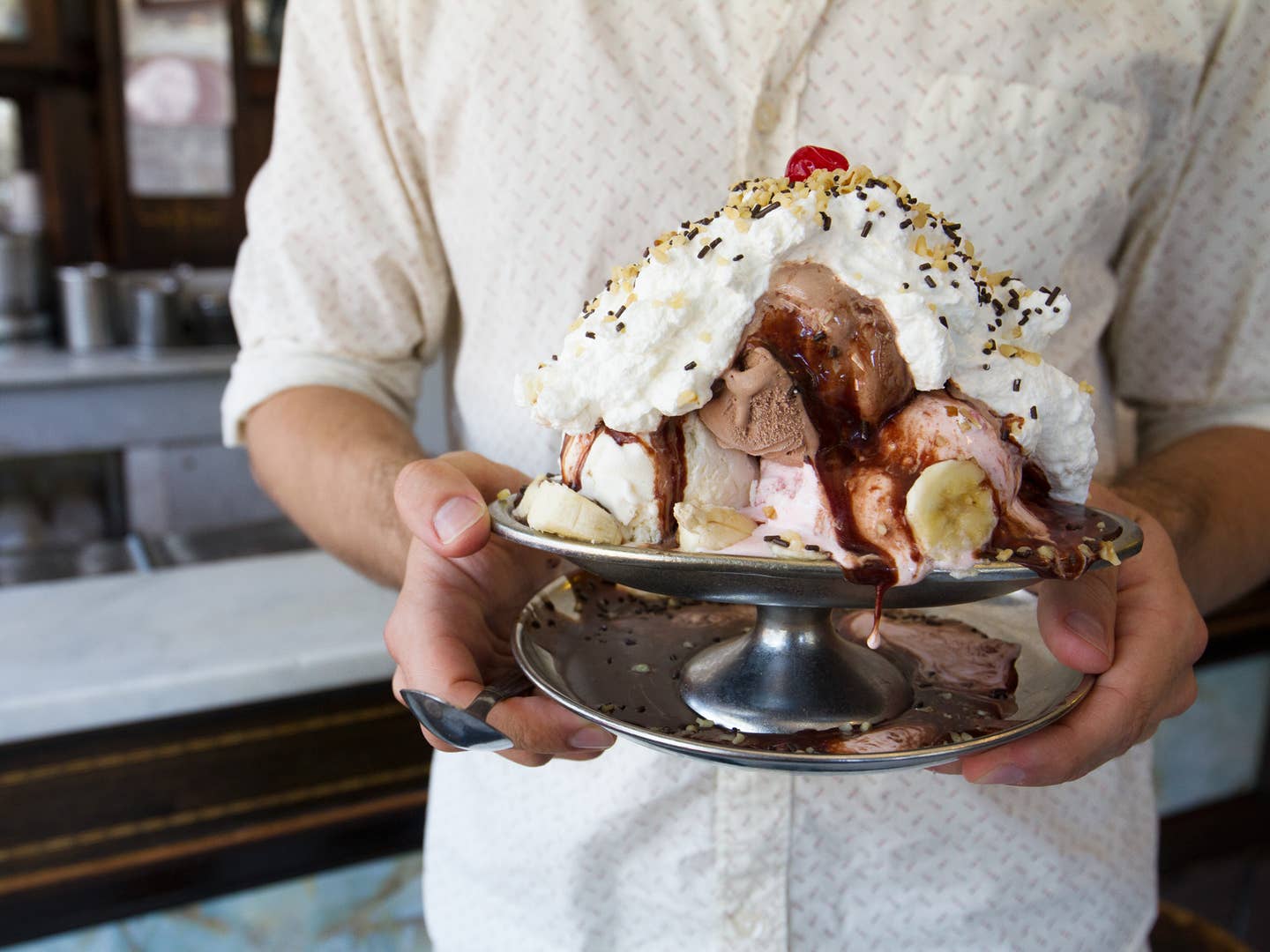 Travel
Dispatch: Eddie's Sweet Shop, Queens, NY
A classic ice cream shop may be the best place to feel like a kid forever
Eddie's Sweet Shop opened in 1909 and has been a local staple in Forest Hills, Queens, ever since, offering homemade ice cream and milkshakes. It has always been a family-based operation: Vito, the current owner, inherited it from his father, Joe, who bought the store from another family in 1968. It attracts people from all over New York for a scoop of any of their 18 flavors of ice cream, or a sundae topped with homemade hot fudge, butterscotch, and whipped cream. Families, students just out of class, young couples, and elderly regulars all sit side by side, eating at the long white marble counter.
I've been going to Eddie's with my grandmother since I was a little kid growing up in Queens. We would stop on our way to Atlantic Beach, where we'd spend the occasional summer weekend at her cabana at Silver Point Beach Club. I am an indecisive eater, so I always order the banana split: three scoops of vanilla, chocolate, and strawberry over sliced bananas with hot fudge, whipped cream, chopped walnuts, and sprinkles.
Despite all the time we spent together, I didn't get to know my grandmother's full story until a few years ago. She had always been the sort of grandma to tuck me in, to make me crepes, to kiss my boo-boos when I fell. Of course she never spoke of the Holocaust, of emigrating from Belgium to New York City when she was 18, of forgoing a college education to work and support her family. But a few years ago, I started asking her questions about her past. And once we got past the difficult stories, we got to the happy ones: the story of her first seeing my grandfather on the subway. The story of her seeing him again on Long Beach, when she was in need of a ride home. And the stories of them going to Eddie's together.
She'd have vanilla ice cream with hot fudge, while he'd have rum raisin. They would go every weekend before seeing a movie or going dancing. Once they had children, it became a family affair; my mother always ordered a chocolate milkshake.
Like an unintended family tradition, I can sit at the same counter my mother did as a child and my grandparents did in their twenties. It even serves as a way for me to connect with my late grandfather—all I have to do is order a scoop of rum raisin. I still go to Eddie's Sweet Shop often, mainly with my great-aunt (my grandfather's sister) and her friends, where we share a banana split, and I realize that I will never be too old to sit down at the counter for a cone or a shake.
Eddie's Sweet Shop
105-29 Metropolitan Ave #1
Forest Hills, NY 11375
(718) 520-8514