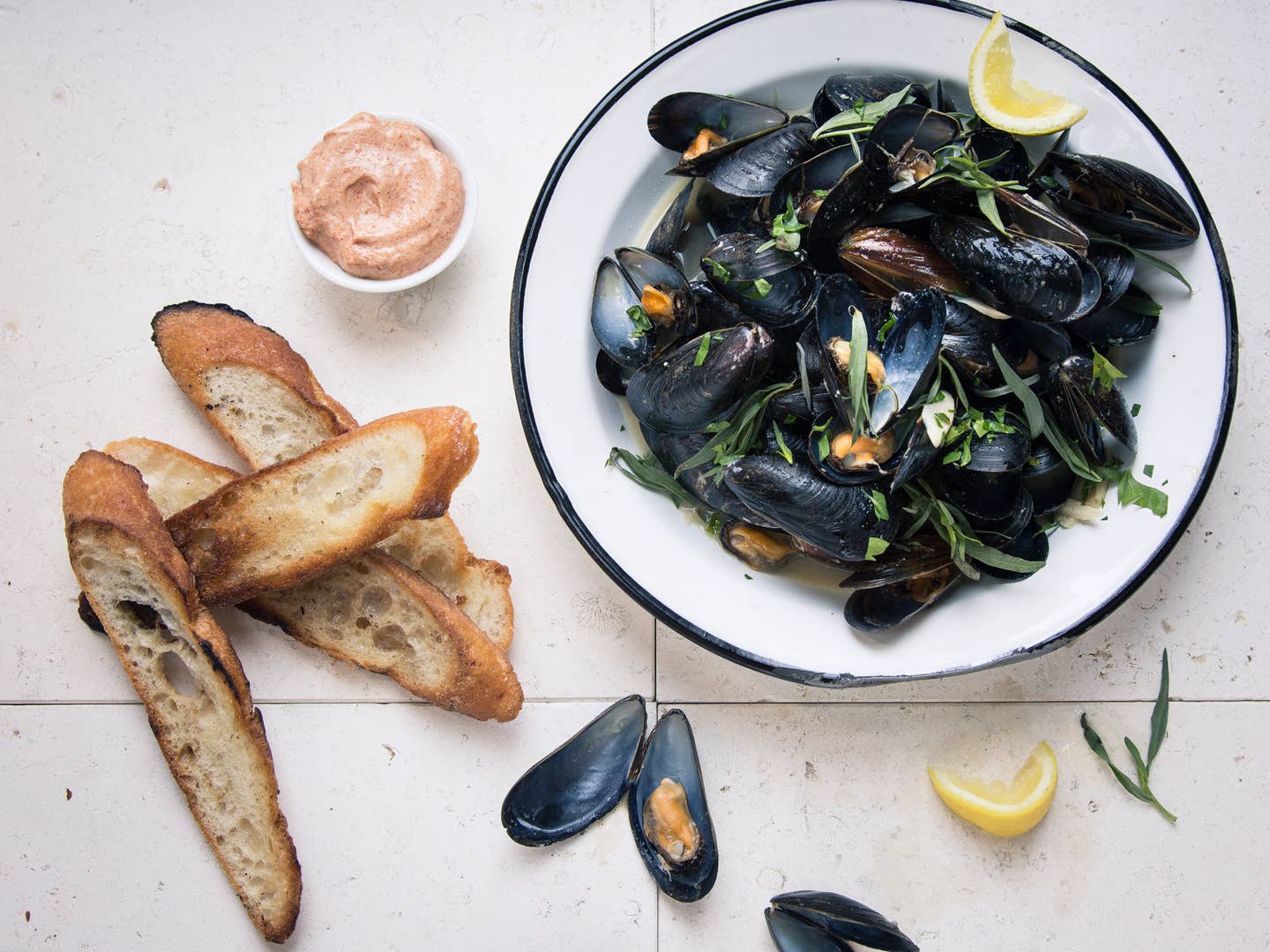 Travel
Dispatches from Montauk: Discovering New York's Easternmost Brewery
Chefs Max and Eli Sussman kick off a summer cooking on Long Island with a spicy mussel dish inspired by Montauk Brewing Company
Since arriving in Montauk for the summer, I keep asking myself: How did I get so lucky? What is a nice Jewish boy from the Detroit suburbs, an ex-deli chef, a Williamsburg resident, doing all the way out on the easternmost tip of Long Island, living and working in what is arguably the nation's finest fishing village?
When my brother Max and I were asked to run the restaurant at Ruschmeyer's hotel this summer, we felt like we had won the summer cooking gig lottery. The allure of cooking seafood that comes in daily off boats from just a few miles away, and the ability to develop relationships with farmers and local businesses all around the Hamptons sounded too good to be true. A chance to work among the farmers and fishermen and showcase their tremendous product was an opportunity we couldn't pass up. So we loaded up our cars and moved as far east in New York as we could for the summer.
This series will focus on the natural beauty, the wonderful people who live here year-round working the land and building their businesses, and the passionate locals that discovered the natural wonder of Montauk long before the Jitney began to unload here all weekend long. In this new series, I will be sharing stories of the people and companies that we work with in Montauk and Amagansett, and how we use their products at Ruschmeyer's. This week, I spoke with the founders of Montauk Brewing Company about how they started their company and am sharing a recipe for the mussels we serve at Ruschmeyer's that uses their Driftwood Ale.
Montauk Brewing Company was started in 2008 when Eric Moss, Vaughan Cutillo, and Joe Sullivan began home brewing small batches of beer for summer barbecues. Guests loved the beer and so they began the arduous process of traversing the tough Hamptons political and legal climate to get approval to become the easternmost brewery in New York state. In 2012, the three friends and lifelong Hamptons residents opened the brewery, where they currently have four beers in their stable: an English-style pale ale, a summer ale, an IPA, and an Irish Red Ale.
For these three, opening a brewery in Montauk was always the dream. Vaughan (who is from Montauk) along with Joe and Eric (who are both from East Hampton) had been ocean lifeguards for a decade so they had been actively working and living in this community their entire lives. They have created a brand that showcases their beach lifestyle and love for Montauk vibes—sailing, surfing, relaxing, and being near the water.
Montauk Brewing Company has recently cultivated a relationship with Amber Waves Farm in Amagansett to grow wheat for their beers, and have set up a tasting room in Montauk so the public can swing by and share their love for the brewing process.
When imagining a new mussels dish for the menu at Ruschmeyer's, we immediately felt that using Montauk Brewery's Driftwood, an English-style pale ale, would be a clean and vibrant base for the sauce. The Driftwood beer has Magnum and Tettnang hops and earthy tones that work perfectly with the chipotle aïoli and fresh tarragon. A bowl of mussels is a perfect light summer dinner on its own or a delicious starter to snack on while the fish or chicken is on the grill. Just remember to toast plenty slices of baguette to soak up all the delicious sauce at the bottom of the bowl.