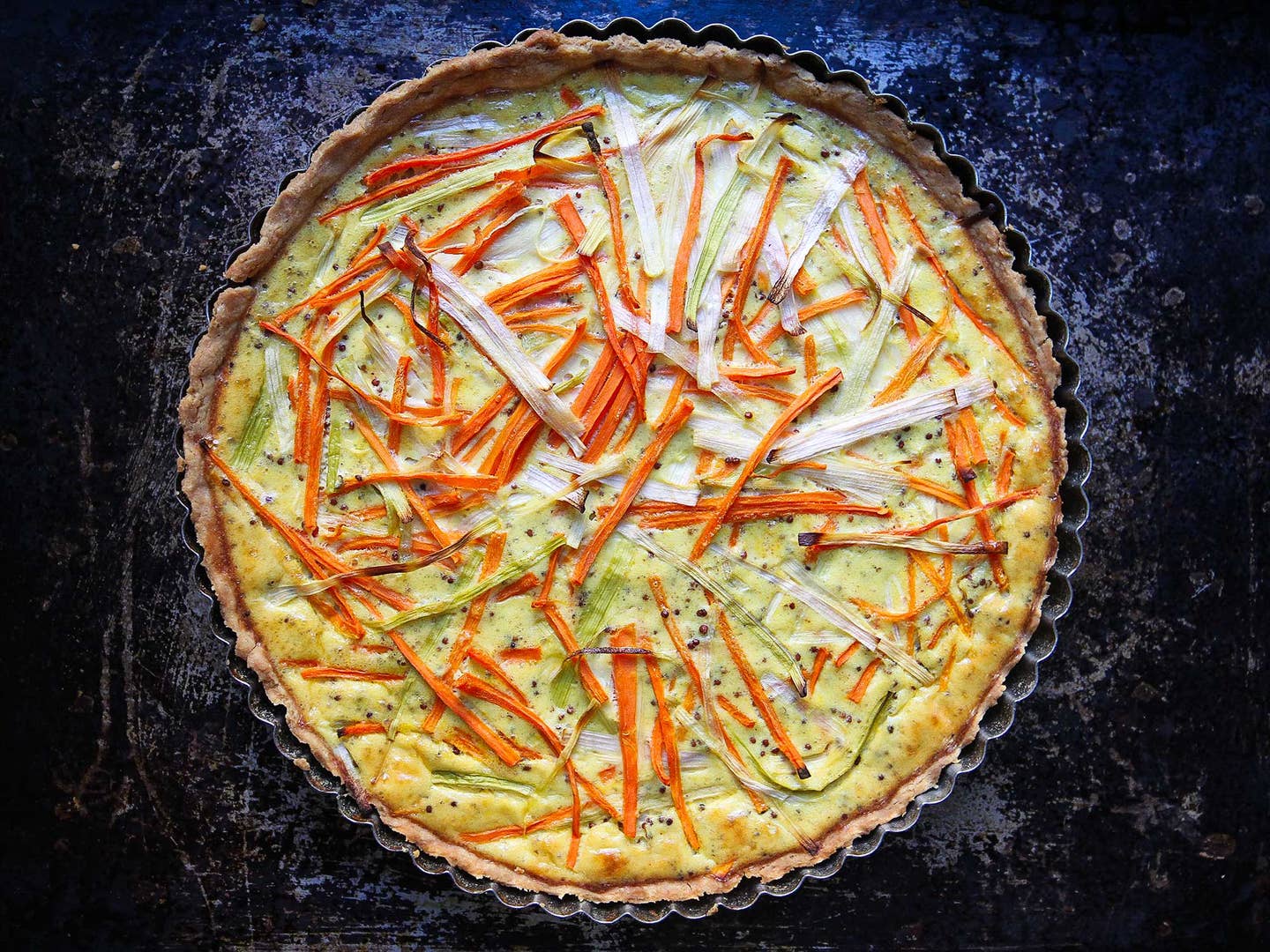 Culture
Dorie Greenspan's Secret Quiche Ingredient
On a trip through France, test kitchen director Farideh Sadeghin picks up some tricks from the baking master
I walked down the narrow cobbled street, the buildings lining it towering over me as I made my way to the square. It was my first time to Paris, though I knew it wouldn't be my last. I made my way to Dorie Greenspan's apartment in the 6th Arrondissement, which was happily a block from my hotel. I was here for fun—to eat, drink, and celebrate the new year. The fact that one of my favorite cookbook authors also happened to be in town made it all the better.
I rang the bell and heard her gentle voice over the speaker. "Hi Dorie, it's me, Farideh," I answered. She buzzed me in and I made my way up the stairs to her apartment. The door was cracked open, and I creaked in to find her, this tiny woman with a pixie cut, white button-down shirt, and scarf tied around her neck (how she manages to stay so small while cooking and baking all the time is beyond me) there, welcoming me with open arms, giving me one of the warmest hugs I've had in a while.
We sat in her kitchen at the island, the window overlooking the backsides of other apartments like hers, coated in ivy with birds hanging on, pecking at the remaining berries attached.
She poured us each a glass of white wine and sat out some napkins along with a couple slices of quiche. It was filled with leeks and carrots, and even though I was hungry, I didn't reach for it immediately, minding my manners in front of a woman I consider to be one of the most talented bakers and cooks today. We chatted for a bit about food, her new cookbook, Paris, and where I was eating while in town. After a bit, she urged me to eat the tart that was before us, and, obviously, how could I say no?
I was immediately hit with the taste of mustard. Dorie uses two kinds: Dijon and whole grain. I was expecting more of an egg taste, as I would with a quiche, but this was different. The tart only has four eggs in it and some creme fraiche, so the mustard really comes through. It's bright and satisfying, almost refreshing.
We sat and chatted for a while; I eked out every moment I could with incredibly talented woman, even though we both had separate dinner reservations. We left her apartment as friends; I also left with the recipe for that tart.
I went on to eat my way through Paris and Nice. It was all delicious, but the few bites of that tart stood out as one of the most memorable meals on the trip. Being able to spend time with someone I respect so much, to eat something that she cooked, and be able to recreate it at home—it's one of the best souvenirs I could have.