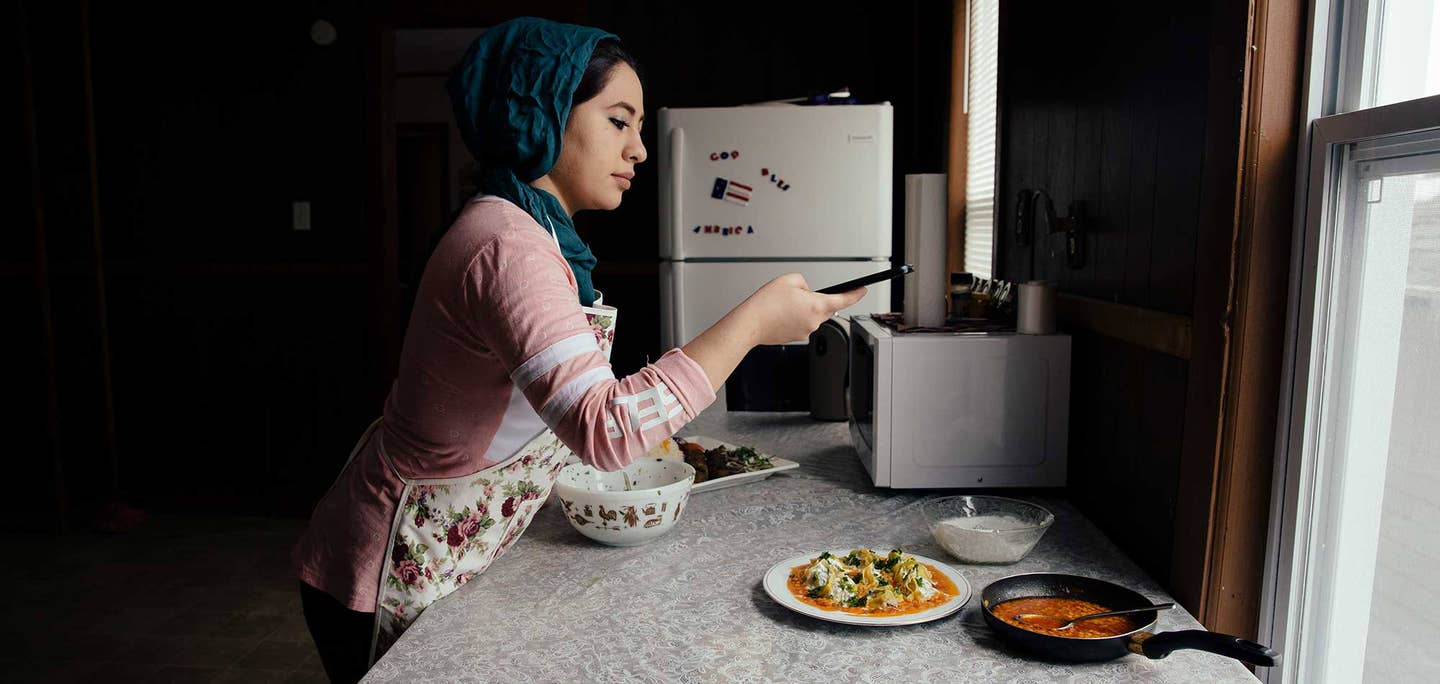 Travel
Syracuse's Vibrant Refugee Community Invites You to Eat the World in One City
Try Iranian koobideh kabobs and traditional Vietnamese blood sausage, all in one place
In the past ten years, Syracuse, New York has welcomed nearly 10,000 refugees from 52 countries in southeast Asia, the Middle East, and Africa. The city has seen a dramatic 72% drop in President Trump's first year, but that hasn't stopped the existing population from settling into their new home and looking ahead to build a brighter future, for both themselves and the Syracuse community.
This city was not traditionally known for having a diverse food scene, but it has seen a considerable shift in the past few years. Small family-run markets have opened, and they carry ingredients from many of these refugees' home countries, some of which are unavailable at the larger grocery stores. The city's first Afghan restaurant introduced the city to its first mantu dumplings. My Lucky Tummy, a pop-up dinner event, gathers the city's best home cooks to make a meal together; some of the courses included banana flower, bamboo, chayote, and prawns wrapped in banana leaves from Burma, Chaat Papri from Pakistan, and the sweet cheese Syrian dessert, Halawat el Jibn. Food has become the universal language in Syracuse's diverse community, and thanks to a few resilient families, some of the best meals from around the world can be found in one place.
Born in Pakistan, Tamana and Soniya moved to Iran when they were five and six, then moved to a refugee camp in Romania until they were 18 and 19. Now they call Syracuse home, along with their younger sister, two younger brothers, and mother. Their father is still in Afghanistan, but they speak as often as they can. Their father makes the best Sheer Yakh, an Afghan vanilla ice cream with pistachio and cardamom. He's also good at BBQ. "We dream of one day opening up an ice cream BBQ restaurant here in Syracuse," Tamana mentions at her kitchen table on the city's Northside.
For now though, the ladies of the house are in charge of cooking. Their mother, Sima, is at work, but Tamana and her sister Soniya are preparing manta, a traditional beef dumpling served with split pea tomato paste and topped with a creamy layer of garlic yogurt. The two sisters laugh as Soniya carries the pan over from the oven and Tamana meticulously styles the sauce. She doesn't want to be photographed; she enjoys the behind-the-scenes food styling, while Soniya is the face for their restaurant. They're practicing meals that will soon be prepared for the public at a Friday night take-out series in a popular Syracuse University neighborhood. It doesn't take long for the other siblings to return home and join around the table for a family meal. By the end, everyone slowly retreats to their rooms, the sisters washing dishes, and Omid, 15, practicing Amazing Grace on his guitar in his bedroom. While he doesn't have it perfected just yet, it's just right for the afternoon.
The Russian and Egyptian duo has lived in Syracuse since 2004. Starting with nothing but a few strokes of good luck, they've built the neighborhood's most popular butcher and deli, Pyramids Halal. "We're not just a business here, we are a family for the community. We bring people together, bring them a space where they can not only eat but sit down and visit, be a part of the neighborhood," Tatiana explains with her warming yet strong Russian accent, just as she's running off to serve a customer some of her popular goat curry.
Pyramid Halal was once a vacant, boarded-up corner lot in a neighborhood that was notorious for crime. But in the last 10 years, refugee families have moved in, making the community safer while also increasing foot traffic outside Pyramid. Tatiana runs the front of the shop, preparing her favorite beef gyro, chicken shawarma, and various curry recipes inspired by her Egyptian husband. "You know, I don't cook with recipes, I cook with my sense of smell. I've got my Russian heart and years of learning to cook Egyptian food with my in-laws. I never dreamed I would end up cooking for my career, but everything turned out just as it should."
Asghar spent most of his childhood fleeing his home country of Afghanistan and moving between Pakistan, Iran, and Turkey. He arrived in Syracuse five years ago and opened up the city's first Afghan restaurant, Bamyan Kabab. He cooks lamb kebabs over charcoal and prepares delicate beef dumplings. With a positive attitude and a charismatic smile, Asghar looks at America as the land of opportunity. "I can't think about my past. I tell myself to keep going, look to the future." His brother, Akbar, lost his legs as a child when he stepped on a mine outside their home. Akbar was Asghar's inspiration for opening the restaurant, in hopes that one day he will earn enough money to buy his brother a pair of prosthetic legs. "We've been through so much, his pain is my pain. I want to challenge myself, I want this restaurant to succeed, for him. I'm really thankful for so much."
In December, Asghar will celebrate his birthday for the first time. Up until recently, he spent his life only knowing that he was born in 1986. He went by the the date January 1, 1986. During another brother's recent trip to their old home, he found Asghar's birth date, December 22, 1986, written on the back of the family Koran. A whole year younger, it's as if Asghar is given a few extra months to pursue his restaurant dreams.
Paw and Nancy are two women in Syracuse's Burmese community, the largest of any refugee population in the city. They moved from Burma to Syracuse in 2007. Paw runs a local market called Aphone with her husband, Kaui. They opened it in 2010. Nancy, the former resident chef at the restaurant With Love, is often found shopping at Aphone for ingredients unavailable at the larger grocery chains. Relocating from their home country to Syracuse is sometimes challenging, but the market draws a diverse group of refugees who shop for fresh produce and ingredients familiar to their home countries, such as banana tree, bamboo, and hard-to-find noodles and rice. When Paw is inspired by a recent delivery, she'll prepare a home-cooked Burmese meal to share with the customers. On a recent visit, her husband Kaui placed a plastic fork in a massive pot of shrimp, bitter melon, and peppers, still hot from the oven of their home kitchen upstairs.
Ngoc, Mai, and their mother have always expressed themselves through their Vietnamese food traditions. Last fall their mother flew to Syracuse from Nebraska to cook a traditional blood sausage for 200 people as part of a pop-up dinner series known as My Lucky Tummy. "When my mom tells me to cook a dish over the phone, she'll tell me the ingredients, throw this, throw that. But there are all these nuances she doesn't share with us until we're all cooking together," explains Ngoc. "You learn all the little things like how smells come from different ways of slicing, presentation, timing. It's work, but it's great. It's a complete family bonding experience."