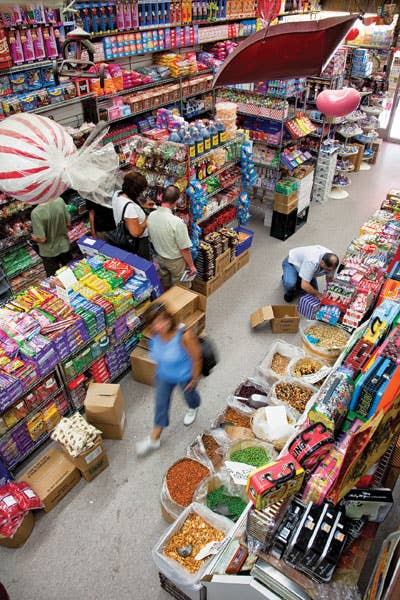 Travel
Step Inside the World's Greatest Old Timey Sweets Shop
Economy Candy on New York's Lower East Side has barely changed since it opened in 1937, and it sells nearly every candy you can imagine
Zotz. Black licorice. Betty Boop Pez dispensers. A wall of jelly beans. Another wall of malted milk balls. An animal kingdom of gummy creatures. So. Much. Halvah.
Just another day (and about one aisle) at Economy Candy, the sweetest Depression-era business in New York. This year it's celebrating its 80th birthday, and frankly the old shop has never looked better. We couldn't do The Sugar Files without paying a visit to stock up.
In the video above, reporter Dan Pleck digs into the candy store's family history, dating back to its early days as Moishe Cohen's hat shop, which set up a pushcart selling roasted nuts outside to draw in customers. Eventually, the nuts did better than the hats, and the store evolved into a full-on sweets shop. Today, Economy Candy specializes in the forgotten confections of yesteryear (Howard's Violets, anyone?) as well as foreign candies that are hard to find most anywhere else (seriously, best selection of Haribo in America). The nuts remain, except now they're also candied and chocolate-enrobed and joined by an excellent stock of dried fruit and halvah and Turkish delight.
If you really want to feel like you're there, go poke around in our 360 video below. Load it up on your phone, put on your virtual reality specs, and take your own private trip to the best sugar high.
More From The Sugar Files