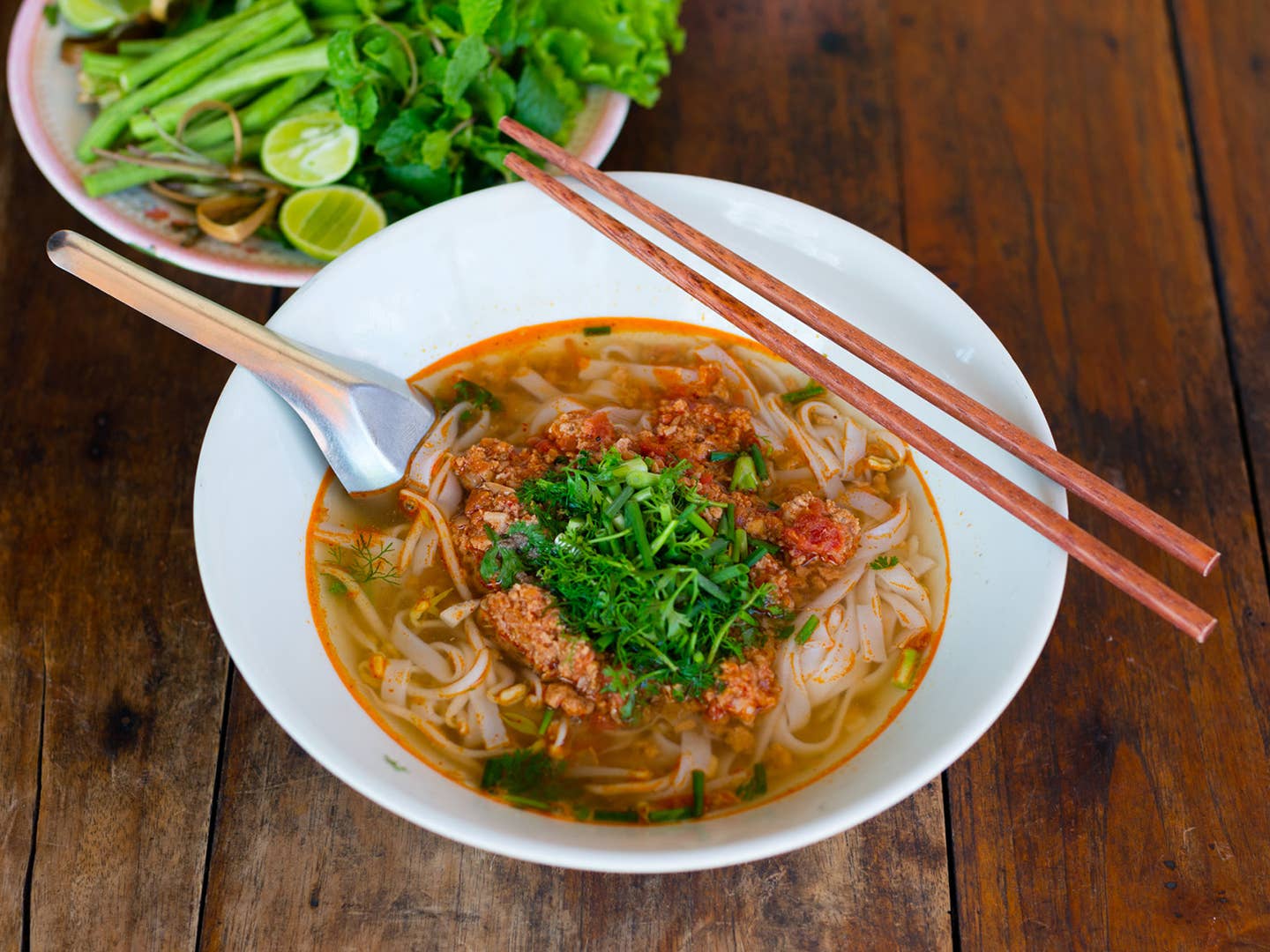 Travel
8 Essential Noodle Dishes from Laos
Get to know the country's most popular noodle bowls, from foe to khao soi
In a recent study of 20 languages around the world, Lao (sometimes also known as Laotian) crushed its competitors—including English—in its ability to describe flavors and aromas. But this wouldn't come as a surprise to anybody's who's eaten in this Southeast Asian country. In particular, noodle dishes in Laos are served with an almost comical abundance of condiments—from overflowing baskets of herbs and vegetables to multiple bottles and caddies of seasonings—and the Lao people use them all, spiking their bowls with mint leaves, a squeeze of lime, a splash of fish sauce, a spoonful of dried chile powder, a dash of MSG, and a dollop of shrimp paste. Even if you don't speak the language, it's easy to see that the Lao people are serious about flavor.
Lao noodle dishes might appear to be little more than delivery systems for condiments, but they form a sophisticated and delicious repertoire that's unlike anywhere else in Southeast Asia. Many noodle dishes in Laos have palpable links with Vietnam, a contrast with the mostly Chinese-origin dishes that dominate the rest of Southeast Asia, but there are a handful of indigenous noodles that aren't generally seen elsewhere in the region. The Lao eschew frying for the most part, so soups rule here, often taking the form of meaty, savory broths made from pork or even buffalo. Especially in the countryside, Lao noodle dishes are real street food, typically served from open-air stalls rather than in restaurants. They're the perfect entry point for getting to know the country's rich culinary tradition. Here's a guide to some of the most popular noodle dishes in Laos.
Although the name of this dish makes clear its Vietnamese origins, Laos has its own unique version of phở. Both the Vietnamese and Lao versions revolve around flat rice noodles, but the Lao dish doesn't usually include beef, instead often relying on a clear pork broth, or in more rural areas, buffalo broth. And in Laos, the thin slices of flash-boiled meat are often accompanied by meatballs. The dish is served with a virtual larder of optional condiments, including a tray of vegetables and herbs that can include lettuce, watercress, long beans, sawtooth coriander, Thai basil, mint, lime, and fresh chiles; bottled seasonings such as soy sauce, fish sauce, and vinegar; and dry seasonings including sugar, chile powder, and MSG. One particularly Lao condiment to foe is deep-fried rice cakes, which diners crumble into their soup for extra crunch.
Khao pun refers to thin, round noodles made from a dough of fermented rice, believed to be indigenous to Southeast Asia. In Laos, they're served in a variety of ways: In khao pun nam jaew, pictured here, the noodles are teamed with a cloudy, peppery pork broth, topped with pork offal, and accompanied by sides that may include shredded banana blossom, bamboo, green papaya, and morning glory. In dishes such as khao pun khing or naem nueang, the noodles aren't served in broth at all, but rather are wrapped in lettuce and herbs.
Khao Piak Sen (ເຂົ້າປຽກເສັ້ນ)
Khao piak sen, literally "wet rice threads," is the Lao take on Vietnamese bánh canh, thick, round, almost udon-like noodles made from rice and tapioca flour. To serve, the noodles are boiled directly in a pork-based broth (as opposed to cooking separately in boiling water), which gives the broth a cloudy, slightly viscous quality. Bowls are topped with crackly deep-fried pork belly or shredded chicken (or fish in southern Laos), cubes of steamed blood, cilantro, and lots of crispy fried shallots. The dish is served with the usual condiments, including a very spicy sauce of chile powder simmered in oil. It is especially popular in the center and south of Laos.
You might be familiar with the Thai curry noodle dish that also shares this name, but Lao khao soi, popular in the northern part of the country, is a different dish entirely. It's similar to Lao-style foe, but instead of slices of meat and meatballs, the dish is served with an oily, tart, umami-heavy mixture of minced pork and a paste that contains tomatoes and fermented soybeans—something of a Lao bolognese. Like foe, it's served with a platter of optional sides and a spectrum of condiments.
Khao Laeng Fuen (ເຂົ້າແລງຟືນ)
This indigenous noodle, associated with the Tai Lue people of northern Laos, is made from a batter of long-grained rice that's simmered until thick, allowed to set overnight, and sliced. While it's not exactly shaped like a noodle, the pale, gelatinous cubes are served in a broth that gets its assertively tart flavor from the leaf of the soap pod tree (Acacia concinna). It's served with a spicy-savory condiment that combines chiles and fermented soybeans.
Probably the simplest noodle dish in Laos, khua mee takes the form of rice noodles (round or flat) that have been fried with sweet soy sauce and topped with herbs and perhaps some bean sprouts—that's about it. It's a dish you'll almost never see in a restaurant, but rather is sold from large bowls at morning markets across the country, packaged to-go in a banana leaf. It's also a staple at celebrations and ceremonies because it's easy to make in large quantities. Optional condiments include dried chile powder and fish sauce.
The Vietnamese influence pops up again in this Lao take on bánh cuốn, in which wide, round rice noodles (also called rice paper) are steamed fresh to order, stuffed with a mixture of minced pork and herbs, topped with chunks of Vietnamese-style steamed sausage and lacy fried shallots, and served with a sweet-tart dip. Ban kuan are a popular breakfast in Laos, and sometimes an egg is mixed into the batter before it's steamed.
Noodles made from wheat flour and eggs are one of relatively few Chinese contributions to Lao cuisine (Mee is the Hokkien word for "noodle.") These noodles are served in a clear, pork-based broth, with slices of barbecued pork, greens, and sometimes wontons, a further nod to their Chinese origins. Mee lueang is usually only found in larger cities.