21 Recipes to Use Up That Bottle of Fish Sauce
Do you know how to use fish sauce? Keep this umami gold mine at the front of the shelf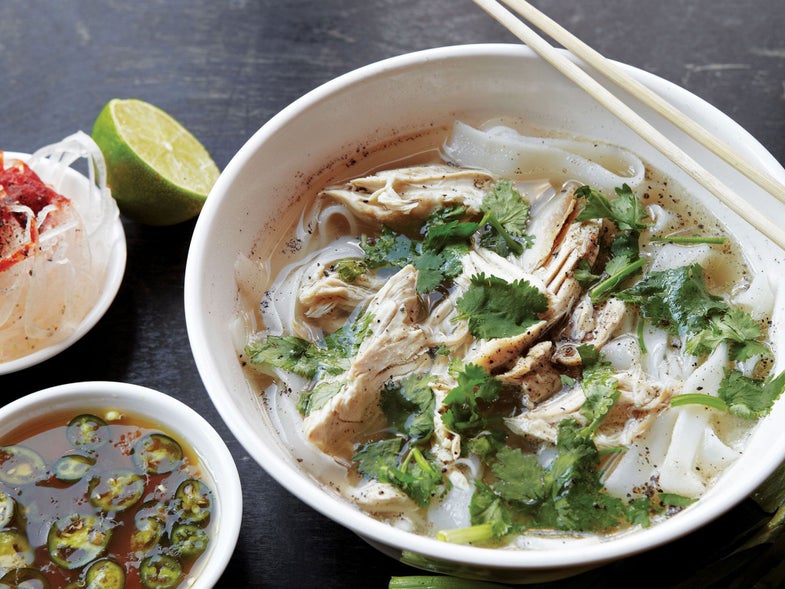 It wasn't too long ago that most Americans would turn up their noses at fish sauce, the funky Southeast Asian import made by salting and fermenting fish. Nowadays, chefs are getting creative with fish sauce, gourmet brands are popping up, and the stuff is going full mainstream.
Still, it can be a little intimidating to use. The best way? Swap it in anytime you'd use salt, but go light at first since the funk and the umami have the ability to dominate a dish. And, if you've never cooked Southeast Asian food, you might be surprised to find that some of your favorite dishes already use fish sauce. Vietnamese pho and pad Thai are great examples, but loads of curry and kimchi recipes also call for salt.
From Vietnamese recipes to Korean recipes, here are our favorite ways to use fish sauce.
This lighter pho is made with chicken stock, not beef. Add the fish sauce right at the end to keep the flavor bright. Get the recipe for Danny Bowien's Hanoi-Style Breakfast Pho »
This Malaysian-style mixed vegetable pickle is made with a rempah, or spice paste, and fish sauce stirred into the brine for an extra boost of flavor and texture. Get the recipe for Cauliflower, Cabbage, and Carrot Achaar (Malaysian-Style Pickle) »
A spicy and sweet summer curry full of tropical fruit. Get the recipe for Summer Rambutan Curry »
Though this recipe originally calls for the strong, traditional Lao fermented fish paste padek, storebought fish sauce is used here for its milder flavor and thinner texture. Just have a big bowl of sticky rice on the side, and do as the Lao do—eat with your hands. Get the recipe for Lao Poached Bass With Shallots, Eggplants and Chiles »
Colatura, an Italian fish sauce based on an old Roman recipe, brings an umami note to this simple appetizer of meaty razor clams. Italian anchovies are used in the making of this fish sauce which are a richer version of the more fermented Asian relative. Get the recipe for Razor Clams Fantasia »
Garlic and sriracha balance the sweetness of pineapple in this Southeast Asian-inspired pickle; a splash of fish sauce adds a robust savory edge. Get the recipe for Piquant Pickled Pineapple »
This spicy, delicious Thai noodle soup is enhanced with a touch of crimson pig's blood. Get the recipe for Thai Boat Noodle Soup (Kuaytiaw Reua) »
Fish sauce and nutty palm oil flavor this luscious stew, undoubtedly a predecessor of Louisiana-style gumbo. Get the recipe for Okra and Seafood Stew (Soupoukandia) »
Add fish sauce to bolster this customizable, refreshing cold soba salad that makes for great summer fare. Get the recipe for Soba Salad with Marinated Cucumber and Ponzu »
Brussels sprouts are fried whole until crispy and then tossed in an umami-rich dressing of fish sauce and lemon juice spiked with chile oil. A shower of salty Pecorino cheese, sweet-tart Granny Smith apple, nutty sesame seeds, and fresh minced chives tops off the addictive appetizer. Get the recipe for Crispy Sprouts »
Combining a mild fish like cod with store-bought curry paste, cilantro, and kaffir lime makes for an incredibly flavorful patty, and serving it with a simple topping of thinly sliced cucumbers, red onion, and cilantro tossed with nuoc cham (a classic Vietnamese dipping sauce made from garlic, chile, sugar, fish sauce, and lime) is an ideal summer meal. Get the recipe for Thai Fish Burger »
Green garlic, asparagus, and peas brighten this classic Thai street dish with springtime flavors. Out of season, you can substitute scallions for the green garlic. Get the recipe for Pad Thai »
This Cambodian soup is full of complex flavor from smoky bacon, crisp, cleansing taro stems and prahok (Cambodian fish paste). Get the recipe for Green Curry and Taro Stem Soup with Bacon »
Juicy mango, buttery avocado, and lightly charred sweet shrimp get packed into rice paper along with crispy cabbage and cucumber for a summer appetizer that hits all the right textural notes. Prep the spicy, tart dipping sauce with fish sauce ahead of time to let the flavors meld. Get the recipe for Grilled Shrimp Summer Rolls »
Light, tangy, and cooked with a modest amount of heat and any available seafood and fresh vegetables, kaeng som is an elemental and satisfying dish, and this curry from Pok Pok's Andy Ricker is an easy recipe to master and will teach you about balancing flavors in Thai cooking. Get the recipe for Sour Curry Soup with Shrimp »
At Seattle's Little Uncle, chefs Poncharee Kounpungchart and Wiley Frank dehydrate Oregon bay shrimp and crush them into a green papaya salad, where the crustaceans amp up the umami flavor. Get the recipe for Thai Green Papaya Salad (Som Tum) »
Sweet pomelo pairs beautifully with chiles, peanuts, and mint in this recipe for a classic Thai salad. Get the recipe for Thai Pomelo Salad (Dtam Som Oo) »
These noodles get additional umami flavor from fish sauce. Get the recipe for Philippine Noodle Stir-Fry (Pancit Bihon) »
Getting tired of your plain winter root vegetables? Throw some homemade kimchi on there to spice up a standard dish. Fish sauce adds the funk on the fermentation. Get the recipe for Quick Basic Kimchi »