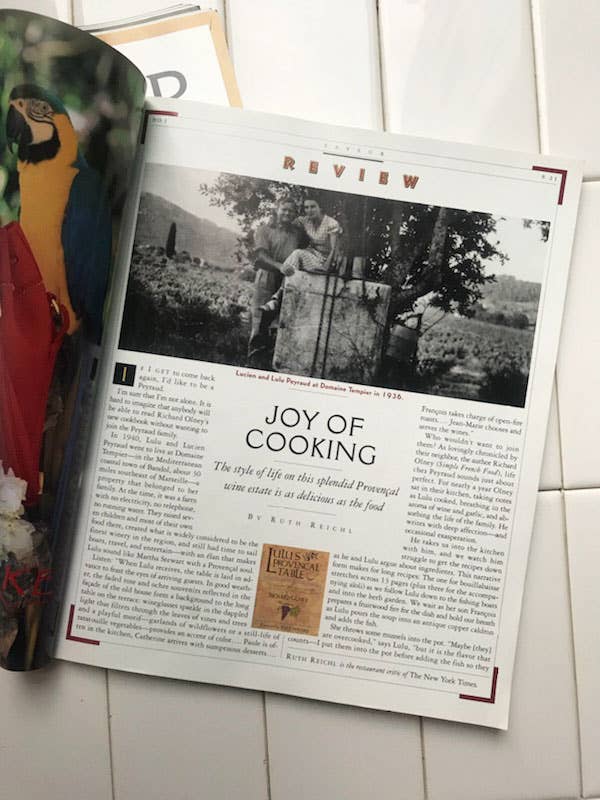 Culture
February's Cookbook Club Pick: Lulu's Provençal Table
This month, we'll be making tapenades and garlic broths straight from Provence
For this month's edition of Cookbook Club, the SAVEUR staff dug deep into the archives for an old favorite, and we're really excited about this one. For the month of February, we will be cooking our way through Lulu's Provençal Table—Richard Olney's record of winemaking matriarch Lulu Peyraud's Mediterranean feasts.
The book came out in 1994, the same year as SAVEUR's first issue, which included a glowing review from Ruth Reichl. Reichl was still working undercover as the New York Times restaurant critic, yet she found the time and the appetite to cook through several of Lulu's homey recipes, including tapenade, a pot roasted leg of lamb with olives, and a lemony striped bass grilled in fig leaves. It's food that the critic affectionately refers to as "country cooking from a very sensible woman". These are ingredient-driven recipes that are, by and large, easy to source and execute.
They're also not meant to be strictly followed from the book every time—in fact, Reichl believes that Lulu ultimately did not want that. She told test kitchen manager Kat Craddock, "It's a book that's very much in my aesthetic, which is just 'find some great food and throw it on the fire and don't worry too much'. I think I absorbed what the book had to teach me and didn't need the book anymore, didn't need the recipes. And I think that would be Lulu's hope, right? 'Don't follow my recipes, make them recipes of your own. Take the idea of this, don't use it as a prescription.'"
Reichl continued, "[Lulu] has lived this life that everybody would like to have lived, you know? That's what the book simplifies, that dream of Provence. Only usually it's a myth or something that Americans and English people make up. For her, it was absolutely real. I mean, she had this huge family and makes these great wines...and did these effortless, fabulous meals on a regular basis."
So get ready to live the Provence dream as we cook through Lulu's Provençal Table this month. New copies of the book can be tough to come by these days, but there have been multiple editions printed over the past 24 years. If you do have trouble tracking down an old copy at your local used bookstore or library, there are inexpensive ebook versions available through Amazon and Barnes & Noble to get you through the month.