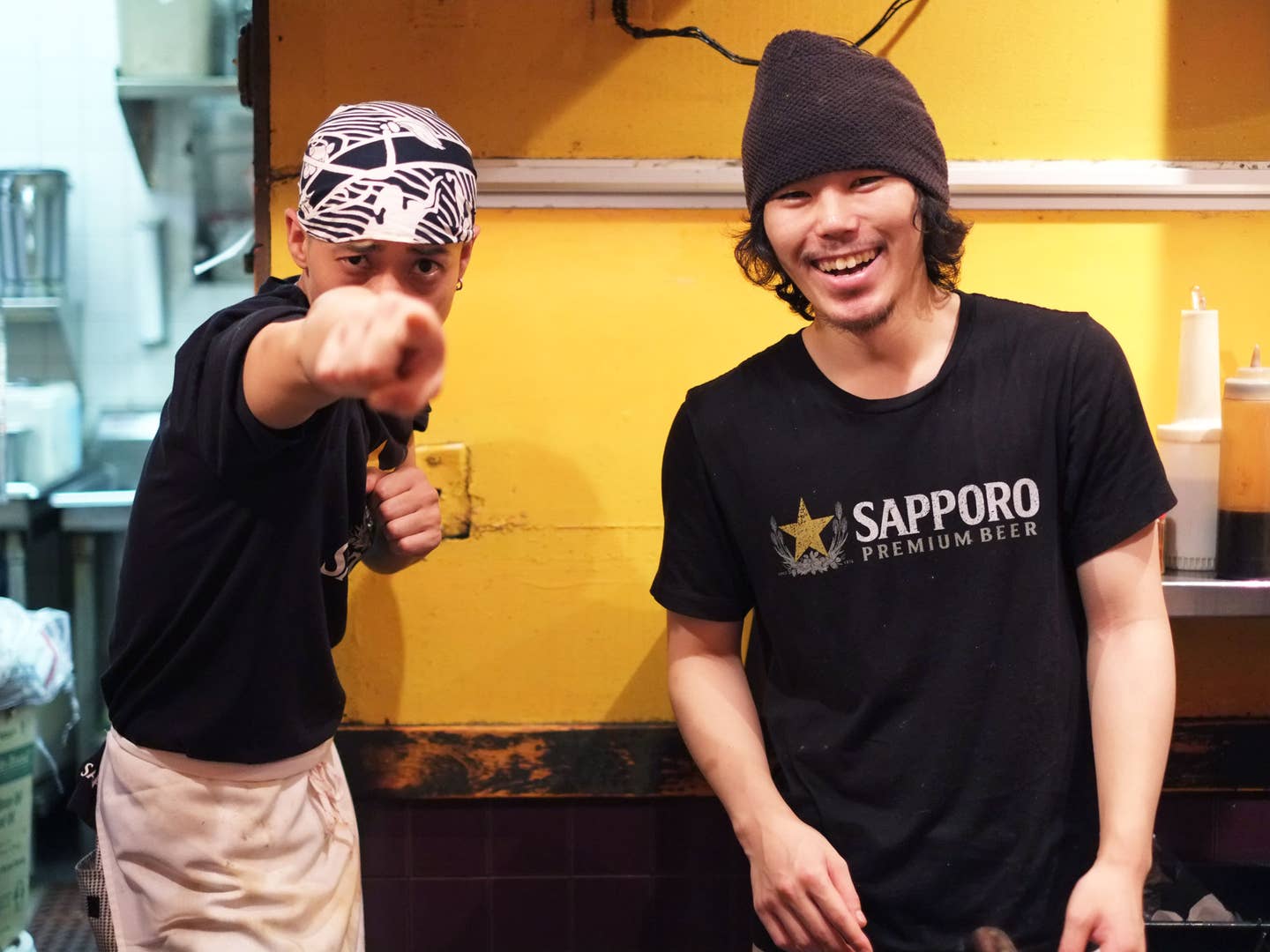 Travel
Unwrap the Gift of Japan's Foil Yaki
A new appreciation for this pouch-cooked staple in an old izakaya
In Asia, drinking-food (and drinking properly with food) is an art form. So welcome to Asian Drinking Food Adventures, where Dan Holzman, chef-owner of The Meatball Shop, and Matt Rodbard, author of the Koreatown cookbook, seek out the best food from bars, izakayas, pojangmachas, and then some.
It's closing in on midnight on a muggy late-summer evening and we find ourselves sitting at the Village Yokocho kitchen bar. This isn't our first meal of the night, and it isn't our first time with midnight box seats at the grill station. We're sweating, our brows damp from the shochu cocktails and highballs of Japanese whisky we'd just slugged next door at Angel's Share, the intimate speakeasy tucked into a corner of the restaurant.
An izakaya is Japan's version of the British public house crossed with an American diner and a Spanish tapas bar: a drinking establishment that serves a long and varied menu of greatest hits in small servings. The general idea is to order lots of food and lots of beer and lots of shochu and lots of sake and make a night of it. Add to that a sexy, low-key cocktail bar with an excellent selection of Nikka malts and you basically have the perfect date night, provided you don't get too drunk, or too full, and throw in the towel before the finale.
Yokocho has been the go-to for years—decades of drunk college students have found their way up the long, narrow stairs to the second floor oasis of booze and grub. There is a menu of kushikatsu (fried vegetables and meats) that goes on for pages, and the deep-fried squid legs dunked in Kewpie mayo are a must order on every visit. If you're feeling adventurous, there are dare-worthy bowls of mucus-y nato that I heard Anthony Bourdain hyperbolize during his Food Network days. The yakitori menu is another rabbit hole well worth traveling down: skewers of chicken thigh, breast, skin, and organ meat, glazed in a sweet soy-based sauce called tare (pronounced tah-ray).
For me, Village Yokocho was my Kaplan University for the beautiful art of Asian eating and drinking. For Dan, it holds the memories of a few too many dates where the consolation prize was a skewer of grilled quail eggs. It's the kind of place where dirt-cheap sake and pitchers of Sapporo magically appear without you having to ask.
On this visit, the fried squid legs are particularly crispy tender. Nuggets of fried chicken and skewers of grilled meats and vegetables compete for our attention as they arrive one-by-one. We venture into an order of what can only be described as breaded and fried chicken parmesan balls with ketchup sauce.
As we eat, we reflect on what makes drinking-food so special and unique. Drinking-food is its own cuisine, one that eschews the burden of cerebral gymnastics or locavore fascism. It's food that smells good and lands sizzling on the table, inviting you to burn your tongue. It feeds a deeper kind of hunger. The kind of hunger only satisfied by yaki butter.
Our rough translation of the term, after a couple bottles of sake and fumbling thumbs, is "grilled butter," and it's the ambrosial liquid that pools at the bottom of a bundle of foil yaki. In Japan, toaster ovens are as ubiquitous as microwaves in America, a keystone appliance in which entire meals are prepared. Hence foil yaki, where vegetables, meat, or seafood are wrapped in a pouch of aluminum foil with a mixture of butter, sake and soy sauce, then baked. (Some Japanese toaster even have a foil yaki setting).
Tear open the pouch and you're greeted by the intense perfume of mushrooms or clams steam-roasting in a bath of butter and seasonings. It's bliss.
It turns out that the toaster oven is a very efficient way to cook. The house doesn't heat up from a roaring oven, and once you throw away the foil there's little to clean, making it an ideal appliance for those with limited space or time. Japan is a culture obsessed with packaging and presentation, so there's also the excitement of unwrapping your pouch like a present.
Here we've adapted the version for a conventional oven (though feel free to use your toaster oven like our friends in Japan). In addition to the classic mushroom medley, we have versions with leeks, clams, and king oyster mushrooms, as well as the amazing combination of salmon, leeks, and enoki. Best of all, you can make them all ahead of time, prepping your tightly wrapped packages on a Sunday night for days of foil yaki fun. That comes in especially handy after a few pitchers of beer.