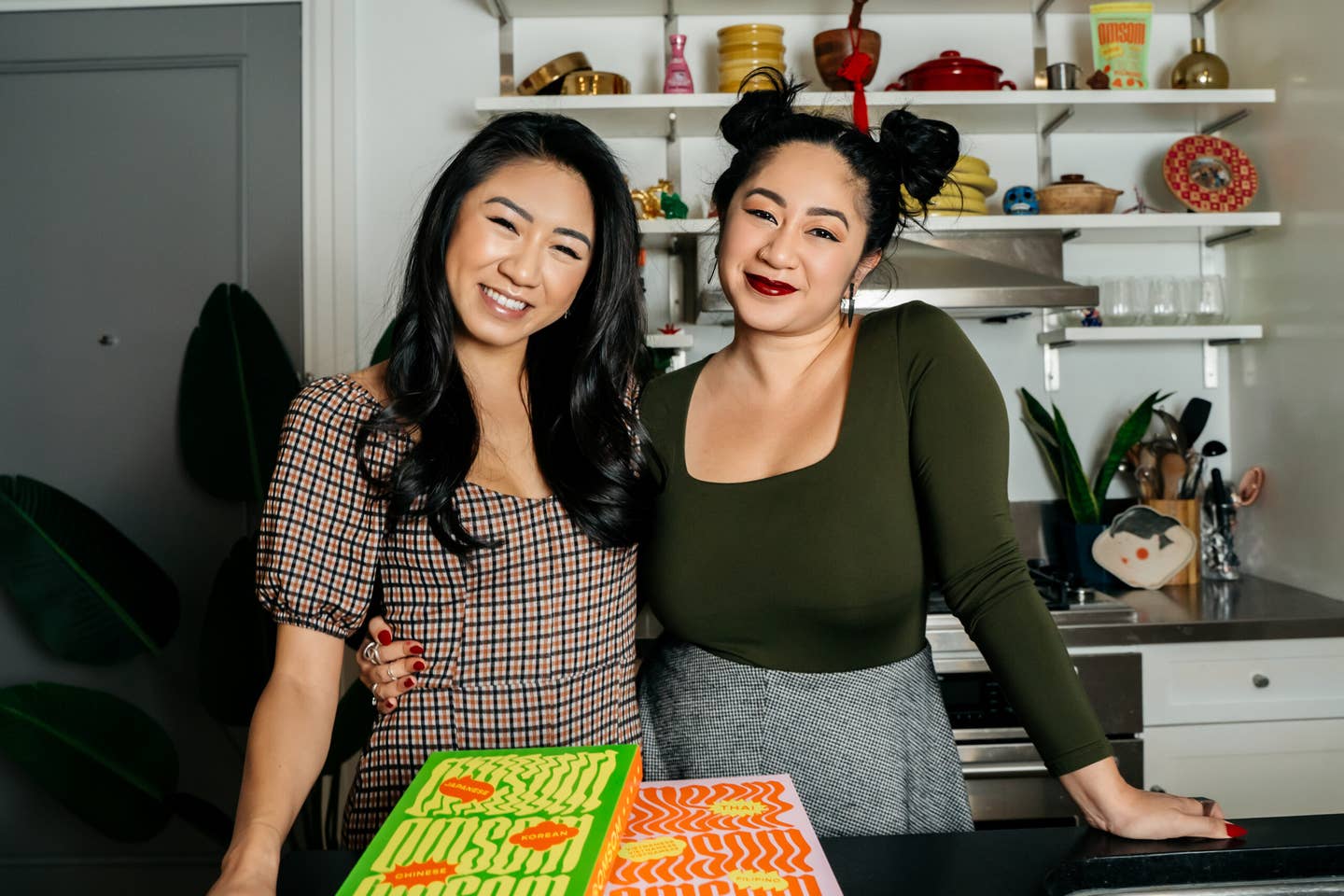 Culture
How These Asian American Entrepreneurs Are Redefining the Millennial Pantry
"We never felt seen by the 'ethnic' aisle in mainstream grocery stores."
Like many during the COVID-19 pandemic, I found myself taking up new hobbies—especially in the kitchen, where I tried my hand at traditional Vietnamese recipes that I wouldn't have dreamt of attempting before. (I'm not the only one: working from home and with more flexibility than ever, one in six Americans took up a new pastime and 36 percent of respondents said they found themselves cooking.)
Yet, as the world reopens—and with the always-on WFH culture still going strong—my schedule is somehow more packed than it was before the pandemic. On the hunt for time-saving ingredients, I've relied heavily on Omsom, a company specializing in convenient, shelf-stable "meal starters" for classic Asian dishes curated by seminal Asian American chefs and restaurateurs like Nicole Ponseca, chef Deuki Hong, and chefs Chat and Ohm Suansilphong of Fish Cheeks. Just buy your meat and veggies, add Omsom, cook, and serve. Since launching in 2020, they've sold out a whopping seven times, shipped to all 50 states, and partnered with Disney for the release of the Southeast Asian-inspired animated film Raya and the Last Dragon.
Aptly translating to the Vietnamese word for "rowdy," Omsom's unapologetic success reveals a wider appetite for Asian food products that speak directly to the hearts and palates of Asian Americans—while also offering more widespread accessibility for less visible food cultures. As a generation of immigrant kids have come of age in the past decade, they've begun to shape and redefine the country's supermarket shelves—and digital, direct-to-consumer marketplaces—with marinades, hot sauces, spices, and other condiments. If there are a dozen options for ketchup, mustard, and mayonnaise, why not have the same choices for fish sauce, chutney, achaar, or chile oil?
"Growing up, we never felt seen by this 'ethnic' aisle in mainstream grocery stores," explains Boston-born Vietnamese American entrepreneur Kim Pham, who co-founded Omsom with her sister Vanessa. "It's wild, considering the changing DNA of this country—where a third of the U.S. population comprises immigrants and their children, and yet this aisle continues to perpetuate an antiquated view of BIPOC cuisines and cultures."
Lockdown-era innovation found its way into many kitchens across the States. During the pandemic, dozens of acclaimed chefs launched independent condiment brands. Perhaps inspired by the smash success of Fly by Jing, a truly all-purpose Sichuan condiment that debuted in 2018, chile oil has become quite the hot commodity. In New York City, Nowon's Jae Lee recently released a standout version with Korean chile flakes, Sichuan pepper, and sesame seeds; meanwhile, Junzi Kitchen's Lucas Sin partnered with The Metropolitan Museum of Art on a three-jar chile oil gift set featuring one inspired by historic Silk Road spices like Egyptian fennel and Afghan cumin. Then there's Mẹ's Way, a new brand of hand-batched chile sauces made with umami-laden anchovy and spotlighting the oft-forgotten Central Vietnamese region.
Beyond dipping and seasoning sauces, several food startups have launched with a focus on ready-to-eat and packaged meals in newfangled formats. On a recent trip to Whole Foods, I discovered an array of paneer (a fresh, non-melting Indian-style cheese) from Sach Foods. Made with grass-fed California milk, each version—including original, spicy habanero, and turmeric—can be enjoyed as a snack straight out of the box, or thrown onto a pan for a quick sear or stir-fry. Even instant ramen, perhaps one of the most essential Asian pantry staples, has been given a nutritious, new-school revision with immi, founded by Kevin Lee and Kevin Chanthasiriphan, who were inspired by their childhoods working in family markets in Taiwan and Thailand, respectively.
By offering a greater plurality of offerings and pushing for mainstream representation, Asian American chefs and entrepreneurs have opened doors for deeper understanding of cuisines, allowing for more regional foodways and homestyle dishes to come to the forefront. Take Vietnamese food: while many American diners recognize pho and banh mi, those aren't necessarily daily staples in a Vientamese household. So when the Pham sisters tapped Chef Jimmy Ly of Madame Vo to curate a Vietnamese recipe for Omsom, I was pleased to find a starter for a more practical, daily, homestyle dish: lemongrass chicken.
This type of culturally specific innovation often starts simply with necessity, says Chitra Agrawal, SAVEUR contributor and founder of the small-batch Indian condiment company Brooklyn Delhi. After all, it was only in the past few decades that many Americans could name more than a handful of dishes from Vietnam and the Philippines, as well as the plethora of regional cuisines from the Indian subcontinent. One of the earlier pioneers in the Asian craft condiment space, Agrawal launched her first line of achaars (Indian-style pickles) seven years ago. To date, Brooklyn Delhi remains the only American-made achaar sold widely in Western grocery stores. Agrawal says it hasn't been easy.
"When you're first to market with a product that is not as known, the onus of education falls on your shoulders and can be challenging if you are a small business with no funding," Agrawal explains. "It gives me hope to see new food brands coming out with regional products, because I believe a rising tide lifts all boats. Together we can educate consumers and make grocery shelves more representative of today's America. Americans are ready to see supermarkets expand their offerings in this way."
Thankfully, with the dogged persistence of these POC chefs and innovators, the country's palate has rapidly expanded, signaling a degree of open-mindedness for "weird foods" as well as long-maligned ingredients like monosodium glutamate (MSG). With a mission to tackle stigmas around Asian food, Omsom recently released a limited Thai krapow collaboration with Pepper Teigen that's distinguished by its unabashed use of the stuff.
"For years, there has been a really negative stigma around MSG—people think it's bad for you, but research shows that it's truly safe," says Teigen, who's become an ambassador for Ajinomoto's educational "Know MSG" campaign. "I've always used MSG in my cooking and when I travel with my family, I even bring MSG with me because it makes everything taste better!"
Indeed, it's the connection to tradition that makes these products "authentic" in the sense that they reflect the real lived experience of immigrants and their children in America. And there's been one recurring theme in my conversations with these food founders: Their a-ha moment came at the dinner table, sharing a meal with family.
"You know that saying, 'Sometimes the person you're looking for is staring you right in the face and you don't even notice them'? That's what maazah has been for me my whole life!" says Yasameen Sajady, who created the Afghan chutney brand Maazah with her mother and two sisters. "One day, we were having lunch at my parents' house and the table was quiet. The only thing people were saying was, 'Can you pass the chutney?' And I slammed my fist down on the table and said, 'This is it! We have to share this with the world.' "
With immigrant children leading the charge to make our traditional foods more accessible, there's never been a better time to make Asian food in America—whether you're of Asian descent or not. But for those of us who've been starved of representation, this acceptance also feeds the soul.
"It seems like almost overnight, we've grown this incredibly engaged audience of Asian Americans—many of whom are first- and second-gen like us," Pham says. "They're the ones who help us pick future tastemakers. They're the ones who keep us accountable when we make mistakes in our content. They're the ones who give us super helpful feedback on products. It is both an honor and privilege to serve these folks who are often underrepresented in the mainstream grocery store, so it's rad to build a brand that helps folks feel more seen."