Culture
Madhur Jaffrey's 'Taste of India' Cookbook Was 30 Years Ahead of its Time
Regional Indian cooking is finally, joyfully spreading across the U.S., and Chitra Agrawal is cooking her way through the book that predicted it all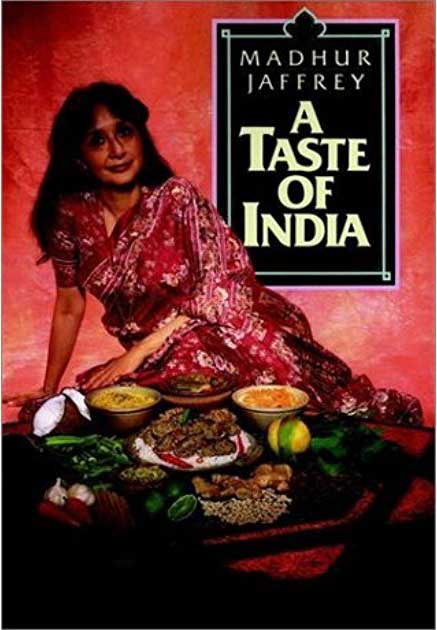 Each month, our Cookbook Club digs deep into a cookbook and shares our progress online. Cook along with us and share your results—and questions—with #saveurcookbookclub.
"Some day, I hope, books will be written about all of India's cuisines," Madhur Jaffrey writes in An Invitation to Indian Cooking. "Gujarati food, Malayali food, Assamese food, Punjabi food, Maharashtrian food, Sindhi food, Bengali food, Goan food, Kashmiri food, Hyderabadi food, to name just a few." A decade later, in 1985, A Taste of India fulfilled that hope.
When the book was released, the subject matter was quite ahead of its time, which may explain why the original version of the book is out of print, though now there is a reissued reduced format paperback edition. Today, when a growing number of Indian restaurants are going beyond the staid curry house concept and Indian flavors can be found on menus from Starbucks to Sweet Green, it's all the more relevant.
Each chapter of the cookbook is devoted to an Indian state with a selection of recipes from the region, from Gujarat's famed dhoklas (savory steamed lentil cakes) to maachher johl, the 'everyday fish dish' of Bengal. The sections are also a study in history and geography, and Jaffrey interweaves the two seamlessly: "The Bohris, Muslims from Gujarat, drink a lot of soup which they serve in Chinese bowls acquired through India's ancient trade with China."
Other passages read somewhat like a travelogue, albeit with beautiful location photography and give you a sense of place. Here's Jaffrey on describing the one autumn day when the sea is visible to the landlocked people of Jammu and Kashmir in the north: "Soon a pale moon fills the clear, crisp night with its ethereal sheen. And then, suddenly, there it is—a vast, magical, silver-blue sea, its rippling surface breaking every now and then into swirls of advancing waves." Beyond the enticing prose, Jaffrey has a knack for getting insider information from the locals when it comes to their most prized culinary traditions and delights. She is an anthropologist as much as a cook.
The only chapter devoted to a city is the first one, about Delhi, and it is special, a sort of mini memoir and ode to Jaffrey's hometown: "This was my city," she writes, "the city where I was born and the city of all my ancestors, as far back as family records went." It is in this chapter that you get a glimpse into Jaffrey's life before she left India, and her family's particular rituals revolving around food.
A Taste of India speaks to me for several reasons. My mother comes from Bangalore in the south, and my father from Delhi in the North. Theirs was a marriage of love, not arrangement, which was uncommon at the time, and although they are both Indian, they couldn't have been more different as far as food, language, culture, and religious tradition were concerned. (Though they were both Hindu, they came from different castes.)
All my life, I've been educated on the differences in their cuisine (with ensuing arguments about which is better). On our dinner plates, my mother's curry leaves, coconut, and black mustard seeds intermingled with my father's garam masala, amchoor, and cumin seeds. They both cook and remain closely connected with the food they grew up eating, though they have now lived in the U.S. for the majority of their lives.
In our household, the differences were pronounced because my father partakes in the daily cooking and even recently now cooks much of the food my parents eat. After almost 50 years of marriage, my parents are still introducing each other to new recipes from their regions, which speaks volumes of just how vast the idea of Indian cooking stretches.
In the book, Jaffrey expounds on that idea: "India is, in that sense, very similar to Europe, with each state, rather like each European nation, having not only its own language, culture and foods, but its own history, its own unique geography and its own set of dominant religions." To go a step further, there are even differences that exist within regions in India where religion and caste may dictate the type of food cooked in a home. Indian cuisine in America is just starting to reflect this immense diversity.
Recently, a new breed of Indian restaurant has started to make waves across the U.S., featuring menu items that cull from different corners of the Indian subcontinent, going beyond the usual naan and chicken tikka masala while garnering praise and accolades. In New York, at Floyd Cardoz's Paowalla, you can find pao, a Portuguese-inspired bread from Goa made in his wood-burning oven. At Hemant Matur's portfolio of restaurants Dhaba, Chote Nawab, Sahib, Malai Marke, and Chola, you can find regional dishes from Lucknow and Punjab to Karnataka and Kerala.
At Pondicheri in Houston and New York, chef Anita Jaisinghani introduces diners to an eclectic menu including khandvi and shrikhand from Gujurat, aviyal from Kerala, and Bombay frankies from Mumbai, to name a few. Vikram Sunderam's Rasika in DC also hops from one region to the other: Hyderbadi lamb biryani, grouper goan curry, and South Indian uttapams, while at Tiffin Asha in Portland, OR, Sheila Bommakanti and Elizabeth Golay delve deep into Andra Pradesh classics like dosas and idlis served with tomato chutney and gunpowder, an aromatic spice blend condiment. These are just a few examples of restaurants redefining Indian cuisine in America today.
In my own small way, I also have tried to push the envelope when it comes to educating other Americans on Indian cooking. My cookbook Vibrant India focuses on my family's recipes from the state of Karnataka, and my condiment line Brooklyn Delhi is inspired by both my North and South Indian roots.
When I demo my products at grocery stores, I find Indian food in general is still somewhat of a mystery to most, let alone the regionality of the cuisine. But I'm encouraged by the growing population of people that have interest in tasting and learning more about it.
For all these reasons, I believe A Taste of India is more relevant than ever, which is why I'll be cooking through it for this month's Cookbook Club. Follow along as I explore this gem of a cookbook in my home kitchen.