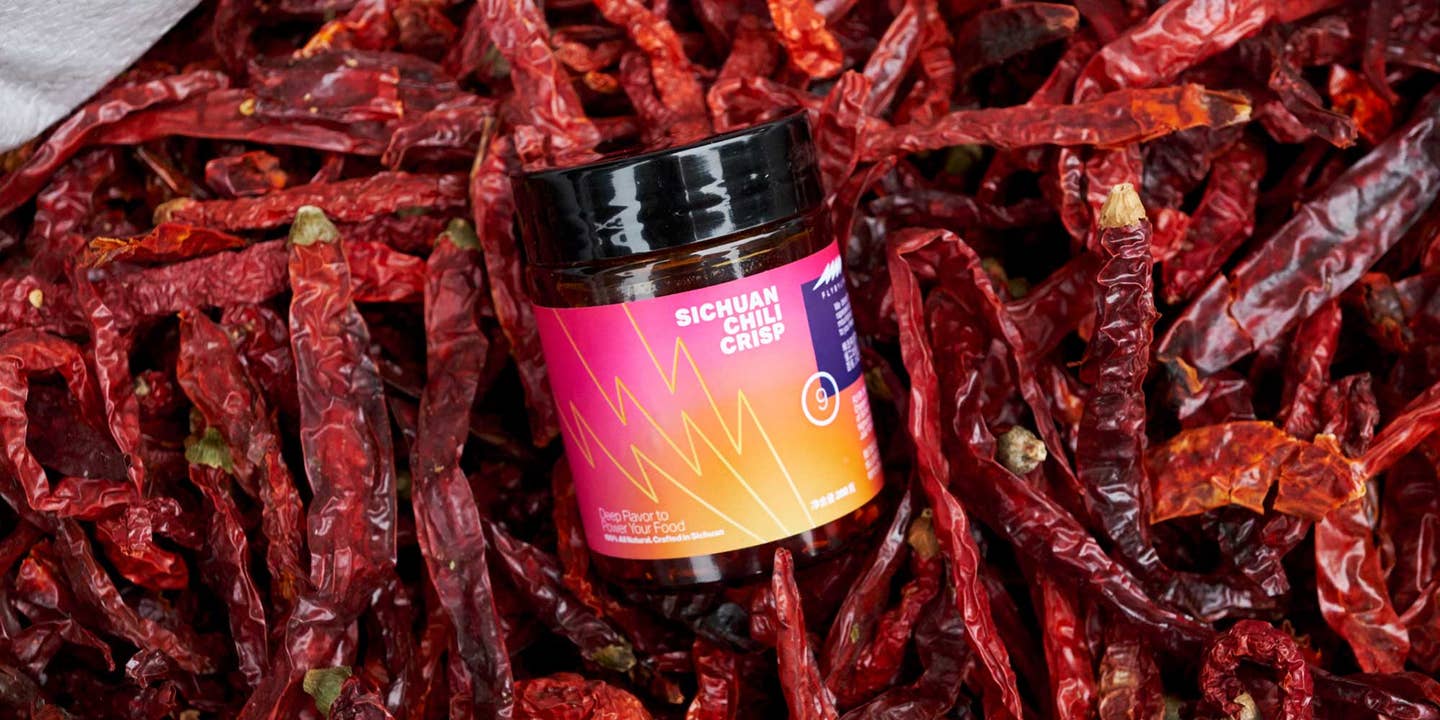 Shopping & Reviews
You Need This New High-End Chinese Chile Crisp
This Sichuan condiment tastes good on literally everything
I have lost track of how many boring meals that Lao Gan Ma brand Spicy Chile Crisp has rescued from the blandness abyss. No idea what to put on noodles? Get the Lao Gan Ma. Need a quick topping to give your salad some crunch? Scoop up a spoonful of the crispy stuff. Eggs in need of something extra? The oily heat, the crunch of chile flakes and fried peanut, and the blast of umami from granules of MSG are all here for you. Often dubbed "the angry lady chile oil" in honor of brand founder Tao Huabi's stern portrait on the label, Lao Gan Ma has become a cult condiment for heat freaks in America. It occupies a similar position to Huy Fong's sriracha a decade ago, back in the halcyon days before that sauce gained mainstream acceptance and, in short order, was declared so over.
But like Heinz ketchup, the angry lady chile oil can be a bit much. The salt and MSG that makes it finger-licking good? They also mean that overindulgence can make you feel like you mainlined a jumbo bag of potato chips. The crispy-hot chile flakes that add welcome crunch to everything they touch? Lovely, but a little lacking in character. In China, crispy-chile-laden hot oil is an entire genre of condiments, often custom made in restaurants and home kitchens. For instance, my friend Helen You, the chef of Dumpling Galaxy in New York, flavors hers with star anise and ginger. It's a gentler, subtler chile oil, lower volume but brighter timbre, reflecting the simple yet soulful flavors of her hometown of Tianjin.
Just as we are all better for Heinz coexisting with artisan upstarts like Sir Kensington, the crispy chile oil category deserves some diversity on grocery shelves. Unfortunately, no Western-facing brand has risen to the occasion.
Gao, a Chengdu-based chef and culinary educator, has built a career out of exploring the heritage of Sichuan Province's famously fiery cuisine while advancing it on the modern global stage. She's also been selling spice mixes and condiments in China under the brand name Fly By Jing. Her product line includes a crispy chile oil. It is very good. And now she's bringing it to the rest of the world.
Today marks the launch of Gao's Kickstarter, a pre-order system for her Sichuan Chile Crisp, which Gao expects should arrive in mailboxes by the end of the year. If the Kickstarter goes well, more products will follow, such as a mapo tofu sauce, fermented bean paste, and an heirloom variety of Sichuan Province's famous peppercorns—all staples of Sichuan cuisine that often get shortchanged by substandard products available on the American market.
But we're here for the chile crisp, the first and only packaged condiment of its kind—available in the U.S., that is—that deserves a spot on the shelf next to Lao Gan Ma. For the sauce, Gao combines three varieties of Sichuan chiles with Sichuan peppercorns, kombu, and dried mushrooms, all submerged in neutral oil. Those chiles are impressively fragrant, ripe and sweet with bright, acidic heat. The tongue-tingling peppercorns add warm touches of camphor and citrus. And where Lao Gan Ma relies on synthetic MSG for its umami, Gao's one-two punch of mushrooms and kombu delivers a gentler but richer savory undercurrent. The sauce tastes remarkably homemade for something that isn't, a testament to the subtle nuances of Sichuan cuisine, which all too frequently gets reduced to a caricature of bludgeoning heat.
The two chile crisps are qualitatively different condiments. Gao's Sichuan chiles don't have the same shatter-crisp flakiness of Lao Gan Ma, which was born in Guizhou Province 500 miles away. But both are limitless in their uses. Since receiving my sample jar of Fly By Jing, I've dabbed it on pizza, stirred it into for fried rice, and used it as the sole seasoning for a simple but eminently satisfying side of blanched greens. It is perversely delicious on vanilla ice cream.
Against this backdrop, high-end Chinese ingredients remain conspicuously absent on the Western market. There are a few reasons as to why, but ingrained prejudice toward Chinese cooking, fueled by centuries of unjust associations with cheap and junky food, likely have something to do with it.
A quality chile oil isn't going to change that, but it's a fitting statement in a jar, a Sichuan analogue to, say, Sicilian olive oil, that merits just as much respect.
Gao's Kickstarter will run for 30 days from June 4th and pre-orders ship worldwide. Orders start at $25 for two 200-gram jars.