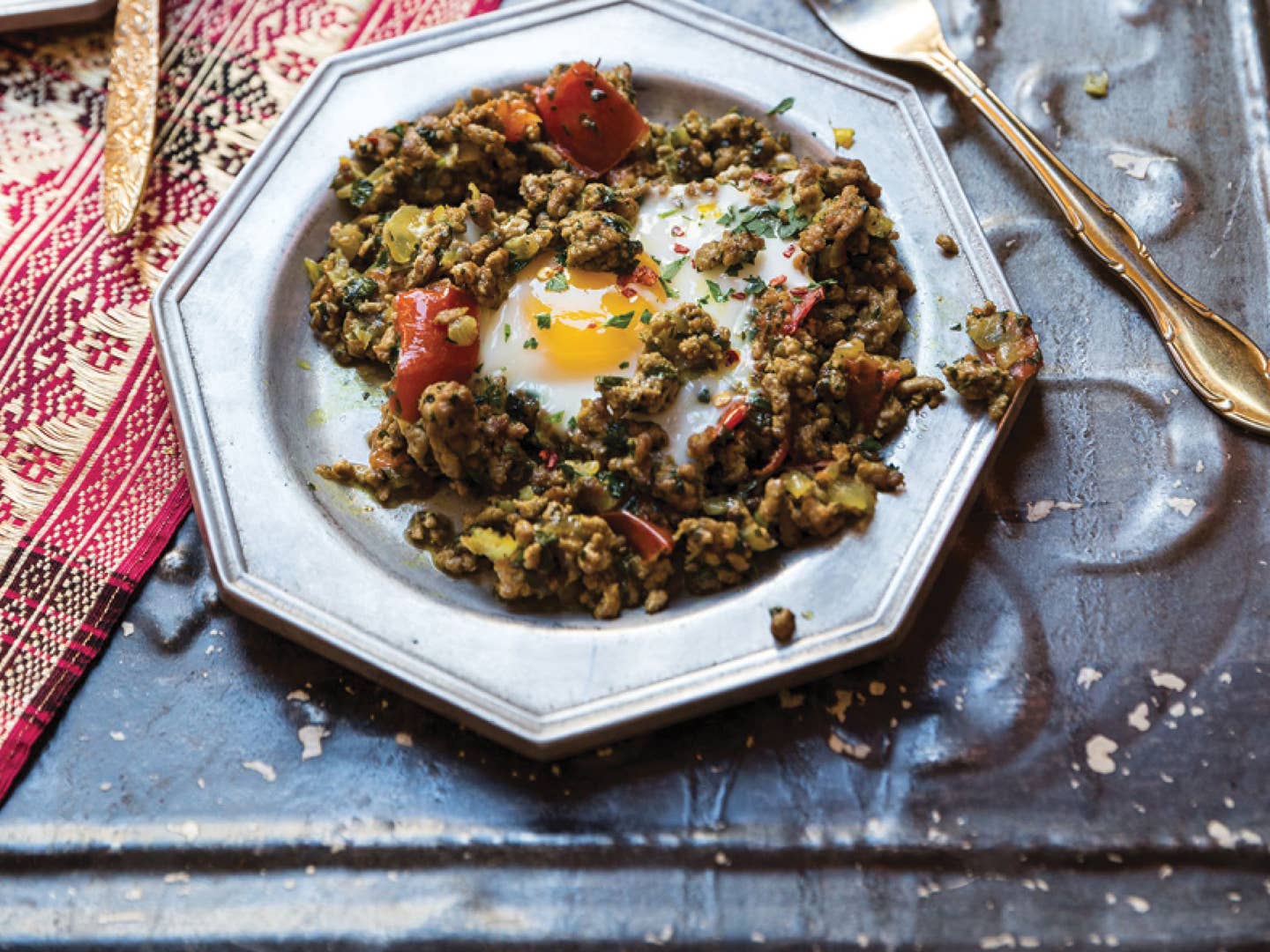 Travel
The Four Corners of Arabia in Dubai
Dubai is the best place in the world to explore the diverse flavors of the Middle East
Thanks to Arab residents who have flocked to the city over the last forty years, Dubai is the best place in the world to explore the diverse flavors of the Middle East, from Levantine dishes from Mediterranean-facing countries like Lebanon that feature favorites like hummus, baba ghanoush, and falafel; to North African tuna sandwiches laced with fiery harissa; hearty broad beans dusted with cumin; and the crunchy, tangy street snack khoshari. In central Arabia, Syrian and Iraqi foods echo the ancient, sophisticated traditions of Mesopotamia with delicacies like turmeric-scented lamb, while in the far east of Arabia, you can taste Khaleeji "soul foods" like Emirati harees, a mashed chicken and wheat berry porridge. In Dubai, the melting pot of the Middle East, you can sample the four-corners of Arabia in one delicious city.
North African Street Snacks
Al Ammor, Zabeel Road, Al Karama +971 4370 7060
Koshari, a dish of lentils, rice, chickpeas, and pasta tossed in a vinegary sauce and topped with fried onions, originated in the 1950s as an "everything but the kitchen sink" concoction of leftover pantry staples, but has since become ubiquitous street food in Cairo. In Dubai, Egyptians and other expats flock to Al Ammor in the Karama neighborhood for koshari and fatayer meshaltet, a layered pastry of hand-stretched dough stuffed with cheese.
Taste Tunisia (near the Ramada Hotel), Hor Al Anz, +971 4297 8287
Tunisian Brik pastries, paper-thin North African warka bread (literally "paper bread") stuffed with tuna, capers, parsley, piquant red pepper harissa, and a whole raw egg, are flash fried so the crust becomes golden and crisp but the egg remains lusciously runny. The no-frills restaurant, Taste Tunisia, in the Hor Al Anz neighborhood has perfected the method.
Zahrat Al Quds (Behind the Ramada Continental), Abu Hail, +971 4297 7509
Mansaf, a dish of rice topped with roast lamb marinated in re-hydrated, dehydrated yogurt, makes use of this innovative ingredient, originally used by Jordanian-Bedouin tribes to make dairy caravan-stable, which still lends its distinctive, fermented layer of richness to the dish. Musakhan, crisp, oil-laden flatbreads topped with caramelized onions, pine nuts, and tart, sumac-crusted chicken, is always prepared during the olive harvest in Palestine, when massive quantities of fresh-pressed olive oil are lavishly added to everything. Mansaf and Musakhan are typically made in Jordanian and Palestinian homes only during celebrations, but in Dubai, you can find both at Zahrat Al Quds in Abu Hail.
Al Nafoorah, Jumeirah Emirates Towers, +917 4432 3232, jumeirah.com
Mezze and mixed grill are offered at Lebanese restaurants all over Dubai, including Al Nafoorah, where nutty hummus; tart, crunchy fatoush salad; and crispy orbs of meat and pine nut-stuffed kibbe share space on lantern-lit tables with bottles of Lebanese wine and heaving platters of grilled beef, liver, ground meat, and juicy, perfectly charred chunks of shishtawook, chicken breast marinated in lemon and garlic and served with thick garlic mayonnaise called toum.
Al Tawasol, Al Rigga Road, Deira, +971 4295 9797
Yemei Mandi is traditionally made by placing a pot of seasoned rice over hot embers in a pit and covering it with a grate topped with meat or chicken so the boiling rice will steam the meat while the drippings flavor the grains. The saffron-colored dish is eaten by hand and served in the local way from a large metal platter set on the floor of a private dining area along with simple chopped salad, lemony lentil soup, tomato salsa, and yogurt at Al Tawasol.
Omani Halwa Shop, (next to Al Fareej restaurant), Al Nahdah Street, no phone
Omani Halwa a jelly-like dessert of sugar, ghee, and cornstarch cooked down with saffron and rose water, is an important symbol of hospitality in the Sultanate of Oman where it is served by the spoonful alongside black, cardamom-infused kahwa Arabic coffee. At the unmarked Omani halwa shop in Al Twar 1, you can sip kahwa and sample date, rose water, and special house varieties of the sweet before selecting a ceramic bowl of the stuff to bring home.
Bait Al Baghdadi, Al Muteena Street, Deira, +971 4273 7064
The chef at Bait al Baghdadi, in the Deira neighborhood of Dubai, once worked as a royal chef, and his expertise in regional Iraqi cuisine shines in masguf, a Baghdadi specialty of butterflied riverfish that is salted and hung to grill over lemon wood, and makhlama lahm, a 10th Century Mesopotamian dish of sautéed lamb spiced with bahar asfar, a mild yellow curry, and topped with an egg. The fish requires 45-minutes to cook, so it is best to call ahead to request the dish along with tandoor flatbread and house-made, tangy mango "fish chutney."