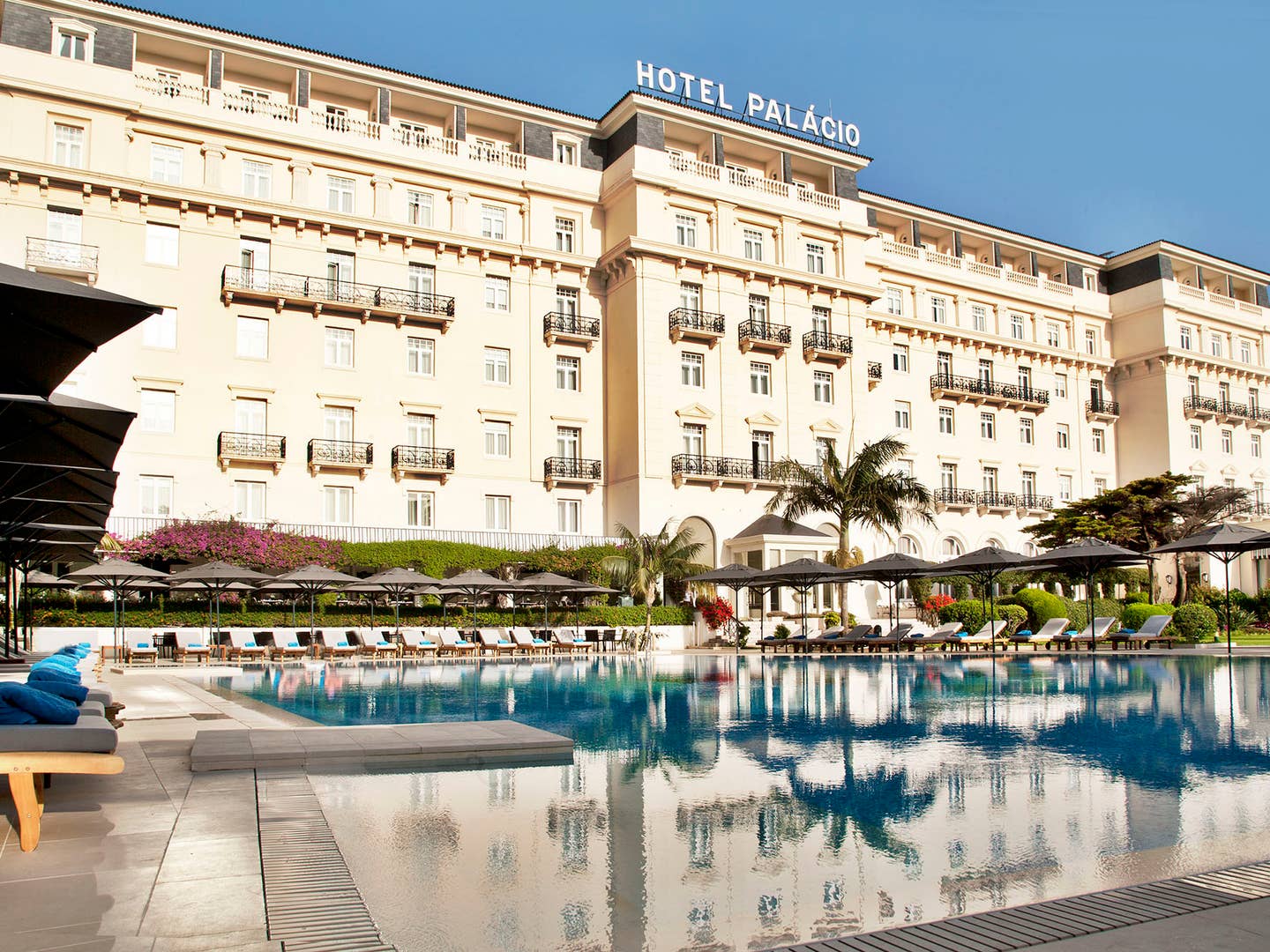 Travel
The Seaside Portuguese Town That Inspired James Bond
Estoril, which was once the wartime home of royalty seeking sanctuary—and the spies who watched them—enjoys an enchanting faded glamour today
I don't order dry martinis anywhere except in Estoril. Usually, I like my gin wet. But sitting in a low antique chair at the wood-paneled Spy's Bar in the Hotel Palácio, nothing but a dry gin martini will do.
The echoing clatter of heels on marble drifts in from the hotel's double-height lobby, and there's never quite enough chatter to drown out the soft music. In daylight, the gleaming green and blue of the garden and pool blink through long windows into the dim bar, lined with elegantly worn satin upholstery, and smoky mirrors catch the light at night. When it rains, as it does in winter, you can stare out at the dappled pool with underwater lights changing colors for no one. Waiters in white jackets carry platters of hors d'oeuvres, tiny tea sandwiches and salmon rolls.
Sipping from my stemmed glass, I am joined by a long and hallowed line of dry gin martini drinkers. Located twenty-five minutes outside Lisbon, Estoril became fashionable in the 1930s for its grand hotels and casinos. Then, during World War II, neutral Portugal, which played both sides off of one another to ensure its own safety and profit, was flooded with foreigners staying for longer than just a summer vacation.
While Lisbon was the center of official operations, seaside Estoril teemed with royal families from Spain, Italy, and Bulgaria, as well as French aristocrats, wealthy traders, displaced Jews, and the spies surveilling them all. Many took rooms at the Palácio—Allied territory—or the Hotel Atlántico, favored by the Germans. The Spanish royal family remained in town until the & '70s.
My very first time at the Palácio, walking to the breakfast buffet at the end of a hallway took me nearly 20 minutes, because I kept stopping to look at the photos of visiting European royalty and guests from the '30s to the present that lined the walls: stiff skirts at debutante balls, tiaras and white dresses at weddings, Grace Kelly and members of the Spanish royal family—the Infanta Pilar, among other Bourbons. Later that evening, I chose my outfit with slightly more care. The next day, as I left for the beach, I swiped on some lipstick.
The Palácio, with its dark bar and bright lobby, copious marble, lived-in period furniture, and bellhops in tails, has the inherent theatricality of an old movie. Ian Fleming stayed here in May of 1941, when he met Serbian-born triple agent Dusko Popov, the ur-Bond playboy spy known as "Tricycle" for the women occupying both his arms. Here, Fleming conceived of his famed character (and perhaps his hero's idiosyncratic "shaken, not stirred" directive). In those years, the high floors of Estoril hotels—the Palácio, Atlántico, and Inglaterra—were booked solid by agents who gazed toward the ocean after nightfall to decipher code twinkling from offshore ships. When the Germans ordered the best champagne at Spy's Bar, the gin-swilling Allies knew a battle had been lost in Africa. Bartenders got the news before the papers printed it.
José Diogo Vieira, the Palácio's head concierge, was 18 years old when On Her Majesty's Secret Service filmed at the Palácio in 1969. In an early scene, he plays a bellboy with neatly combed hair who hands James Bond his room key. Vieira wasn't around when Popov and Fleming were in residence, but their routine was common knowledge, he says. They circulated—hotel room to hotel restaurant and back again, restaurant or room to bar, bar to casino, and back again—drinking cocktails as they gathered information and traded secrets along the way.
Vieira's hair is now white, but he parts it on the same side and stands with a similarly straight bearing. And summers at the Palácio still look more or less as they do in the film's opening scenes, still feel more or less how they did when Fleming and Popov operated. Shouts float up to balconies from the pool, and guests roam the beach, hotel, bar, and casino in little loops.
Which is exactly why I keep coming back. There's a comfort in the continuity, in being strong-armed by tradition. Before dinner, on that first trip, I sat on my balcony and looked out across the landscaped park at the darkening ocean, seeking out a recognizable pattern from the ships on the horizon.
Among the first things José Manuel Cima said to me when I met him two years ago was that I was wrong. I did not want to order the grilled squid. I wanted to order the fresh grouper. Cima, ever the kind gentleman, has been running Cimas for 50-odd years now, and has a sense for these things. The second time we meet, when I return to Estoril with the express purpose of indulging in my love of history and tracking down spy haunts, is much the same: I like fish best? I want something traditional? In that case, I'm having the bass with clams.
Of course, he's correct, just as he was the last time. The bass emerges fleshy and with a surprisingly light shallot cream sauce, the plate dotted with shell-on clams. Cima knows these recipes well: They're his mother's. His parents took over Cimas—then called English Bar—from a Scottish spy in the early '50s. Her Majesty's agent Horace Bass had opened the pub in 1941 in a faux-Tudor guesthouse next to Estoril's old casino, and it acquired its name equally for its dark wood rooms as for the Allied spies who lurked within. Its signage appears perpetually caught between the two names—Cimas from the street, English Bar in cursive on the crest, Cimas-English Bar on the menus. As I finish my bass and listen to the surf crashing outside, I imagine slouch-shouldered spies trading secrets over strong drinks.
That I have never been steered wrong by the bossiness of my elders—that following tradition doesn't feel like play-acting at nostalgia—creates, for me, a sense of relaxation and routine. I know, in Estoril, that I will drink the same cocktails in the same places where spies and royals drank them 70 years ago. I'll read a novel published more than 50 years ago by the pool or garden, wish I'd brought dressier clothes, and eat crab legs and sardine heads with my hands. I will order what Cima tells me to order and go where Vieira directs me. During the summer, I will spend afternoons on a beach where German women spoke with Swiss accents in hopes of seducing Allied officers. And when I want ice cream, I will walk to Santini, purveyor of flavorful ices since 1949.
The present encroaches: The small casino next to Cimas was torn down, and the large casino in which Fleming spent his time, constructed in 1931 and expanded in the 1960s, was sold to a Chinese gambling conglomerate 30 or so years ago; the new owners "improved" its façade with mirrors and thousands of blaring lightbulbs. Last year, a monolithic gray hulk of a modern Intercontinental replaced the Hotel Atlántico. And at Spy's Bar, a separate gin menu now lists 22 varieties besides Gordon's, a nod to the craze for gin and tonics that has swept Spain and Portugal.
But though I may ask for my dry martini prepared with a flowery French gin, I will drink it in the same dim seat where the Count of Barcelona drank his daily dry martini for 20 years when he was in town. I'll head to dinner at Cimas, where, every day, Cima and his daughter Sara keep a close eye on the recipes from the past, making sure they remain relevant and fresh. There's little fear Estoril will change too quickly: Her young sons, Sara assures me, already know how to pick the best fish from the market.