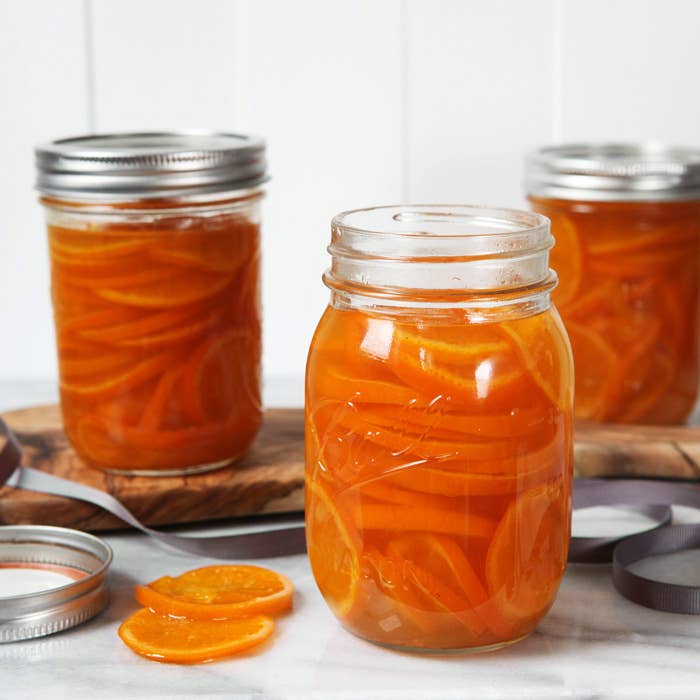 Show Mom how much you care about her on Mother's Day with these homemade and handcrafted gift ideas, from candied clementines to blueberry jam to chocolate marshmallows.
Packaged in tiny French canning jars, hand-mixed herbes de Provence make a wonderful gift for the home cook. This recipe will fill one 4-oz container; multiply it by as many jars as you wish to give out.
This easy, versatile compote, developed by SAVEUR's Alexia Nader, is thicker than a syrup but not quite a jam. It's a perfect use for summer's sour cherries. Use it as a topping for crêpes, ice cream, yogurt, or cake.
Sichuan peppercorns, ginger, and red chile flakes add complexity and polish to this versatile syrup, made by macerating strawberries with sugar and spices. We love using it in cocktails and drizzling it over pancakes and ice cream for an extra kick of flavor.
Fleur de sel mimics crunchy ice crystals atop these chewy bites of vanilla caramel.
For a cocktail lover, nothing beats fresh, homemade sour mix. A refrigerated bottle will keep for about two weeks—but we doubt it will last that long.
If your mother or grandmother is still using dried and granulated garlic instead of fresh, make them a batch of this hand-chopped garlic herb salt. It's the perfect gateway to the good stuff and will elevate their cooking immediately.
Vanilla extract is one of those things that seems mysterious and magical, but is actually ridiculously simple to make at home. Order a pound of Grade B vanilla beans from an online seller and half your work is done. Split the beans, plunge them into booze and time does the rest.
After simmering clementines in simple syrup, you end up with pockets of sweet, tender fruit suspended in a bright, slightly tart liquid. They make the perfect gift for cocktail lovers and home bakers. This recipe comes to us from Marisa McClellan, author of Food in Jars: Preserving in Small Batches Year-Round.
Invertase, a liquid enzyme that's found in small bottles at most candy-making supply stores, is used in these candies to liquefy the luscious fondant filling. Once you've made the cordials, it will take about ten days for the filling to liquefy. We based this recipe on one found in Peter Greweling's Chocolates and Confections (Wiley, 2010). For more Valentine's Day recipes, check out our guide. Get the recipe for Chocolate-Covered Cherry Cordials »