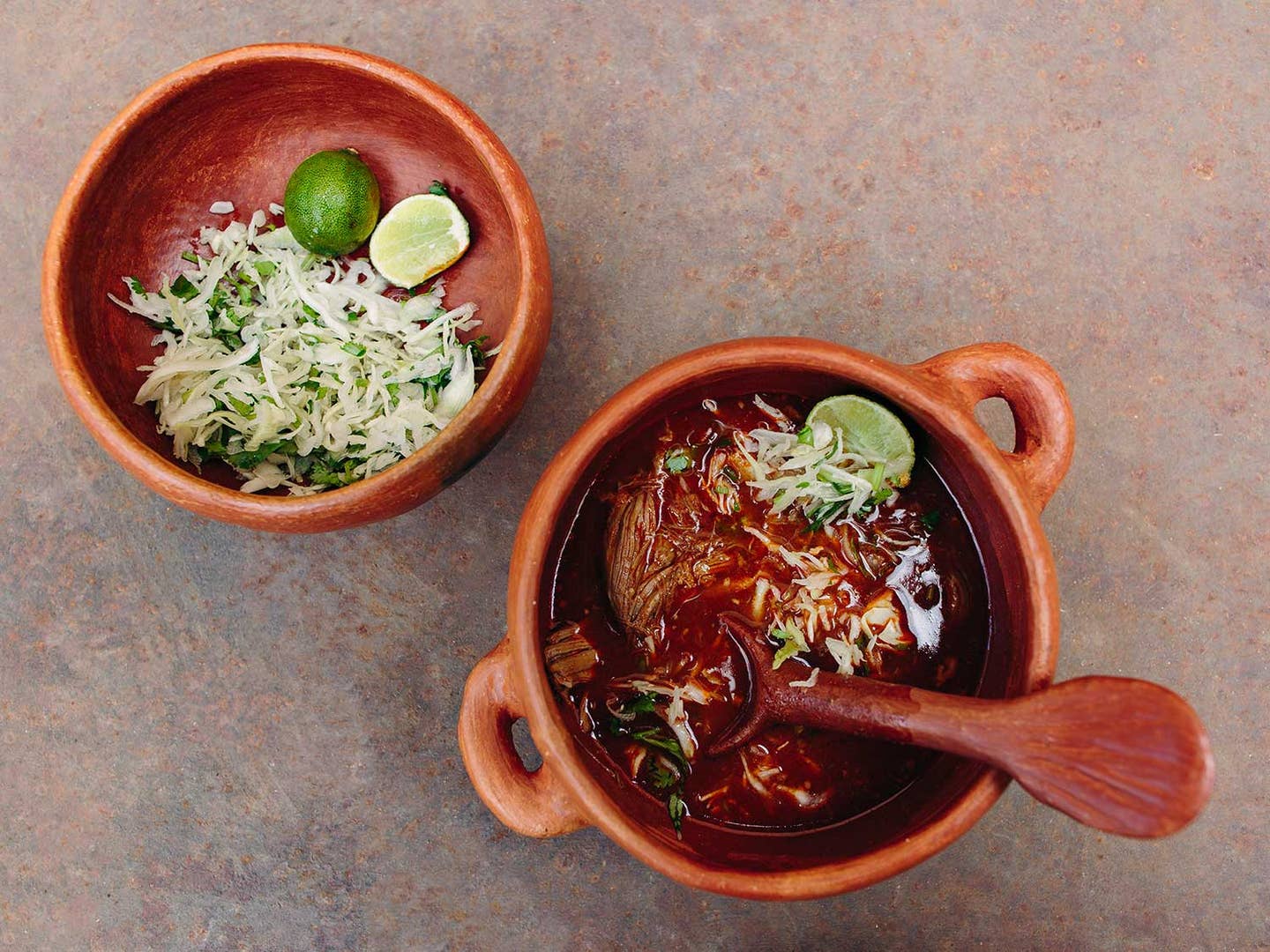 Travel
On Sunday Mornings in Oaxaca, Goat Soup is What's for Breakfast
People go to the Tlacolula market just for a bowl of this barbacoa
It's 8 a.m. on a Sunday morning, and the Tlacolula market is already packed with people eyeing the multitude of brightly colored crafts and aromatic foods for sale. Market-goers move past a folding table ringed with diners enjoying overstuffed gorditas—split masa cakes filled with tender chicharrón. These visitors have one thing in common: They plan to kick off a morning of shopping with a hearty bowl of Oaxaca's famed barbacoa. While Tlacolula's modest food court hosts about a dozen barbacoa stalls, each of which jockeys for the loyalties of the market's hungry customers, those in the know will go straight to Doña Adolfa.
Tlacolula sits about a 20-minute drive from the handsome colonial city of Oaxaca, Mexico. On Sundays, the municipality's normally-quiet streets swell with customers who have roused themselves early to shop—and eat—at the region's largest open-air market. For centuries, this market has been an anchor for various regional and indigenous groups who journey here from towns scattered across Oaxaca's Valles Centrales. They come to sell traditional crafts ranging from polished red pottery to vibrantly colored, hand-woven palm baskets, as well as native foods such as cacao beans, mamey fruits, and spicy chiles de agua. And while you're likely to encounter a handful of güeras, or light-skinned foreigners, the overwhelming majority of visitors are locals, speaking a mix of Zapotec, Mixtec, and Mixe, with the occasional Spanish.
All over Mexico, soups are the breakfast item of choice: Warm, filling and often inexpensive to prepare, the savings are passed on to the customer, who can savor a cheap, complete meal before starting the workday. In Jalisco, diners tuck into birria; in Monterrey, caldo de res; but in Oaxaca, breakfast is barbacoa, a rustic soup made from bone-in goat or lamb and simmered for hours over, traditionally, a wood fire. Flavored with the mildly nutty leaves of the avocado tree, the anise-scented herb hoja santa, and earthy dried chiles, the resulting soup boasts a deeply flavored broth and chunks of tender, falling-apart meat.
Doña Adolfa is the very first stall you'll see when approaching the barbacoa section of the food court, and hers is the favorite of many a Tlacolula-goer. The hand-painted sign lays out the kitchen's limited options: hot chocolate made with water or milk, cold soda and beer, mezcal, and plain or enchilada barbacoa, available with goat or lamb.
Underneath the sign stands Adolfa herself: In her 70s now, the silver-haired señora wears an elegant, finely-beaded white-and-pink dress topped with a mandil, a traditional patterned apron, to guard against any stray sloshes of soup. Standing above the fray on an elevated platform, Adolfa tends to her massive metal cauldron, filling her waitresses' rapid-fire orders by grabbing chunks of meat with her bare hands, depositing them into bowls and topping them off with broth. She has held her post for the past 56 years, and her recipe has never changed from what visitors today know and love. The most seasoned barbacoa vendor in the market, Adolfa's five decades of experience shine through in her cooking and keep her customers coming back week after week.
Located at the front of a series of barbacoa stalls throwing off meaty steam that rises up to the rafters of the covered market, Adolfa's is a minimalist spot: just the doña tending her deep cauldron and, to her side, a series of low-slung communal tables and benches that are first-come, first-serve and fill up quickly. Adults sip mezcal from shot glasses or savor cold Pacifico beers, kids clutch tall bottles of Coke, and the tabletop is crowded with barbacoa accoutrements: stacks of warm tortillas, plates of shredded cabbage, shallow bowls of loose guacamole, and bright salsa verde.
Each eater has her own style when savoring a bowl of barbacoa: Some simply eat their bowl of soup and nosh on a tortilla on the side, like a dinner roll; more commonly, though, the mode of attack is to go DIY taco-style, filling a warm tortilla with tender strands of meat pulled from the soup, then piling on the garnishes, spritzing on some fresh lime and rolling the whole thing into a tight cigar-like cylinder. Once the meat is gone, it's completely couth to slurp the broth left in the bowl.
All too soon, all that remains is the dregs.