Recipes
Goat Birria (Jalisco-Style Goat Stew)
Serves

serves 6-8

Cook

3 hours 30 minutes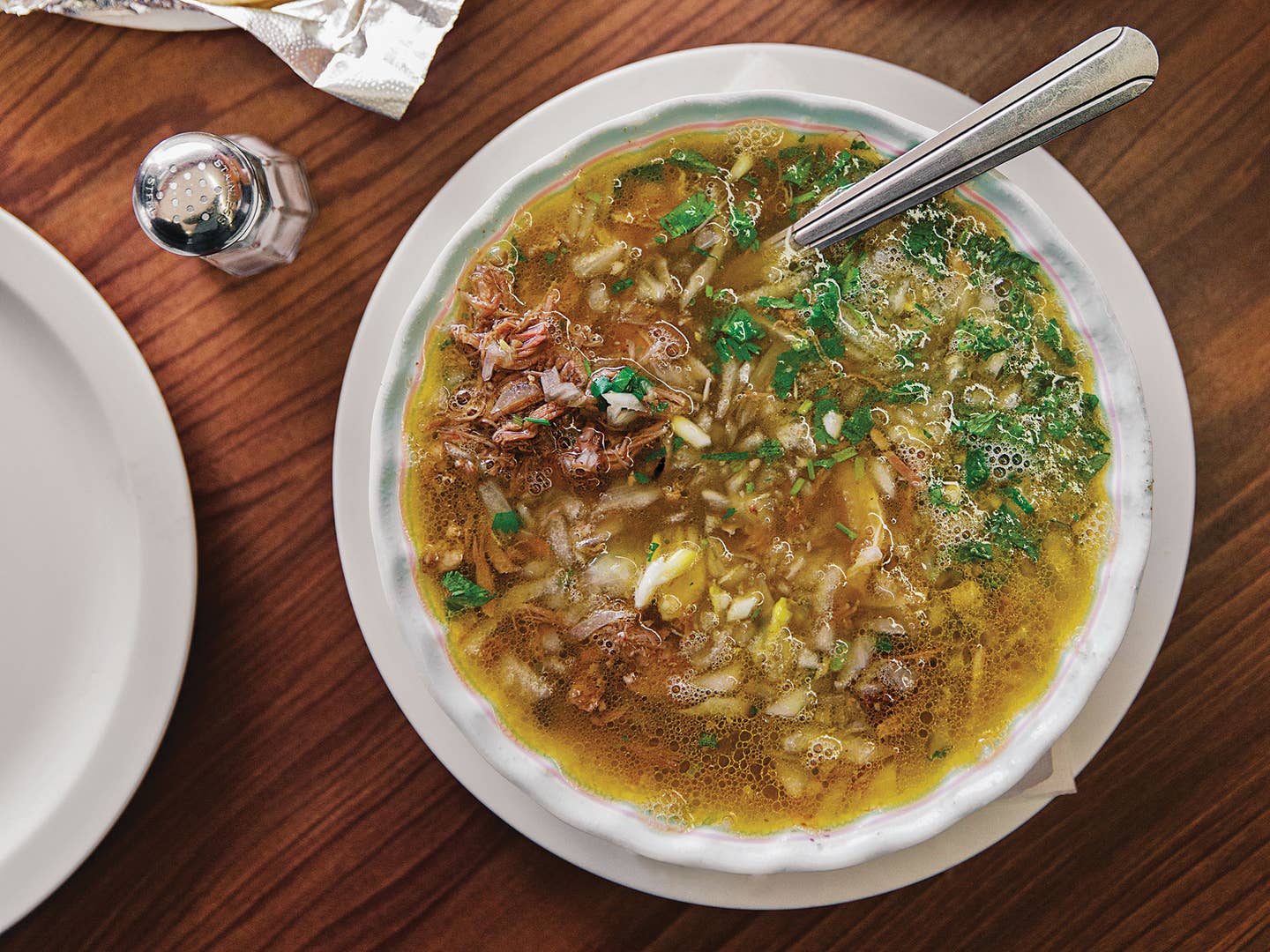 A low-and-slow cooking technique used for this birria, which colloquially means "a mess," ensures that the meat is fork-tender and the tomatillo broth infused with a rich, meaty flavor. Swap pork for goat, if you prefer. Featured in: On the California Taco Trail
Ingredients
1 dried guajillo chile, stemmed
1 cup boiling water
8 tomatillos, husked and cored
5 cloves garlic, unpeeled
1 medium white onion, havled (one half minced)
1 serrano chile, stemmed
1⁄4 cup cider vinegar
2 tsp. dried oregano, preferably Mexican
1⁄2 tsp. ground cinnamon
1⁄2 tsp. ground cumin
1⁄4 tsp. freshly ground black pepper
1 (2") piece ginger, peeled and thinly sliced
2 tbsp. canola oil
3 lb. bone-in goat shoulder, cut into 3" pieces (ask your butcher to do this)
Kosher salt, to taste
1 1⁄2 cups chicken stock
1⁄2 cup roughly chopped cilantro
Corn tortillas, warmed, for serving
Lime wedges, for serving
Instructions
Step 1
Heat a 6-qt. Dutch oven over medium-high. Add guajillo chile; cook, flipping once, until lightly toasted, 3–4 minutes. Transfer to a blender, add water, and let sit until soft, about 30 minutes. Remove chile, discard stem and seeds, and return to blender; set aside.
Step 2
Return pot to medium-high; cook tomatillos, garlic, whole onion half, and serrano, turning as needed, until blackened all over, 12–15 minutes. Peel garlic and transfer to blender with remaining charred vegetables. Add vinegar, oregano, cinnamon, cumin, pepper, and ginger; purée until smooth.
Step 3
Add oil to pan; heat over medium-high. Season goat with salt and, working in batches, cook, turning as needed, until browned, 18–20 minutes. Transfer goat to a bowl; set aside. Add minced onion; cook until soft, 2–3 minutes. Add reserved chile sauce; simmer until thickened, 4–6 minutes. Return goat to pan and add stock; boil. Reduce heat to medium; simmer, covered and stirring occasionally, until goat is tender, about 2 hours. Using a slotted spoon, transfer goat to a cutting board. Let cool slightly; shred meat, discarding bones, and return to pan. Stir in cilantro; serve with tortillas and lime wedges.