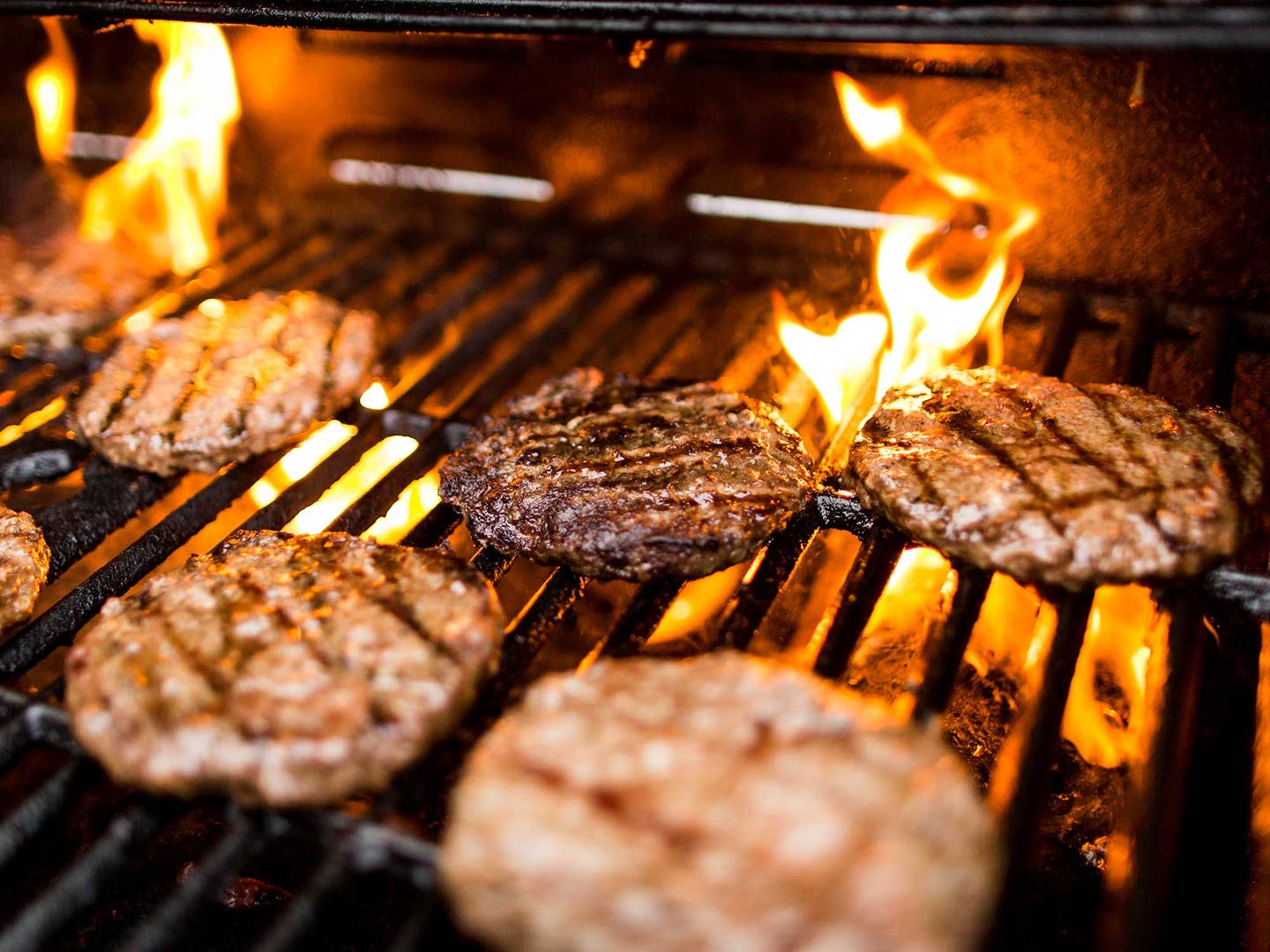 Travel
Grilling Burgers in the Block Party Capital of America
In Philadelphia, the city older than the United States, block parties are a warm-weather mainstay for anyone and everyone
Six thousand city blocks. Six thousand plastic kiddie pools sloshing onto the sidewalk. Six thousand grills filling the air with charcoal smoke and the scent of dripping beef fat. Six thousand Frisbee games in six thousand streets emptied of cars.
In 2015, the city of Philadelphia issued six thousand block-party permits, more than Chicago and more than twice as many as New York City. Philly is the block party capital of the United States. Memorial Day, Labor Day, and the Fourth of July are the most popular party dates, but you'll find parties all over the city, all summer long.
In this city older than the United States, most neighborhoods consist largely of block after block of rowhouses—narrow townhouses with small stoops that sit right on the sidewalk, with very few yards. The streets, too, are often narrow, built for horses and carriages rather than cars. Some houses have back patios, but for many Philadelphians, the sidewalk doubles as a sort of communal front porch. In the summer it's not uncommon for whole families to take over a stretch of the street, plopping inflatable pools and basketball hoops right on the corner.
When it's block-party season, though, everyone comes out—whether they've lived on the block for months or for generations. And so do their friends. To get the permit, a designated "block captain" has to get signatures from 75 percent of the block's residents. That means just about everybody's on board—and that means you can drag your speakers out in the street and crank up the bass on your favorite jams. (If you're lucky, you might even get a visit from a celebrity—Mos Def, and other stars with local roots, have been known to crash West Philly block parties from time to time.) Kids and adults dance, play games, and enjoy relaxing in the middle of streets that are usually clogged with the city's notorious traffic.
Block partiers aren't allowed to sell alcohol, but the city does suspend its open-container laws. The result is a friendly sort of sharing system, in which every household contributes something: a casserole, a canopy for shade, hamburger buns. More prosperous blocks often chip in for a bouncy castle or a band, while other blocks just open up a fire hydrant. At one annual block party in Northern Liberties, the Schuler-Leuner family even drags the basin of their wood-fired hot tub out into the street, a black, three-legged affair that makes it look a bit like the splashing, giggling children are being cooked in a massive witch's cauldron.
Across all boundaries of class, race, and geography, though, you'll find at least one grill staying constantly hot at each block party. The burgers might be vegan or kosher or halal, but they'll be there, offered to anyone who comes by and kicks back in a folding chair for a while to meet or greet the neighbors. You'll likely find a card table not too far from the grill, laden with neighbors' contributions to the feast: buns, plates, and toppings that range from the standard (cheese, ketchup, pickles) to the sublime (like mushrooms and onions sauteed in butter and red wine). Pair that with a cold beer from the cooler—in Fishtown it's usually a local brewery like Yards or Philadelphia Brewing Company—and bask in the summer glory of it all.
The block-party experience is all about small, residential blocks—residents of major arteries aren't allowed to hold them—but that might soon change. When Pope Francis visited the city in 2015, a huge security perimeter shut down all traffic into Center City. The crowds turned out to be smaller than anticipated, but thousands of residents enjoyed bike rides and strolls in the empty streets.
Within a month, a group called Open Streets PHL had formed to petition the mayor to shut down traffic on specific days, opening the streets to bicyclists and grillmasters alike as a way of extending and expanding on the block-party tradition. "We often forget that our streets are public space," says Nate Hommel, a landscape architect who is active in Open Streets. "When you close the streets to cars, you open them to everything else."
Block parties are a celebration of that "everything else"—whether that means racing Big Wheels or salsa dancing in the street in flip-flops. They are, more than anything else, more even than Fourth of July fireworks or Phillies tailgate parties, the essence of summer in Philadelphia.