The SAVEUR Field Guide to Vietnamese Street Food Dishes
Here are all the dishes you need to know, from Bánh Tráng Trộn to Bánh Giò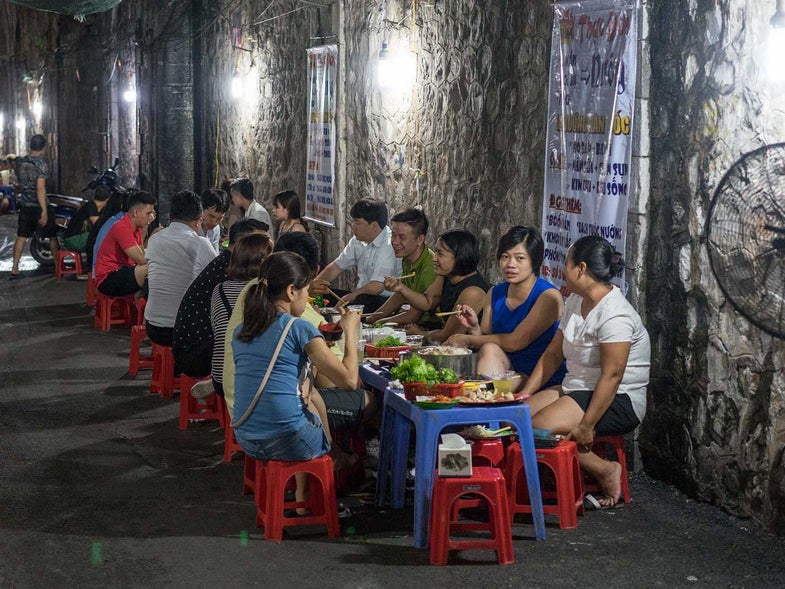 Once confined to the realm of no-frills Chinatown establishments, Vietnamese food in the West has gotten a serious upmarket makeover, where the old-school budget spots are complemented by upmarket restaurants riffing on street classics—think excellent beef pho with a bone-in short rib or a breakfast banh mi sandwich served on a fancy sesame bagel roll. And while a handful of Vietnamese restaurants back home are also jazzing things up, most of the best dining in Vietnam is still done on the streets.
Street dishes vary somewhat across Vietnam's regions and cities—the north, home of Vietnam's cultural capital Hanoi, birthed some of the country's most iconic foods; the central region prides itself on the spicy royal fare once served in the imperial city of Hue; and the laid-back south plays up its cosmopolitan nature with French techniques and international influences. But there are many shared foods that have become national treasures, capable of bringing even the most hardened northerners and southerners to the same table. Throughout Vietnam, you'll find locals and foreigners of all walks of life—even President Obama—sitting at dingy or open-air sidewalk establishments on low plastic stools, enjoying dishes that often cost less than one US dollar.
That's just how it is in Vietnam, where dining is communal, hands-on, and can take place over a couple hours with cold beers in hand (these meals are known as nhậu). There are several prevailing ingredients and practices in Vietnamese street dining. For one, we love using our hands and dipping things in sauces, namely nước chấm (which translates literally to "dipping liquid"). This sauce is made from nước mắm (or fish sauce) that has been diluted with any combination of water, vinegar, sugar, lime juice and chile peppers. We also love topping our meals with fresh herbs—usually some assortment of cilantro, scallions, mint, Thai basil, sawtooth herb, and banana blossom—and building every meal to our own individual tastes.
RECOMMENDED: What Street Food Looks Like in 30 Countries Around the World
Ready to start? From steamy Vietnamese noodle soups to sugarcane juice, and maybe a few bizarre items (even for locals) thrown into the mix, here are the essential Vietnamese street foods to know for your next trip to Vietnam.