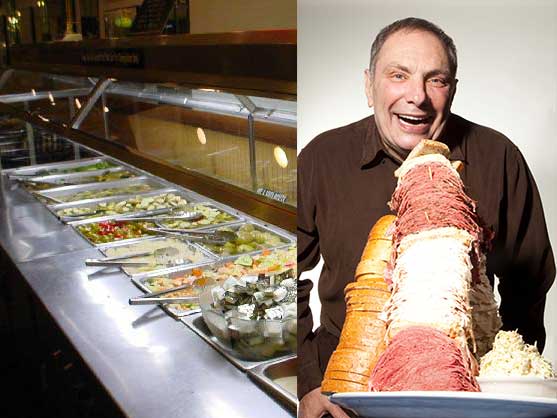 Travel
Go Eat Pastrami at Harold's Deli—and Bring 8 People to Finish Your Sandwich
At this beloved Edison, New Jersey deli, the food's all outsized, but it's also good enough to keep you coming back
Walking into Harold's New York Deli in Edison, New Jersey felt like stepping into the pages of Alice in Wonderland. I was certain I drank the tincture that shrunk her down to teapot size, as all the food seemed made for giants. I walked past tables of foot-tall deli sandwiches and a buffet table of pickles pizza-sized pancakes dripping with maple syrup, and a 16-inch chocolate layer cake the size of my oven and shellacked with frosting—before I sat down to what I thought might be a simple matzo ball soup.
One matzo ball took up the entire bowl; it was enough for five people. I dug in with a ladle for my portion that was loaded with carrots, celery, and tender chunks of chicken, and was surprised to find that the soup wasn't just oversized, but delicious—by far the best matzo ball I've ever had (homemade included), light and fluffy all the way through, saturated with broth.
The comical portions are what first draw people to Harold's; owner Harold Jaffe's care with the food and service is what keeps them coming back.
Matzo ball soup is a staple on the menu of over 100 items, but for the upcoming holiday of Passover, Harold's will sell over 5,000 balloon-sized matzo balls. Jaffe describes how the Jewish ladies from the area come in to pick up their orders. "There is a line to get out of the restaurant that day. Many make their own soup and pretend that they made my matzo balls." I'm sworn to secrecy on what makes the Matzo balls so good, but he's willing to share a nugget of wisdom: "The trick is not to let the soup burn, that's when it turns cloudy."
Others choose to spend their Passover at Harold's, and the scene is surreal; Jaffe describes the 300-seat restaurant as booked for 6 p.m. with 50 families that each order brisket, latkes, kugel, and chopped liver, then read the traditional Jewish stories aloud as they each conduct 50 simultaneous seders.
Jaffe started in the deli business after finishing as a marine in the Vietnam War; he took a class on pastrami-making and then put it to use. He has been involved in 40 different delis, including a partnership at the famed Carnegie Deli, and still employs waiters from those days (now 25 years ago). He learned most of the recipes from his Russian grandmother and pays homage to her heritage with a humorous Yiddish glossary on the inside of the napkins teaching "How to Speak Deli."
Jaffe grins as he discloses that there is a secret ingredient for every item on the menu; he calls it tam, a Yiddish word meaning special taste. The coleslaw is mixed with celery seed, the cheesecakes are baked in a water bath, and the potato knishes include caramelized onions alongside homemade horseradish mustard. Both my dad, who ate his Jewish grandmother's version growing up, and the Italian man sitting near us who remembered his family recipe, agree the knishes ("potato pie" in Italian), are better than their childhood memories.
It's not just the holidays that draw crowds at Harold's, nor are the customers only those nostalgic for the old world; on any given day the deli has a full house of customers representing at least ten different nationalities and religions. Harold's is nestled in a business park at the intersection of the New Jersey Turnpike and interstate highway 287, drawing local customers during the week and travelers all weekend. One couple from Philadelphia said Harold's is part of their summer ritual; they drive to Mets games at Citi Field and stop for a good luck lunch along the way. Families return for birthdays and graduation celebrations and there have even been a few weddings. All the customers I spoke to excitedly say the same thing: "It's the best (fill in the menu item) that I've ever had," and "I can't believe I ate the whole thing!"
Dr. Feingold, chief cardiologist at nearby JFK Medical Center, eats at Harold's several times a week, and prescribes that his patients stop by after their appointments. He says, "as long as they eat in moderation, it will make them happy, and that is freilach, a Yiddish expression meaning good for your heart."
One of the biggest draws of Harold's is the pastrami, which, unlike most delis, even famous ones like Katz's and Carnegie in New York, is made entirely in-house. Jaffe walked me through the kitchen teaching the intricate pathway to pastrami perfection. The meat is injected with special brine for two days, smoked for three hours with wood chips, and then steamed. The long cooking process brings the flavors of the fat into the meat while shrinking each piece from six to four pounds, keeping it moist while retaining the subtle tastes of garlic, coriander, and peppercorns from the rub. The next step is precision machine-slicing against the grain, all done to order so customers can control the thickness. Finally, it is all layered on fresh rye bread from 100-year-old Pechter's Bakery in Elizabeth, New Jersey. The bread is one of the few items not made in-house; the bakery delivers 3,000 three-pound loaves of bread a week, twice a day so it's never stale.
Gary Timari, a retired police officer from Tampa, Florida enthusiastically relayed how he always makes a stop at Harold's when he comes to town. Gesturing a two foot-gap with his hands, he says "the sandwich is THAT big and so juicy and delicious! I've tasted pastrami everywhere and this beats them all."
He is not alone; the entry wall is covered with celebrities and locals offering Harold's their praise, from the cast of the Sopranos to 95-year-old Rose "Nannie" Cheroff. Adam Richman, the now-former host of Man v. Food, writes, "I worship you as the Deli Lama."
Richman actually lost his battle with the over-sized triple-decker sandwich. Don't let the size of the food (or the prices) scare you: None of it goes to waste. When you order a sandwich it's accompanied by loaves of the rye bread (seeded or seedless) and unlimited visits to the "world's largest" pickle bar; it's designed to be shared at no additional charge.
A large sandwich, which serves three, is $45, the triple decker which contain four pounds of meat and serves eight to ten is $86, and the average dinner plate, which serves four is $65, all of which translates to an average check of $10 to $15 a person—far less than the vaunted pastrami shops across the river in New York City. Leftovers get packed up to go and customers leave with bags of food for the next few days.
Like all the other customers, I left full, happy, and loaded with shopping bags filled with food. Before I come back next time, I'm going to try to eat the cake that made Alice grow, in the hopes of cleaning my plate.