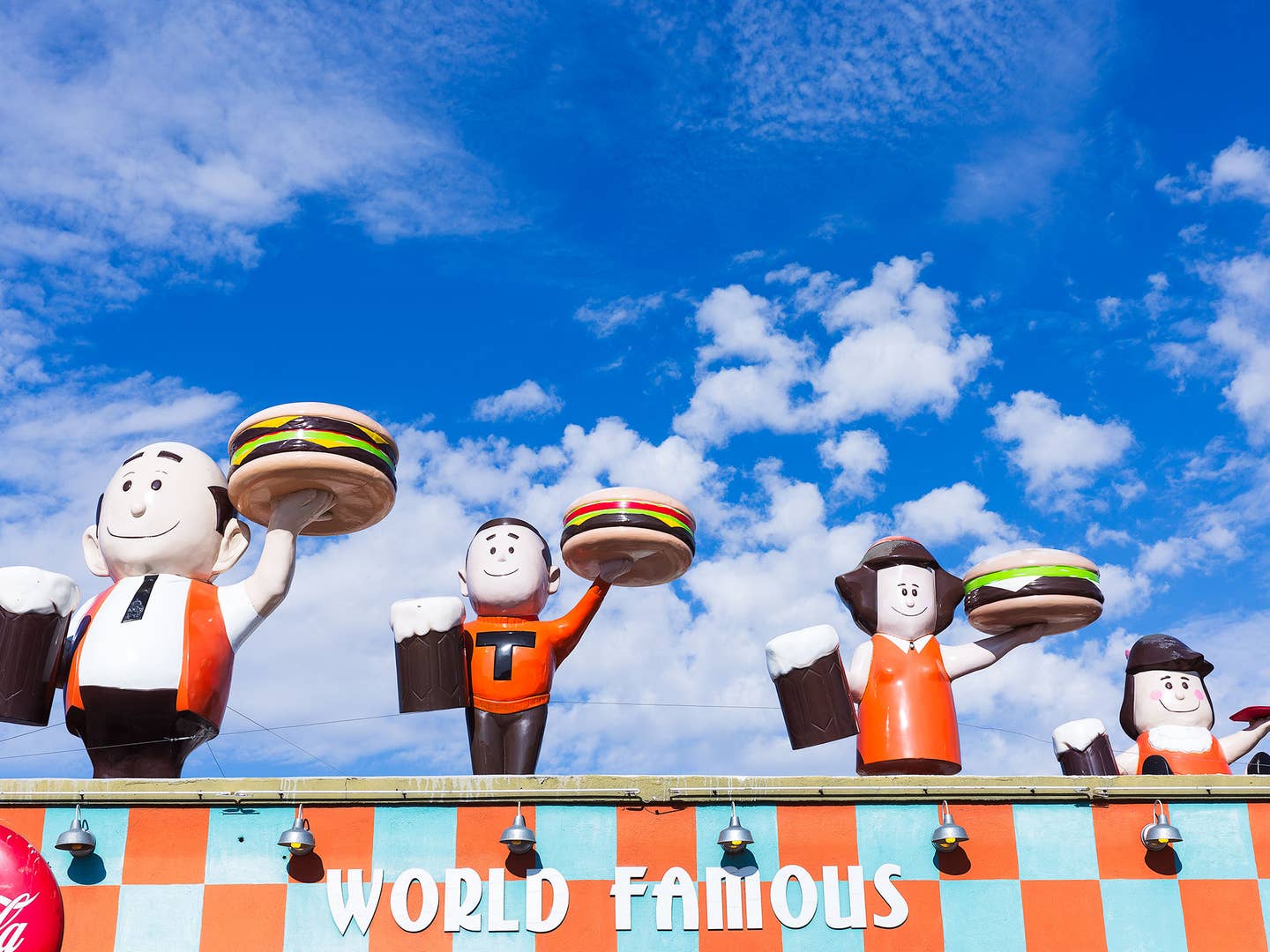 Travel
Come Marvel at the Epic Beauty of the Green Chile Capital of the World
Hatch, New Mexico is a land of gorgeous landscapes, towering statues, and some of the best hot peppers you can eat
I have always been vaguely familiar with the word "Hatch." I grew up in Austin, Texas, which isn't that far from New Mexico, where the Hatch chile pepper reigns supreme, but I never knew precisely what that meant. Was it just New Mexican slang? Did it mean "roasted?" Despite these mysteries surrounding the word, I knew it was something good—I remember one Tex-Mex restaurant in Austin would host "Hatch chile week" each year towards the end of the summer, and I always made sure my parents took me.
This summer I was lucky enough to head to Hatch, New Mexico on assignment to finally figure out what was going on with this pepper. I learned that Hatch isn't just a New Mexican term for roasted, but a town that grows the best green chiles in the state. I saw four common types (and plenty more heirlooms) at different mom-and-pop stands around the region, and came to appreciate that there's really nothing you can't do with a Hatch chile pepper. It's in sauces, stews, margaritas, queso, and pulled pork. It's stuffed with cheese and wrapped in a tortilla, chopped up in guacamole, enchiladas, and wrapped in a fried chile relleno with cream cheese. It's even found as a sauce on top of a steak, and dried and added to eggs and cucumber.
Every fall, the southwestern state smells like (fire-roasted) green spirit. David Tanis explores the fiery pepper that's come to define the local cuisine
My New Mexico visit coincided with the Labor Day weekend Hatch chile festival, which comes at the height of the season and is a truly great illustration of Hatch's love for its namesake pepper. People descend on the town from everywhere, filling bag after bag with chiles and stocking up in preparation of a winter chile dearth. It's worthwhile to explore the entire state, but a late summer trip to the southern part of the state will give you a better understanding of what a true obsession is, and that everything tastes better with a little heat added to it.
Here's a taste of what you'll see if you make the trip yourself.
Fresh green chiles and more mature red chiles are picked and braided onto these decorative ristras, which you'll see around homes and businesses. Eventually, the green chiles will turn red.
It's amazing how quickly the crop workers harvest the chiles. Within seconds they've pulled off the ripe chiles and moved on to the next plant. They fill buckets and buckets of chiles, and about every 10 minutes they take their haul to a tractor trailer and load up the bed until it's full. Then they bring the buckets back, and the process starts again.
A Hatch farmer moving kilos of chiles at a time by tractor.
There are several varieties of Hatch chile. These are Big Jims, the most common hatch chile. They have a nice heat to them, and they're used everywhere—I had them in margaritas, enchiladas, and queso. Smaller Sandias are milder and can fit in the palm of your hand. Pointier Lumbre chiles are some of the hottest. As a Texan, I thought I could handle the heat, and I took a bite. The second I did, I regretted it—I felt like my eye was going to explode out of my head.
Farm workers rise early to start harvesting chiles from fields that sit along the Rio Grand. The Hatch region produces 50 to 70 million pounds of chile a year.
Every Labor Day weekend there's a chile festival in Hatch where you can purchase freshly roasted chiles by the bushel. The guys who do the roasting don't have it easy; they stand there all day long in the late summer heat next to flames that reach 1,200 degrees. To avoid turning into heat zombies, they keep it silly.
Preston Mitchell, the owner of The Hatch Chile Company, made these delicious huevos rancheros and the red chile sauce on top. At the end of the growing season, the Mitchell family takes leftover dried red chiles and turns them into a powder. They then make huge vats of sauce that several family members divide up, freeze, and use all year long.
Another statuesque piece of memorabilia from Sparky's. The owners have been collecting antiques and other roadside attractions for 30 years, and their restaurant is well worth the wait for its cheeseburger topped with pulled pork and green chile queso. You can spot it from miles miles away because it's surrounded by these pop culture statues—when you pull up to it, you know you're going to experience something interesting.
An Uncle Sam statue holding a giant green chile about the size of a motorcycle.
Preston Mitchell of The Hatch Chile Store, Scott Adams of Adams Family Farm, and Nate Cotanch of Zia Green Chile Company take a break from checking out the chile crop.
Author David Tanis checking out Ted Turner's massive and beautiful ranch Armendaris. Just another of New Mexico's casually gorgeous landscapes.
We were lucky enough to take a small excursion on Ted Turner's ranch, Armendaris, where we saw living and not-so-living buffalo.
New Mexico was an incredibly beautiful place; between the vibrant colors and the occasional abandoned buffalo skulls, it felt just like a painting by Georgia O'Keeffe.