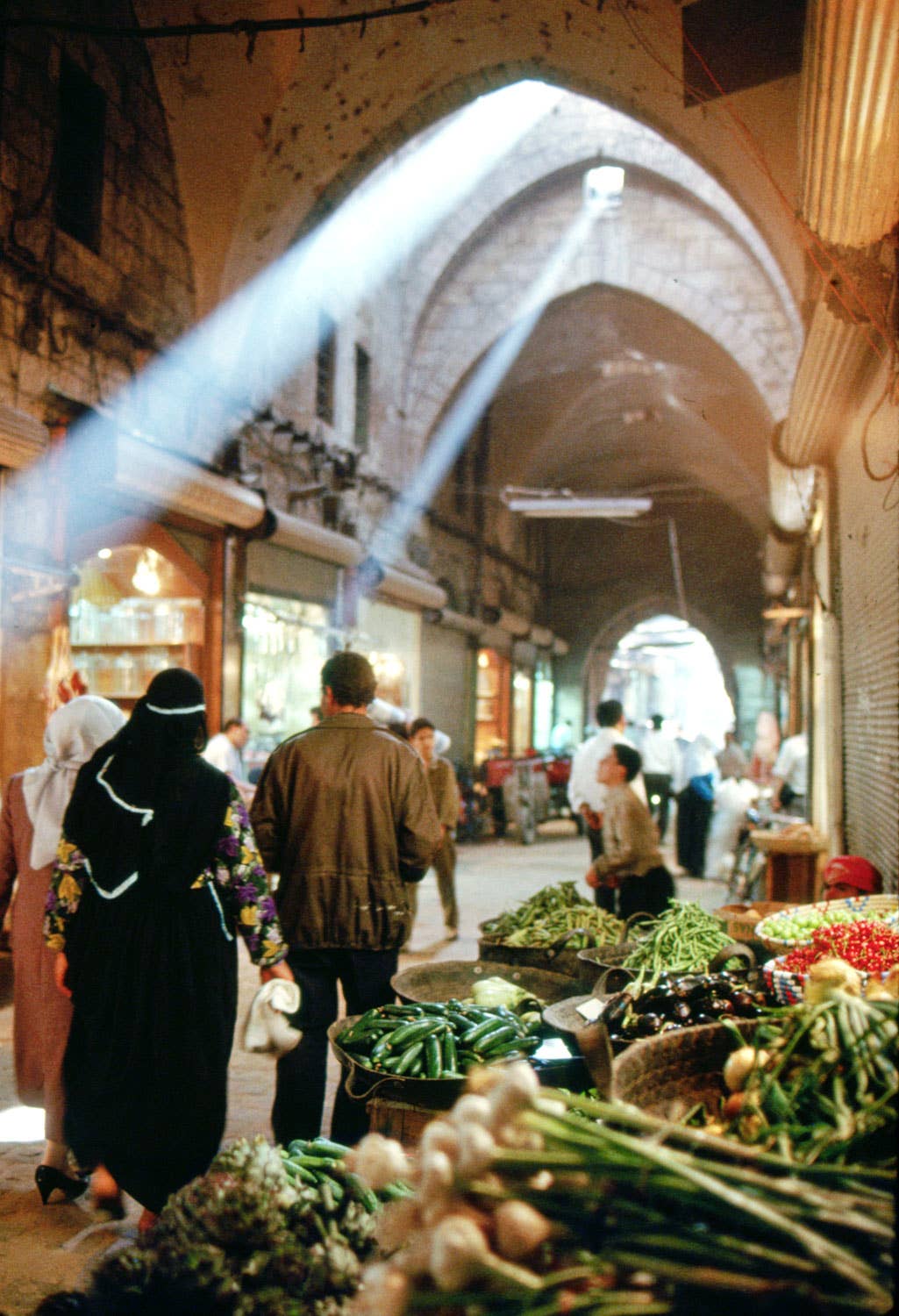 Travel
The Heart of the Syrian Artichoke
Clifford Wright explores the vegetable beloved in Aleppo and beyond
Warnings to travelers about to visit Syria, I learned when I started planning a trip there, are plentiful—everything from caveats regarding terrorists to rules on the proper etiquette towards women. One rule, for instance, was never to sit next to a Muslim woman traveling unaccompanied. But on my first Syrian bus trip, from Damascus, the capital, to the northern city of Aleppo, near the Turkish border, a woman wearing a Muslim head covering boarded the bus alone and sat next to me. Not only that, but she began to talk to me.
Lubaba, it turned out, was a recent graduate of the University of Damascus, and spoke flawless English—and over the course of our uncomfortable five-hour ride together, we became fast friends. We talked about everything, as we bumped along, from American slang to religion to our professional lives. And when I told her that I was a food writer, researching a book about the history of Mediterranean cuisine, her eyes lit up, and she insisted that I could not leave her country without tasting the most revered food of spring in Syria: the artichoke.
Syrian cooks, Lubaba told me, consider the artichoke—along with the eggplant—to be the noblest of vegetables. Perhaps this has something to do, she suggested, with the sense of reward it engenders after the labor involved in getting to its heart. And as she continued to describe one favorite artichoke dish after another, it became apparent to me that the Syrian approach to the vegetable was quite unlike any I had known. By the time we reached Aleppo, I was eager to taste the artichoke in as many native guises as possible, and I was delighted when Lubaba promised to introduce me to some of these dishes when we were both back in Damascus.
The popularity of the artichoke, Cynara scolymus, in the Middle East shouldn't be all that surprising: It might very well have originated in the Arab world, though maybe not in Syria. For centuries, it was assumed that the vegetable was known to the ancient Greeks and Romans. But the word for artichoke in most European languages derives from the medieval Arabic word kharshūf—and according to material that I discovered in the inner sanctum of the Economic Botany Library at Harvard University, it seems more likely that the "artichoke" known in Greece and Rome was in fact its close relative, the cardoon. Arab agronomists in North Africa or Spain probably developed the artichoke as an improvement on the cardoon about a thousand years ago. While only the stalks of the cardoon are edible, the artichoke offers both its stalk and its delicate inflorescence—which has an edible receptacle (the "heart") and comestible flesh at the base of its bracts (improperly called the "leaves").
Back in Damascus, and having not yet heard from Lubaba, I placed myself in the capable hands of Mazen, a friend's brother, who offered to introduce me to some unusual Syrian dishes. An interest in food is basic to Arab culture, and everyone I met in Syria—including Mazen, an aircraft maintenance supervisor—seemed to be a gourmet. He took me to fine restaurants and local hangouts alike, as well as into people's homes, everywhere introducing me to surprising local specialties—like nukhācāt, a salad of poached lamb's brains with lettuce and tomatoes; shinklīsh, a dish combining a strong, aged cheese made from sheep's-milk yogurt with chopped tomatoes, parsley, and lemon juice; and sandūanāt, sheep's stomach stuffed with finely diced lamb and spiced rice.
And, of course, there were artichokes—bayd bil-thūm wal-ardī shawkī, an appetizer dish of chopped artichoke hearts with eggs, roasted garlic, and yogurt sauce, and a pungent specialty from Aleppo called ardī shawkī bil-hāmid, in which artichoke hearts are bathed in a sweet and tart sauce made with pomegranate molasses.
One morning, Mazen took me on a tour of Damascus. We started in the bustling New City, where the rush of pedestrians was so furious that we were often pushed into the busy streets. More than once, we bumped, almost literally, into vendors marshaling their donkey carts through the crowds, each selling various seasonal foods—fresh almonds, fava beans, and the inevitable plump, round artichokes. Somehow, we finally made our way through the masses and into one of the entrances in the massive wall that encircles the Old City, a section of Damascus that has been continually inhabited for 4,000 years.
The Old City is a maze of souks, or markets. We walked along narrow streets, through the old, delightfully untouristy Sūq al-Hamīdiyya, and into the Sūq al-Buzūriyya, the medicinal-herb market, a collection of dank, dark, dusty holes-in-the-wall, their shelves lined to the ceilings with cans of dried plants, herbs, and powders of all kinds. Emerging from the shadows, we passed the luminous 1,290-year-old Ummayad Mosque, Damascus's most awe-inspiring example of early Islamic architecture. The mosque, made of cool white stone, seems to radiate magnificence and serenity amid the grayness of the city. We descended Shāri' Bāb Sharqī, referred to as the "Street Called Straight" in the Bible, and circled around to pass the 13th-century Madrasa al-Zāhiriyya, an impressive building that houses the Mausoleum of Baibars. We continued, passing various goldsmiths' shops, mosques, and the 18th-century Azim Palace (built for an Ottoman governor of Damascus, and now a museum of arts and customs), until we reached the al-Az restaurant, an emporium of traditional Damascene cuisine, tucked away in a cramped alley overlooking the minarets of the Ummayad Mosque.
From the casual restaurant, decorated with colorful hanging cloths, Bedouin carpets, and cushions, we could hear the muezzins singing their call to prayer outside. Mazen ordered tarkhun—huge stalks of fresh tarragon, which we ate with flat bread while we waited for our appetizers. These turned out to be burak al-jubna, a mixture of spinach and jubna bayda (a plain, white cow's-milk cheese) baked in very thin dough, and ardi shawki maqli bil-taratur, fried artichoke hearts served with a rich tahini-based sauce. For our main course, we ordered shish tawuq, marinated and grilled chicken, accompanied by ardi shawki wa-ful, a delicious dish of braised artichokes and fresh fava beans that positively smacked of spring. The meal, like the setting, was memorable.
Later in the week, Mazen invited me to the home of his aunt Muheeba, whose extended family joined in preparing a veritable feast to celebrate the occasion of my visit. Little nieces and nephews ran about and went wild with laughter every time I uttered my heavily accented Arabic. The adults at the party were intrigued by my line of work (food-writing as a profession doesn't exist in the Arab world), and were eager to show me the best that their country has to offer. They served at least ten different dishes, including an elaborate ground lamb and veal casserole called zunud al-bint ("the girl's forearms"), and a delicious pilaf made with young green wheat (called farik), bits of roasted lamb, fresh peas, and pine nuts, and served with sliced green tomatoes.
Knowing of my interest in artichokes, Muheeba herself prepared yakhnit al-ardi shawki, a simple artichoke and lamb stew whose flavor was an intricate, almost imperceptible mingling of rich meat, delicate artichoke hearts, and spices—cinnamon, allspice, pepper, and nutmeg. She also served her specialty, ardi shawki bil-lahm: hollowed-out artichoke hearts stuffed with ground lamb, pine nuts, onions, and mixed spices, and presented on a bed of fresh peas and diced carrots. After hours of feasting and talking and laughing, a huge platter of apples, oranges, baby cucumbers, and romaine lettuce leaves was set out—the perfect ending to such a lavish meal.
When Lubaba returned to Damascus, she called as promised, and invited me to lunch at the home of her aunt Maidda. I had heard about Maidda during our bus ride, and was eager to try the ardi shawki bil-bayd, artichokes with scrambled eggs, that Lubaba had described in such detail. Though the dining room was set for guests, Lubaba and I crowded into Maidda's compact kitchen to watch her whip the artichokes into the frothy eggs. When the eggs took on a decidedly odd, grayish color, Maidda announced that they were done, and covered them with an abundance of chopped parsley. We took seats around the little kitchen table and tasted the fluffy eggs and meltingly soft artichoke hearts. The complexity of the simple dish, served with fried white cheese, rich, creamy yogurt, and flat bread, was remarkable.
I now have my own repertoire of Syrian artichoke recipes, which I look forward to making every spring. As I cook, and exotic smells fill my kitchen, I think back to that uncomfortable bus ride to Aleppo—and am thankful that Lubaba took it with me.