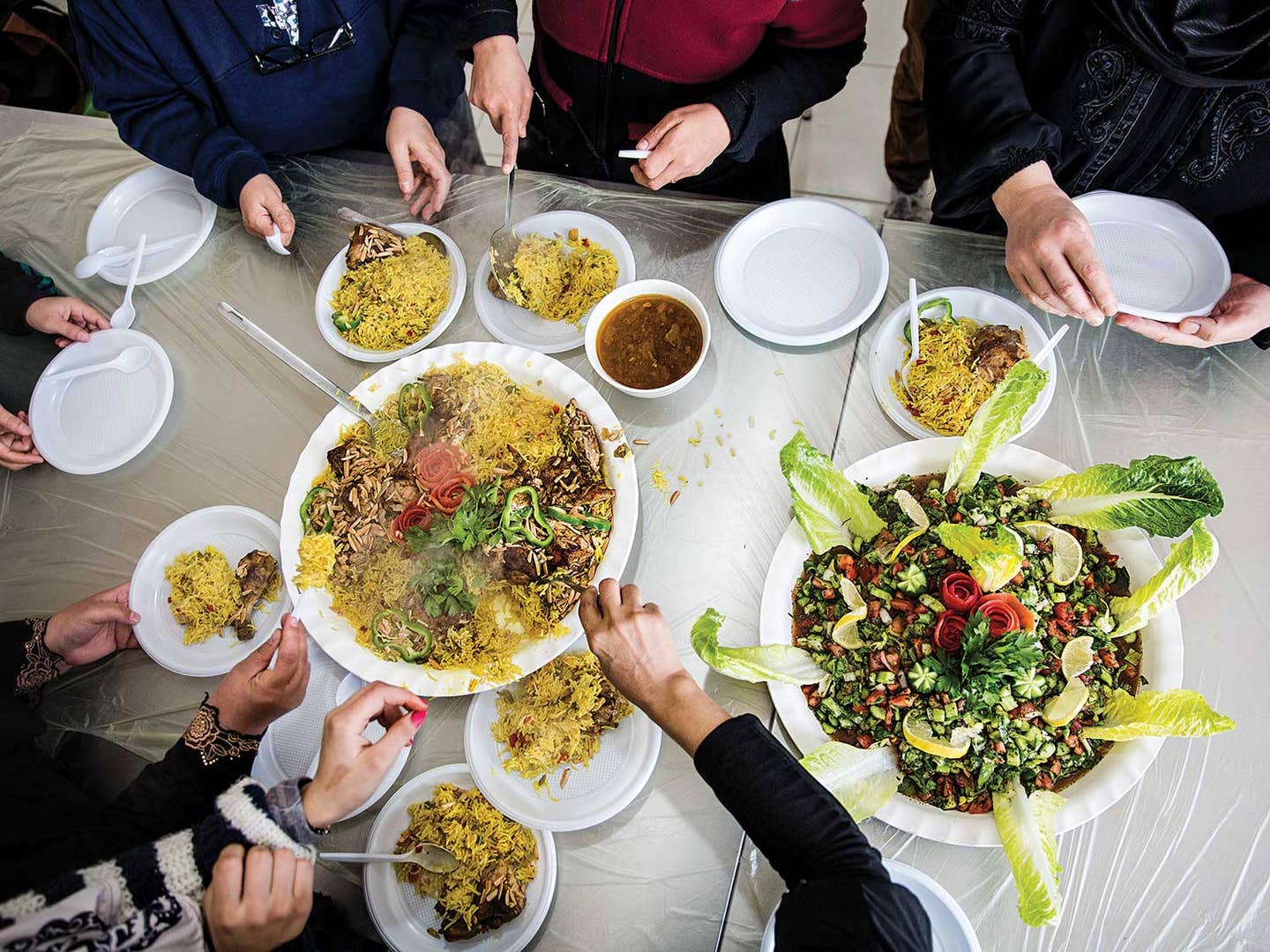 Culture
A Collective of Syrian Refugee Women Have Found an Outlet for Their Home Cooking
The anonymous group of women prepare their regional specialties for hungry customers in Jordan
On a Tuesday morning, a middle-aged woman bustles into a kitchen in the town of Zarqa, Jordan, just outside Amman, holding multiple bags of meat. Around the kitchen, orders are scrawled on sticky notes and empty boxes. Today, she has to make 70 kibbeh, a type of fried Levantine meat croquette, and she appears completely at ease.
"It'll take four hours," she estimates, and rolls up her sleeves. She puts away her things. The bottom of her headscarf is neatly tucked inside her tunic. She combines bulgur wheat with spoonfuls of crushed red pepper, flour, black pepper, and lamb, and kneads the mix into a dough, animatedly narrating the process as she reaches for ingredients. She works for a women-led cooking collective in Jordan, operated by a nonprofit organization, where a small group of Syrian refugee women and local Jordanians offer a select menu of Syrian savory dishes and desserts made in a shared kitchen. Due to government restrictions on the employment of refugees in Jordan, though, both this cook and the organization she works for must remain anonymous. Identifying her could risk her refugee status, putting her family at risk.
While Jordan is currently hosting millions of refugees who, like this woman, fled Syria when the war escalated, their presence in Jordan is often cited as a burden to the country's economy. Even so, there's a high demand for Syrian cuisine in Jordan, where it has always been praised for its diversity of flavors and textures, a marked contrast from typical Jordanian cuisine, which revolves around meat, rice, and dried yogurt. In recent years, more restaurants promising authentic Syrian flavors have opened in Amman. But they focus on mezze—smaller side dishes such as hummus and sambusak (samosas)—and don't include the dishes that Syrian women might make for their families, such as shish borek (delicate meat dumplings), kibbeh nayyeh (a raw-meat variation), stuffed vine leaves with bread, or mulukhiyah (cooked mallow leaves). Several home-based Syrian cooks work in Jordan, but they're not authorized to do so. Some accept orders through a delivery app, while this collective—which could be found only after following a trail of clues by way of social media—books their orders via phone and email.
The woman making the kibbeh originally came to Jordan more than four years ago. Faced with the challenges of survival in a new country, she started cooking with the collective, and now manages most of their orders. Her adult children were initially uncomfortable with her working—she was a lifelong homemaker in Syria, who once had a comfortable, middle-class life—but now they call her "chef mama."
"When I cook, I imagine this is something I'd want to eat myself," she says, frying almonds until they turn a luminous gold. She'd never cooked professionally before, though she would bake 100 pounds of ma'moul (date-filled cookies) for extended family to celebrate the Islamic holiday Eid. "I was particularly famous for my kibbeh," she recalls. She and her teenage assistant work through the morning, making the mince filling, grinding the bulgur mixture, shaping it into molds, and rolling out rounds for a filled variation called kibbeh mashawiyyeh. The woman's phone rings; she joyfully answers with, "Hello, how are you?" It's one of her children, who is learning English.
She compares the collective's kitchen to the one back home in Syria. She hopes to return there in a year or so, once one of her children finishes a university degree. In October 2018, after a three-year closure, one of the key border crossings between Syria and Jordan finally opened, sparking hope that trade—and the exchange of foods—will resume.
The woman fries the kibbeh. They are light, flavorful, and crunchy—the antithesis of the greasy, heavy versions typically sold in Amman. She carefully wraps and freezes the majority, and lets out a relieved sigh.
Even though the war has fundamentally changed Syria, tearing apart families and transplanting them—and their kitchens—across the world, she is confident that culinary traditions will survive in her country. "Food continues," she says. "Maybe it will be different. But people will not forget."