The Best Restaurants in Ljubljana, Slovenia
The best restaurants in Slovenia's capital city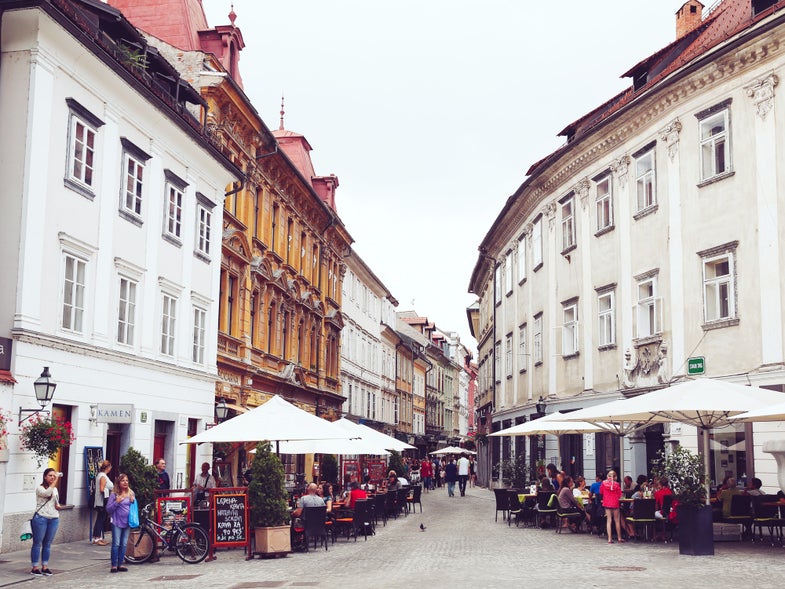 Built on the banks of the Ljubljanica river below a 16th century castle perched on steep wooded hill, Slovenia's capital and largest city (population 275,000) is a delightful town that's very much worth visiting for a day or two before or after traveling to eastern Slovenia. Founded by the Romans in around 50 B.C., Ljubljana was under Hapsburg rule almost continuously from 1335 to 1918, and it has some superb medieval, art nouveau and cubist architecture.
During the last few years, Ljubljana has become a great restaurant city, and during good weather, the cafes lining the river are packed until late at night. To get the local gastronomic lay of the land, book a food walk with Ljubljananjam, which is run by knowledgeable food-loving Ljubljana native Iva Gruden, who speaks perfect English from having living in Vancouver for two years.
Otherwise, you can get a quick lesson in the Slovenian palate and shop for edible souvenirs like honey, jam, and sea salt if you hit Glavna Tržnica, the city's open-air market (Vodnikov Trg 6, Tel. 386-1-300-1230, Open: Mon–Sat: 6am–4pm; Sun: 9am–6pm). Another good gastronomic gift address is the Ljubljana boutique of Piranske Soline (the Piran Saltworks), which sells the sea salt collected from salt pans near Piran on Slovenia's tiny Mediterranean coast (Mestni Trg 8, Tel. 356-1-42-50-190).
You won't want a car in this small, pedestrian friendly city, so stay at the Hotel Cubo (Slovenska Cesta 15, Tel. 386-1-425-6000), a 26-room boutique hotel in a 19th century office building that once housed police offices when Slovenia was part of Yugoslavia, or the Lesar Hotel Angel (Gornji Trg 7, Tel. 386-1-425-5089), a comfortable and beautifully restored medieval house in the Old Town.
Though the JB Restavracija (Miklošičeva 17, Tel. 386-1-433-1358) is formal and a little stuffy, go for chef Janez Bratovž's superb cooking, including dishes like roasted beets with beet ice cream and horseradish panna cotta, veal shank with cabbage noodles, and cottage-cheese pancakes with tarragon. The city's most charming restaurant is Špajza (Gorni Trg 28, Tel. 386-01-425-3094), which is run by a brother-and-sister team, and has lots of small dining rooms in an old house. They serve venison tartare with roasted pistachios and tarragon, horse steak with truffles and scampi buzara. Golstilna Na Gradu (Grajska Planota 1, Tel. 386-8-205-1930) in Ljubljana castle is a good choice for lunch and offers an appealing Slovenian locavore menu created by three of the country's best known chefs. All of Slovenia's regional kitchens are represented on a menu that includes dishes like pumpkin flowers stuffed with cottage cheese, zucchini and poppy seeds, pork stuffed with cheese and spinach, and Kobariški štruklji, dessert dumplings stuffed with ground walnuts and raisins.
For more on the food of Eastern Slovenia, see: How to Eat Slovenia, the Land of Roast Goose and Dumplings »