How to Eat Slovenia, the Land of Roast Goose and Dumplings
Alexander Lobrano eats his way through family-run inns serving some of the best food in Central Europe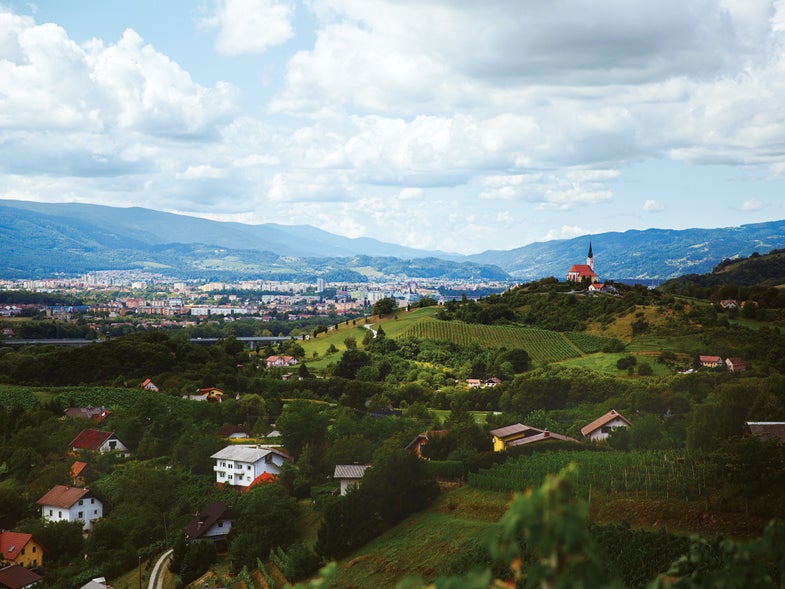 After the scandal we'd caused, Janez, the tall waiter with a taut black vest fitted over his keg-shaped belly, decided to take me into his confidence. Pensively stroking his red shoe brush of a moustache, he came to clear my dessert plate, and then leaned in and spoke behind the fence of his thick fingers.
"You must go east if you want our best food, Mr. Alexander. Go to the countryside east of Maribor, my hometown. Go to the Štajerska and Prekmurje regions. That's where the food in Slovenia is still good and honest and true."
The scandal was minor but telling: The night I'd arrived at the faded grand hotel on the shores of Lake Bled where my grandmother had once stayed as a young woman with a married lover, I'd blanched when Janez brought me a menu written to please the mostly middle-aged, mostly English clientele. I hadn't come to Slovenia to eat tomato aspic and trout amandine. So as one food lover taking pity on another, he'd served me off-the-menu pršut, Slovenia's excellent air-dried ham, and then a steaming bowl of jota, a tangy stew of red beans, bacon, potatoes, and sauerkraut, made by his wife, who was the cook in the staff canteen. The prissy maître d'hôtel had found my meal "inappropriate." By morning in the whispery dining room, I'd become known as "that American man who likes peasant food," a true honorific in my book.
Now returning with my coffee, Janez handed me a folded yellow order slip on which he'd written the names of the two regions and the address for Gostilna Tramšek—gostilna means "inn" in Slovenian—in smudged lead script.
So I went east. I could only stay for a night, because I was on my way to meet friends in Croatia, but I drove four hours through fields of long trailing tendrils strung to taut wires like big green looms—hops, I later learned. I passed through villages of sturdy butter yellow cottages with white trim like piped pastry icing around their windows, and white churches with steeples sharp enough to prick anyone's conscience. Then, just beyond the sleepy little town of Ljutomer, I discovered my own Slavic Tuscany, where people still ate the way they did before the first World War.
What I ate was exactly what Janez had told me I would, foods his grandmother might have made. At Gostilna Tramšek, gentle, generous Jelena Tramšek cooked me a heartwarming feast of prlekija tünka, fine slices of succulent roasted pork preserved in lard and garnished with pickled vegetables and freshly grated horseradish; and prekmurska gibanica, an elaborate and surprisingly light cake with layers of apple, walnut, and poppy seed fillings. It was one of the best meals I've ever had, and seeing me off into the night after a last slug of her homemade pear liqueur, Jelena and her waiter Zvonko made me promise I'd come back.
For years afterward, I kept Janez's yellow order slip in my wallet as a reminder to return to this delicious place and get to know it better. Until I did, though, it would remain my secret. Or so I thought. Last winter, a friend from Vienna told me one of the best meals she'd had all year was in Maribor. And some food-loving friends in Berlin surprised me with chatter about their summer vacation near a Slovenian spa town. With a sinking feeling, I realized my confidential corner just might be on the cusp of becoming fashionable. I went anyway.
Since there's a risk in returning to a place you've loved before, I started my recent trip in Maribor, a city I didn't know. Hugging the banks of the Drava River, this pleasant, polite old town still has the public fittings of the prosperous Austro-Hungarian city it once was. In the cool of Maribor Cathedral, a tiny golden pretzel dangling from the beautiful brass chandelier (donated by the bakers' guild in 1686) reminded me I was hungry. I headed for lunch at Rožmarin, a stylish and unexpectedly good restaurant and wine bar run by a retired Slovenian tennis star in the heart of the city.
What fascinated me about the menu was that it offered contemporary Slovenian comfort food that was still rooted in local traditions. There was pumpkin soup garnished with toasted pumpkin seeds and pumpkin seed oil; squid stuffed with mozzarella, chestnuts, and bacon with basil pesto (Slovenia has a brief Mediterranean coastline); and veal schnitzel, the prevalence of which still defines the culinary boundaries of the now-vanished Austro-Hungarian Empire.
Every city wants to own a superlative or two, and Maribor's claim to fame is the world's oldest grapevine. Sprawled along the whitewashed façade of the Old Vine House, a wine museum and tasting room, is a tree-like 400-year-old specimen that still bears fruit and is zealously tended by an official municipal vinedresser. Stepping inside the museum out of curiosity, I ended up doing a flight of the region's excellent and little-known wines with amiable enologist Jernej Lubej.
"We're a little conservative in our restaurants," Lubej told me when I asked him about contemporary Slovenian cooking. "The industrial food sold in the supermarkets never became popular because most people still eat what's grown on our small farms and gardens. We prefer small careful changes in our cooking to big showy ones—this is the type of food David Vračko does at Mak. You must go."
When I arrived at the gray stucco building where Restavracija Mak is located, after a long walk through the industrial outskirts of Maribor in a cloudburst, I wasn't especially keen on an avant-garde culinary experience. My foreboding deepened when I was ushered into the drab, dimly lit dining room, where I was the only guest. Then Vračko, a lanky-haired guy with a tremulous voice and the distracted gaze of a poet, poured me a flute of excellent Slovenian sparkling wine and returned with a primal assortment of hors d'oeuvres—grissini draped with dangling ivory bands of ham fat, a potent chicken liver and ricotta macaron, and a funky deep-fried sweetbread bonbon. I loved these farmyard tastes.
Vračko brought every dish to the table, explained it with a strange wry excitement, and then withdrew with a little bow. An edible miniature Mittel European still life of beets, white asparagus, and farmers' cheese dressed with rhubarb juice was movingly lyrical. This was followed by a tiny succulent rack of Mangalitsa pork ribs with paprika-rubbed crackling and cabbage stuffed with stewed peppers and eggplant that displayed the same sly sensuality. What Vračko had done was recompose the flavors of farmhouse foods in a way that was delicious and thoroughly modern.
Delighted by the unexpected pleasure of contemporary Slovenian cooking, the next day I headed into the country in search of the heartfelt old-fashioned cooking that had seduced me when I visited a decade ago. My first stop was Gostilna Šiker, a fifth-generation family-owned inn. I began my meal with what the waitress called "Sunday soup," or beef bouillon with liver dumplings, since soup always tells the truth about country cooking. The deep ruddy flavor of the long-simmered bouillon would have been a rich reward by itself, but the liver dumplings were surprisingly light and offered a contrasting prism of beefy tastes. The highlight of my calvary officer's lunch, however, was roast goose, red cabbage, and mlinci—broken noodles made from flatbread. The cabbage's tart sweetness was the perfect foil for the roasted bird, and the mlinci absorbed the juices.
That night I fell asleep listening to the nightingales in the woods surrounding Sončna Hiša (House of the Sun), a bona fide urban boutique hotel in the village of Veržej. My room was called "Manhattan" and had clearly been named by someone who'd never been there. It was spacious, light, and very quiet. When I opened my windows in the morning, I smelled bread baking.
"In France, they've got butter regions and olive oil ones. In Slovenia, we have olive oil regions and pumpkin seed ones," explained Gorazd Kocbek, as dark oil poured from the spout of the century-old cast-iron press into a metal canister. It glowed emerald green in the low light and filled the room of his family's pumpkin seed oil mill with a toasty scent. "Our seeds come from Cucurbita pepo pumpkins grown locally. We roast them and then stone-grind them to make the oil cake, which is pressed to produce Štajersko Prekmursko pumpkin seed oil." After I visited the mill with Kocbek, he invited me to do an impromptu tasting, which began with some warm bread his mother had just taken out of the oven and a bowl of farmers' cheese mixed with pumpkin seed oil, chopped onion, and paprika.
Down the road in Bakovci, Tanja Pintarič and her husband, Damir, hold up the Gostilna Rajh kitchen's traditions, which have evolved over four generations.
"Our kitchen is like a hinge that moves in every direction," Tanja told me at the end of lunch. "We get a taste for savory foods from the Italians, smoke from the Germans, sour things from the Slavs, and some heat from the Hungarians. This is why the flavors in our cooking are so balanced."
Among the balanced flavors I'd tried: mixed-greens salad garnished with shredded smoked ham, big red kidney beans, and horseradish mousse, a dish that's also popular in Austria. A pork rib roast under a shroud of crunchy golden crackling came along with a lush red-wine sauce that bowed in the direction of the Veneto and the Alto-Adige. And finally a cherry strudel worthy of a Salzburg café.
Most of life's best pleasures aren't planned. I certainly hadn't scheduled a nap after lunch with the windows open during a summer thunderstorm. Waking up was all the better with the smell of wet earth and wildflowers in Jeruzalem, a perched village settled by Crusaders who were seduced by the countryside's beauty and never made it home.
After the rain, the vineyards surrounding the hotel were steaming. I left for my last supper, at Gostilna Tramšek, where I'd eaten that magnificent meal ten years earlier. As I headed to the restaurant, a stag lunged out of the woods in front of our car. Staring at the magnificent animal, I realized I had a lump in my throat; my trip was almost over.
"How nice to see you again!" said Zvonko, the wiry maître d'hôtel, sommelier, and waiter when I walked through the door. "Jelena and me, we knew you'd come back. So tonight, no menu. Okay? Because she's cooked for you before." Somehow they remembered me a decade after I'd come to this remote inn on the Croatian border for a single meal, albeit one during which I was the sole foreign diner and ordered nearly the entire menu.
It was a relief to see that nothing had visibly changed. There were still bronze and Bordeaux dahlias growing by the front steps and a vegetable garden across the street. Abashed by the fact that Zvonko remembered me, I praised his impressively improved English. I also told him he hadn't changed at all, unlike me, a belt size or maybe three more ample. "Maybe a little bit more round you are, but still such nice smile," he said as he poured me a glass of white wine.
I ate Jelena's sunny yellow rolls, some garnished with crackling, some with salt, some with poppy seeds, and a salad of smoked tongue from a pig she'd raised and lentils she'd grown, and I was relieved, because memory had not created a gastronomic mirage. Her food really was superb, but not because it was show-offish. Nothing could be homier than Krpice, a type of torn fresh noodle, in a sauce of cabbage braised in butter, or a beef stewed with onions in white wine with millet porridge; they expressed everything there is to love about her cooking, since the dishes were proudly local, incredibly fresh, and cooked with boundless affection and patience.
"And now Jelena's new dish," said Zvonko. "Like you she is always thinking about food, and not just in the old way." He brought me juicy browned chicken meatballs on a bed of creamed zucchini with fresh basil, one of the most innocent and delicious things I've ever eaten.
"Please don't wait another ten years to come back, or we might be in the sky playing harps!" Zvonko said when he and Jelena walked me to my car. Yes, life in eastern Slovenia is slowly changing as the region becomes better known, but the best things keep going, and the food is not only, in Janez's words, "good and honest and true"; it just gets better and better.
For a guide to Slovenia's capital city, see: The Best of Ljubljana »
Recipes for a Slovenian Dinner Party
There are no direct flights from North America to Slovenia, but the country's international airport in Ljubljana is served by Adria, Air France, and Lufthansa, among others. It's a one-and-a-half-hour drive from Ljubljana to Maribor.
Where to Eat
Gostilna Rajh
French chef Joël Robuchon left a note in the guestbook praising the cooking at this inn, which has recently gotten stylish new decor.
Soboška ulica 32, Bakovci
Gostilna Šiker
The kitchen at this charming inn, run by the same family since 1870, is supplied by the vegetable garden out back.
Močna 7, Pernica
Gostilna Tramšek
Jelena Tramšek's superb Slovenian home cooking is served in an immaculate dining room.
Žerovinci 25 B, Ivanjkovci
Restavracija Mak
Chef David Vračko offers brilliant contemporary Slovenian cooking.
Osojnikova 20, Maribor
Rožmarin
Given the studied hipness of this restaurant and wine bar, the food is surprisingly good.
Gosposka ulica 8, Maribor
Dvorec Jeruzalem
Perched on a hillside, this old manor house in the winemaking village of Jeruzalem offers great vistas of the surrounding countryside.
Jeruzalem 8, Ivanjkovci
Hotel City
It may lack Old World charm, but until Maribor gets the boutique property it needs, this business hotel by the Drava River fits the bill, with a friendly staff and comfortable rooms with good views.
Ulica kneza Koclja 22, Maribor
Sončna Hiša
Improbably hip for its location in a tiny rural Slovenian village, this friendly boutique hotel with a spa makes a good base from which to explore the countryside.
Banovci 3, Veržej
What to See
The Old Vine House
A century old grape vine that is claimed to be the world's oldest is trained to façade of this wine museum and tasting center. English-speaking oenologist Jernej Lubej guides the tastings.
Vojašniška 8, Maribor
Kocbek Oil Mill
Since 1929, the Kocbek family has been making the best pumpkin-seed oil in Slovenia in their oil mill. The mill only produces in the morning, so call ahead to make an appointment to visit the production atelier and do a tasting. Friendly owner Gorazd Kocbek speaks perfect English, and a shop sells the mill's various oils. N.B. For anyone who's not traveling to Slovenia anytime soon, excellent American pumpkin-seed-oil can be bought online from Stonybrook Wholehearted Foods in Upstate New York
Stara Gora 1A, Sveti Jurij ob Ščavnici