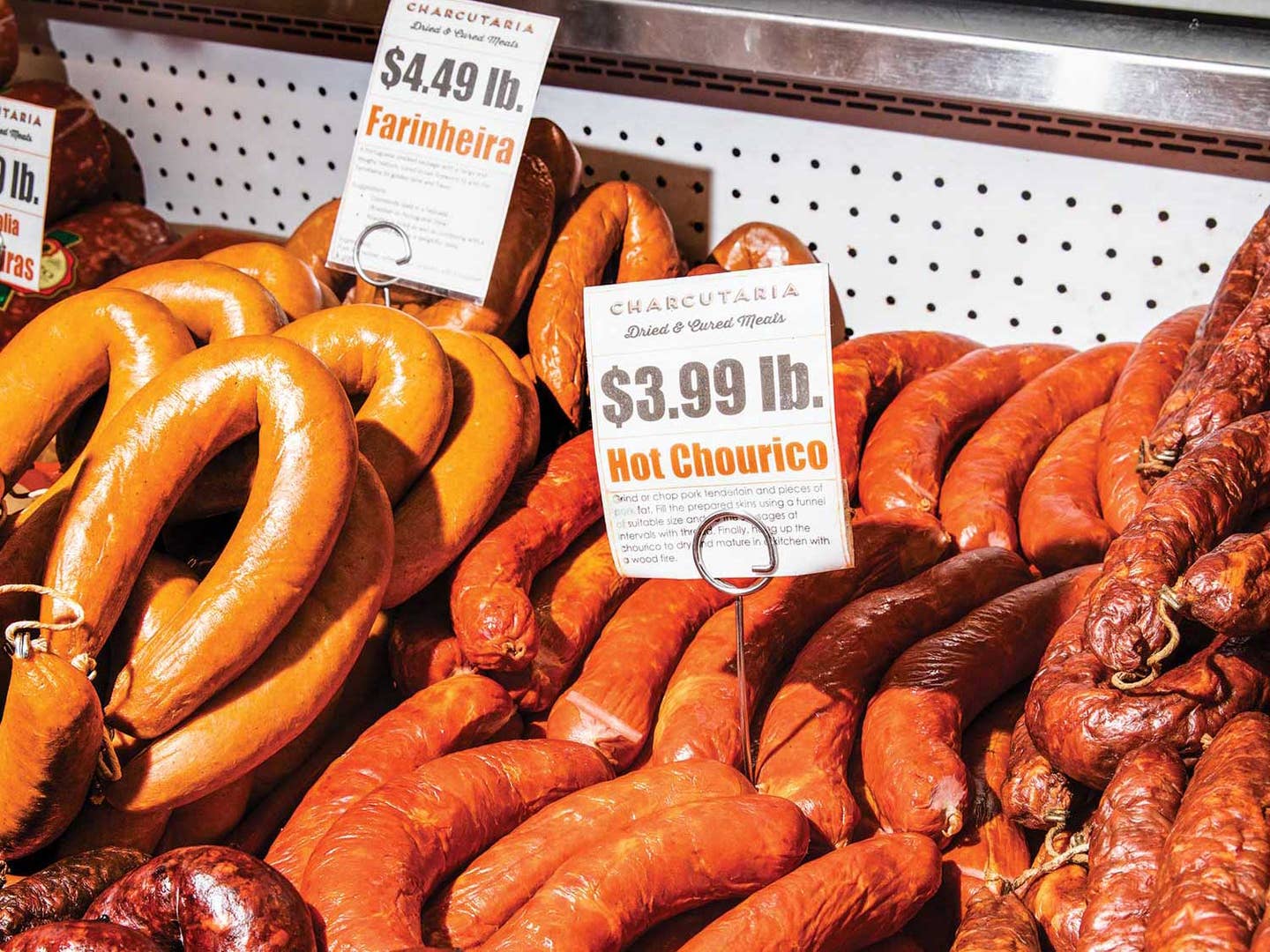 Travel
How America's Best Portuguese Market Ended Up in a Small Town in Massachusetts
In Fall River, Portugalia Marketplace supplies the local Portuguese community with top-shelf conservas, olives, and salt cod
This is not entry-level fish," says a smiling Michael Benevides, standing in what has to be the United States' largest purpose-built bacalhau chamber. It occupies one end of Portugalia Marketplace, the emporium Benevides opened with his father, Fernando, six years ago in Fall River, Massachusetts. The glass-enclosed, temperature-­controlled monument to salt cod is just one corner of the ambitious family market, but it perfectly represents the store's mission to serve the local Portuguese community and to celebrate and share the culinary heritage of Portugal.
Benevides was born in 1977 on São Miguel, the largest island of the Azores, a chain of Portuguese islands more than 800 miles from the mainland. But when he immigrated to Fall River with his family at age 2, he settled into an already well-established community. The Portuguese have had a strong presence in southeastern Massachusetts since the 19th century, when many immigrated for jobs in the booming whaling and textile industries. Both of his parents worked in Fall River's textile mills, and his father started a small import business on the side out of their garage. After word of the operation spread among the Portuguese community, he moved into a larger warehouse space to focus on Portugalia full time.
For its first 25 years, their customer base was almost entirely Portuguese. But Benevides became convinced that Portugalia could reach a larger audience. When a former textile mill came up for sale, Benevides envisioned something to rival international markets in New York like Sahadi's, Zabar's, or Eataly. But first he had to convince his father that quadrupling square footage and bringing a design-conscious shop to a small former mill town was a sound business decision.
Serendipitously, Benevides' plans for expansion coincided with a boom in Portuguese tourism from the U.S., and, with it, an increase in Portuguese cultural literacy and enthusiasm among non-Portuguese Americans. These days, Portugalia is humming. There are shelves of high-quality olive oils, tinned fish, jams, and the country's largest selection of Portuguese wine. There are heaps of locally produced Azorean breads, like massa sovada (similar to challah) and bolos (fluffy disks similar to English muffins), alongside piles of smoky chouriço, linguiça, and morcela (blood sausage).
"I wanted to create a place," he says, "where people would feel like, 'Okay, wow, this is a really different representation of Portugal than we're used to seeing.' "