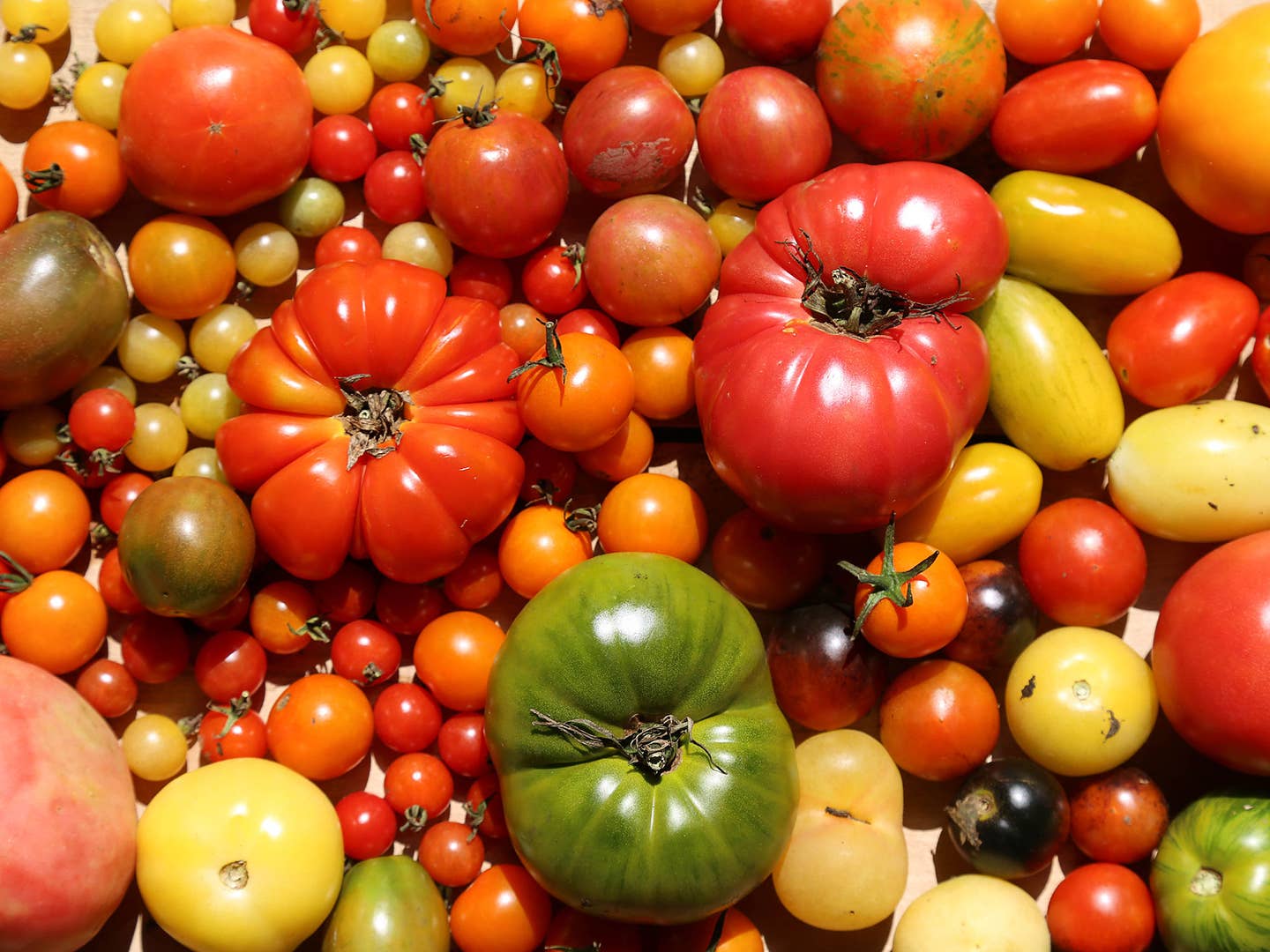 Culture
Listen to These Tomato-Mad Chefs on How to Make the Most of Your Summer Tomatoes
It's prime tomato season right now, and the folks at New York's Gramercy Tavern are going through 600 pounds of them a week. Here are some ideas that go way beyond the tomato sandwich (not that there's anything wrong with that)
We've hit peak tomato season, friends, and if you haven't noticed this is a friendly reminder to get yourself to your local farm stand ASAP.
Since these summer beauties are at their dizzyingly exciting best right now, I wanted to get some expert advice for making the most of them, so I called upon chefs Mike Anthony and Miro Uskokovic of New York City's Gramercy Tavern. The extremely seasonal (and lovely) restaurant is going through through nearly 600 pounds of tomatoes a week (including cherry tomatoes, heirlooms, beefsteaks, and green—as in unripe) in various applications, so they're kind of masters at thinking about and using tomatoes in new ways.
First, I wanted to hear what Mike Anthony, a chef who supports farmers fervently and treats produce with respect and enthusiasm, had to say about tomatoes and his ideas about sticking to local, seasonal produce. I also walked through the Union Square Greenmarket with him to meet some of his favorite farmers before visiting the restaurant to taste some tomato-focused experiments.
"I think the tomato story has evolved a lot with the local food scene. We've seen the the rise of interest in heirlooms. That's not really new for most folks who like shopping at the farmer's' market these days. We've come a full circle, hearing some chefs talk about the tried and true hybrids that have made local economies because they are delicious and sturdy and drought-resistant, blight-resistant. And we're not talking about genetically modified plants, but plants that have been crossed and stood the test of time, they're a little less sexy than the colorful heirlooms, yet they provide great flavor and stability."
He's not an heirloom snob (how refreshing!), so we don't have to be, either. We just have to appreciate them while they're at their best. To do so, here are some tips from Anthony to help make the most of the season.
I get the urge: The first time you see local tomatoes that are red you want to slice them up and eat them raw. But don't, because they're still a little underdeveloped, and they haven't spent enough time in the sun to become all that they can be. Anthony mentioned that he cooks all of the first tomatoes of the season, and he waits until they're at their peak (which is now!) before serving them raw in any dish at the restaurant. The wait is worth it.
I'm a big fan of green tomatoes; I make big batches of green tomato sauce and use it in all kinds of ways. Anthony also likes green tomatoes, and is particularly into pickling them: "It's great to have those on hand because you can incorporate them into relishes, you can use them creatively in dishes to bring texture and acidity, and it's a great way to support the farms we visited at the market in times when we're anxiously awaiting ripe, red, seductive tomatoes and all we have are these hard green things from the fields."
Let's say you got some good quality tomatoes, but they still need a little boost. Anthony shared a simple fix they use for tomatoes in these situations. "For example, using a beefsteak tomato, and cutting it into wedges and lightly seasoning it with salt, pepper, a little sprinkle of sugar, garlic and herbs, a drizzle of olive oil, and then oven-roasting them. Anybody can do that, and it turns an ordinary tomato into kind of a flavor bomb."
"You could be more assertive with the seasoning," he continues, "and take it in different directions. Use things like simple syrup, or honey, or maple syrup, you could add other spices and spice blends." One dish currently on the menu includes a light curry powder mix folded into whipped ricotta, and then ripe tomatoes are seasoned simply and spread out over the ricotta with thin slices of pecorino cheese. "That very simple combination of the umami of the tomatoes and cheese, they do something very interesting when juxtaposed with the curry spice mix. In that case we're amplifying the sweetness of the tomatoes."
Specifically made from Sungold tomatoes. The little orange guys that are sweet and bright and tangy, and are overflowing at the market right now. He smashes them, or gently heats them in oil and and garlic, just so the skin breaks and the water releases. "The water can be used in pasta dishes and other vegetable preparations as a very delicate acidity that brings sweet flavor and a noticeable pop to lots of different dishes. So rather than adding lemon juice or vinegar, this time of year we might just add a splash of that tomato water."
If you want to upgrade your tomato water in other ways, Anthony says to keep it simple and mostly raw, and suggests blending it with "things like peppers and/or cucumbers, infusing it with basil, and chopping it finely and letting it drip by way of gravity to get an amazing light water to either cook with or to just enjoy as a soup or a sauce."
"Take plum tomatoes, take the skin off, cut them in half, season them similarly to the oven-roasted tomatoes, and put them in a very low temperature oven, say just under 200 degrees and let them basically shrivel up like raisins. You're removing the water and concentrating the flavor, then you can hold them submerged in olive oil and they stay for quite a long time."
The pastry team at Gramercy Tavern does their part in getting through all the weekly tomatoes. Pastry chef Miro Uskokovic currently has an heirloom tomato sorbet on the menu. "Pretty much every year we have a tomato dessert," he told me.
"We love tomatoes. They're an interesting item and have good qualities to feature in dessert. They have meaty, umami, savory components that really go well with specific fruits."
He went on to describe some of his favorite tomato and fruit combinations and tomato-based desserts from the past:
A tomato and watermelon sorbet: "We served it with blackberries, and brioche chips."
A tomato and plum dessert: "Those go very well together. It's a slightly unusual combination. I learned it from Claudia Flemming (Gramercy Tavern's first pastry chef), who also had a plum-tomato dessert."
A peach and tomato buckle that was topped with an oat and walnut streusel and a scoop of lemon verbena ice cream. (Yes, please.)
Then he treated me to a crazy delicious new experiment: a cloud-like panna cotta flavored with anise hyssop and topped with berries and tomatoes. "Botanically, tomatoes are berries. We did a panna cotta because cream and berries go so well together. Everybody loves berries and cream, but it'd be kind of boring if we just gave you a bowl of berries with cream, so we made it a little more interesting."
I'll be trying my own version soon.