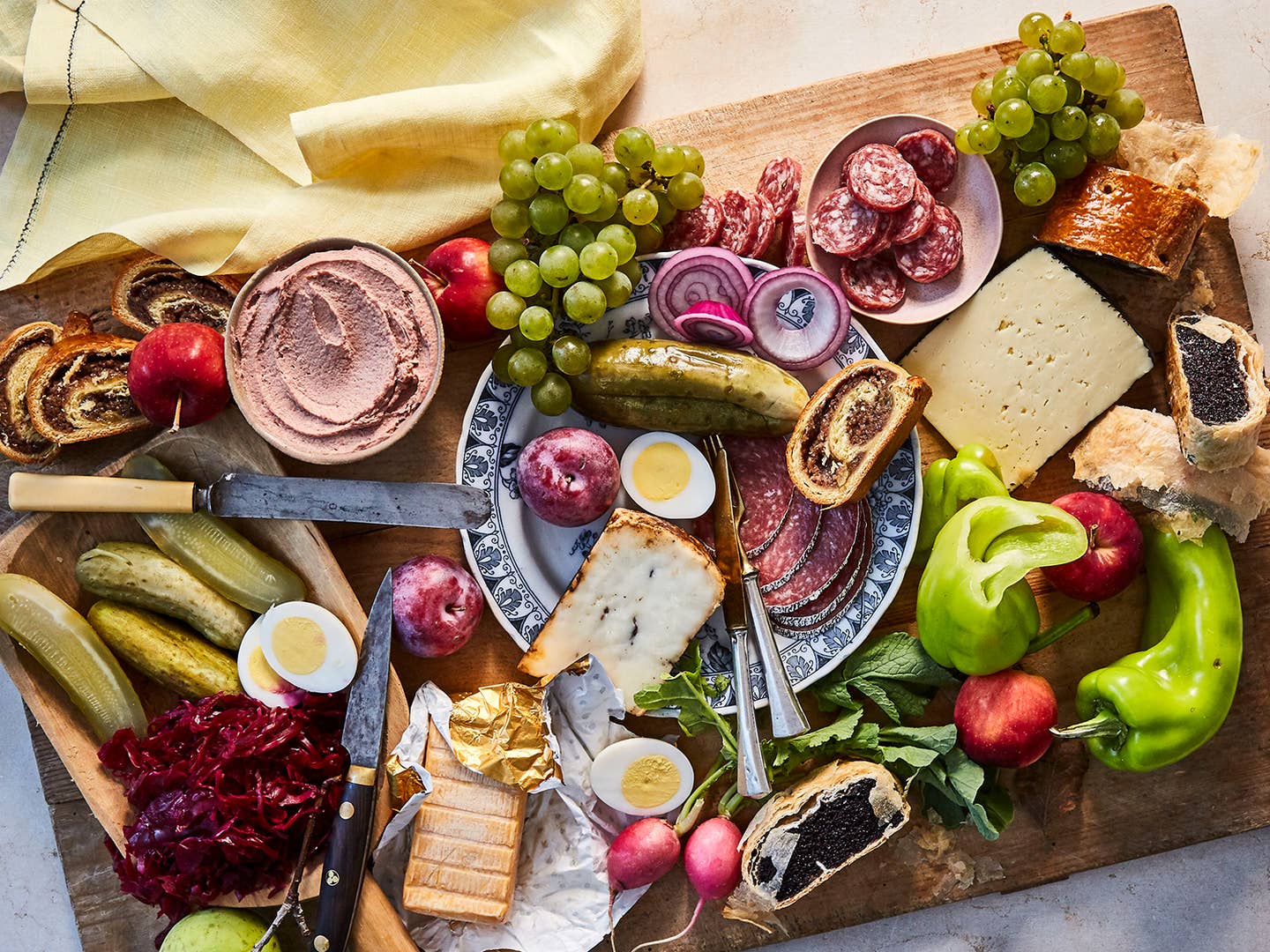 Culture
The Low-Key Brilliance of the Hungarian Snacking Tray
This is abundant, crowd-pleasing party food without fuss or formality
In Hungary, where my husband András, our kids, and I travel to visit family each summer, a gathering—planned or impromptu—centers around a giant snacking board crowded with everything under the sun: sausages, Trappist cheeses, and loads of wax peppers, plus snappy cucumbers and spring onions sometimes plucked straight from the soil. It's not a tidy, orderly cheese plate with fanned slices of fruit or tidy piles of berries. It is pure chaos, heft, and audacity—and endless in its generosity. Nearby on a plate, or sometimes still tucked in a bread bag, are stacks of buttered bread to pile it all on, plus eggs, mustard, sauerkraut, and dozens of kinds of pickles. The idea: guests can eat as little (or more likely as much) as they want in the way they want, with zero formality expected.
The ethos of a Hungarian snacking tray, or hidegtál, is as advantageous for host as it is for guests. For starters, there is little forethought required; you can bake, hunt, gather, and practically fake your way to a beautiful spread on a single board or platter, and bring it to the table—under your favorite plum tree or in the shade of a simple porch—in one fell swoop. There's no running about for plates and forks (fingers work), no fussing or pouring (drinks like beer, fizzy water, or soda are often plopped down in their original bottles). Your focus as host goes immediately and wholly to your company, conversation, and laughter. Guests of all ages, from crawlers to grandparents, can circle in and nibble at will.
Perhaps the best part of a proper snack tray in Hungary is that it's an all-in-one meal. Teeming with proteins and veggies and even sweets—like poppy-flecked pastries, butter cookies, or flaky stuffed strudels—when it's done, your duty as a host is, too.
In my new cookbook Every Day Is Saturday, I share the formula for one I make at home in the Hudson Valley all the time. Here are the basics for putting together a dreamy snacking tray of your own:
Combine Baking, Buying, and Foraging
The art of the hidegtál is in the mashup of sweet, sour, and savory existing side by side—a combination that makes it possible to bake, buy, or simply gather your way to a great-looking spread. Even when our family takes time to make strudel, beigli (a yeasted, poppy- or walnut-filled roll), or some savory pogácsa (small, crumbly cheese biscuits) a day ahead, they'll squeeze in any treats like pickles or Hungarian cakes or pastries that a guest might have brought along. It's also equally acceptable to pick some up from your local bakery, like decanted tinned cookies or store-bought rugelach.
Stateside, we might slice peaches, plums, or radishes for a cheeseboard; Hungarians will put out the whole fruit or vegetable. Usually homegrown and abundant, a proper grazing platter hosts whole Hungarian wax peppers (you can opt for Italian peppers if you can't find them), bunches of wine grapes, whole plums, apricots, and radishes with tops on, and even spring onions, sometimes still warm from the soil. Anything in season is fair game. Most guests will pick up the whole fruit and munch, so offer plenty (no one should feel as if they're taking the one juicy apricot on offer, for example), and keep small but sharp knives at the ready for their efforts.
Go Big and Bold on Meats and Cheeses
When it comes to charcuterie and cheese, don't hold back on flavor—or size. The spicier and more paprika-rich the sausages and the funkier the cheese (think German limburger), the better. Hunt for liverwurst, braunschweiger, duck or goose liver pâtés—the latter being the most authentically Hungarian—and leave most of the sausages whole for guests to slice themselves. Not only is it charming to see the foods in their original state, but it invites customization and layering into impromptu sandwiches with butter and bread.
Pickles are key to this generous spread, making it distinctly Hungarian. In Hungary, even standard grocery stores have expansive fermentation bars, offering anything from pickled patty pan squash to giant dilled cucumbers. Many generations still make pickles by the barrelful, curing them on their own porches. Your local farmers' market is likely to have a fix for you: Add in pickles that are easy to grab and munch, or others that make a statement (beet-colored sauerkraut, for example). Or try something easy like pickled eggs, a great DIY to start with if you want to make your own.