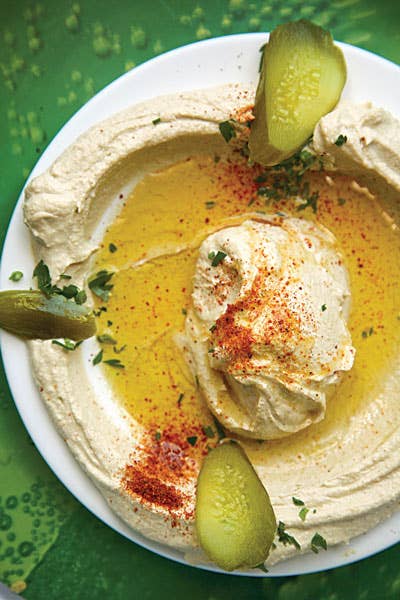 Culture
Breaking Down the Middle East's Hummus Wars
The chickpea dish has become a symbol of national pride, simultaneously uniting and dividing the region
In May of 2010, Lebanon set the record for the world's largest serving of hummus, which weighed in at just over 23,000 pounds. They had some experience with this record; in October 2009, they first garnered recognition for this feat, although the plate weighed only two tons. But the Lebanese only held their title for a few months, when Israel became the new record-holder with its massive four-ton dish. In the spring of 2010, NPR reports the Lebanese struck back: with a gargantuan 11.5 ton plate.
In a new series on "War and Peace and Food," which investigates food's role in exacerbating or tempering conflicts around the world, the report shows just how important this humble dip is in uniting—and dividing—countries in the Middle East.
The fight to gain a world record for hummus is now known as the "Hummus Wars," and according to Tel Aviv food journalist Ronit Vered, it's "a symbol of all the tension in the Middle East." As Lebanon rolled out its immense vat of hummus, it was simultaneously trying to register the word "hummus" with the European Union as a kind of protected origin product, a move that would have prevented other Middle Eastern countries from using it (the initiative failed). Lebanese minister of tourism Fadi Abboud said, "The word for chickpea in Arabic is hummus...So the actual name comes from the Arabic for chickpea."
Israelis argue otherwise. "Since the country is only 68 years old," the article points out, "and its citizens came from all over the world,­­ it lacked a unifying food tradition. So hummus became a common ground for Israelis." Nuha Musleh, a Palestinian, agrees, saying, "The hummus is our tradition."
Vered goes on to explore the roots of what an Israeli national cuisine really means. "In the first two decades of the state, the Israeli people didn't really eat local food. They stuck to their old habits...It's also a political issue. If I eat Palestinian food, in a way, I acknowledge that they exist, that there are other people here who have food of their own." In the 1950s, the army started serving hummus in mess halls, and it slowly became integrated into the culture, making the Israeli fight to claim the dish even more convoluted.
These countries might continue one-upping each other as long as they can produce concave metal structures large enough to hold actual tons of hummus, but Jawdat Ibrahim sees this competition as something else. Ibrahim has opened a hummus shop in Abu Gosh, Israel. He tells NPR, "We broke the Guinness world record, but to make hummus is not the issue. To put people together, that is the main thing. People talk about blood and killing, and I want to take it to a different way...People can talk about the Middle East about nice things, not killing and shooting." As Ibrahim says, "Nobody gets hurt with this war."