Recipes
Sunchoke Hummus
A clever, earthy spin on the classic dip.
Serves

makes 3 1/2 cups

Cook

1 hour 40 minutes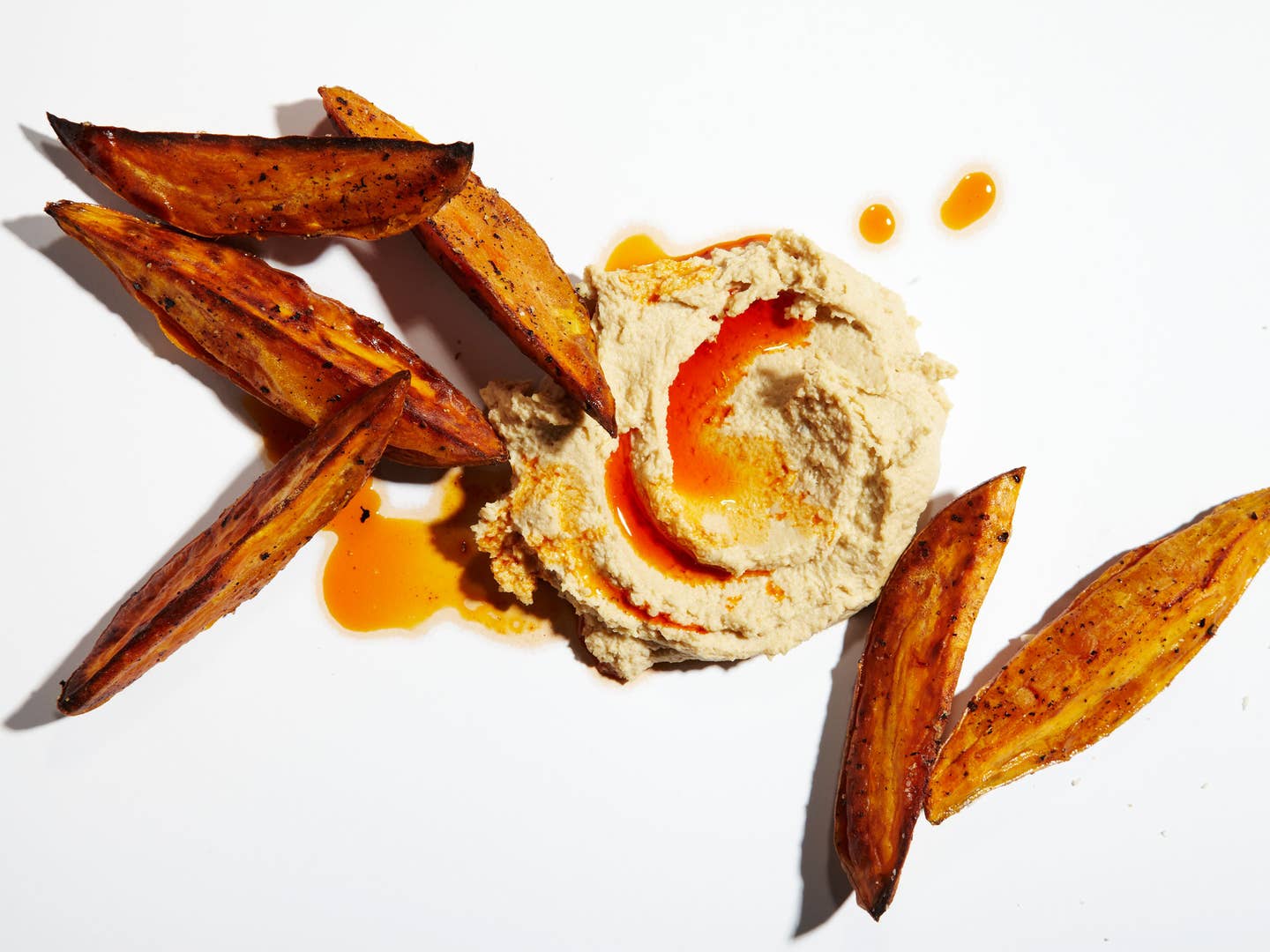 Tahini and lemon accent the earthy, nutty quality of Jerusalem artichokes in this creamy appetizer. At Elaine Murphy's The Woollen Mills in Dublin, chef Ian Connolly serves it drizzled with aromatic paprika oil and pile of hot crisp baked sweet potato wedges for dipping.
Ingredients
2 lb. sunchokes, scrubbed clean
1 1⁄2 tsp. coriander seeds
1 1⁄2 tsp. fennel seeds
2 tsp. sweet paprika
1⁄2 tsp. crushed red chile flakes
1⁄2 cup extra-virgin olive oil
2 cups canned chickpeas, drained and rinsed
2 cloves garlic, coarsely chopped
1⁄3 cup tahini
1⁄4 cup fresh lemon juice
Kosher salt and freshly ground black pepper
1 tbsp. coarsely chopped flat-leaf parsley
Roasted sweet potato wedges or pita for serving
Instructions
Step 1
Preheat the oven to 375°F. Spread the sunchokes on a large rimmed baking sheet and tightly cover with foil. Bake until the sunchokes are very soft, about 45 minutes. Transfer the sheet to a rack and set aside, still covered, until cool enough to handle. Uncover, then use your hands to peel the sunchokes, discarding the peels.
Step 2
Meanwhile, in a small skillet over medium heat, toast the coriander and fennel seeds until fragrant, about 30 seconds. Add the paprika and chile flakes and cook, stirring, for 30 more seconds. Scrape the spices into a blender along with the olive oil and blend until very smooth. Let the spices steep in the oil for 30 minutes, then pour the oil through a fine mesh sieve into a bowl; discard any solids.
Step 3
In a food processor, combine the chickpeas and garlic and puree until smooth. Add the cooked sunchokes along with the tahini and lemon juice and puree until very smooth, at least 2 minutes. Season to taste with salt and black pepper, then scrape the hummus into a shallow serving bowl. Drizzle with the reserved paprika oil, sprinkle with parsley, and serve with sweet potato wedges or pita, for scooping.